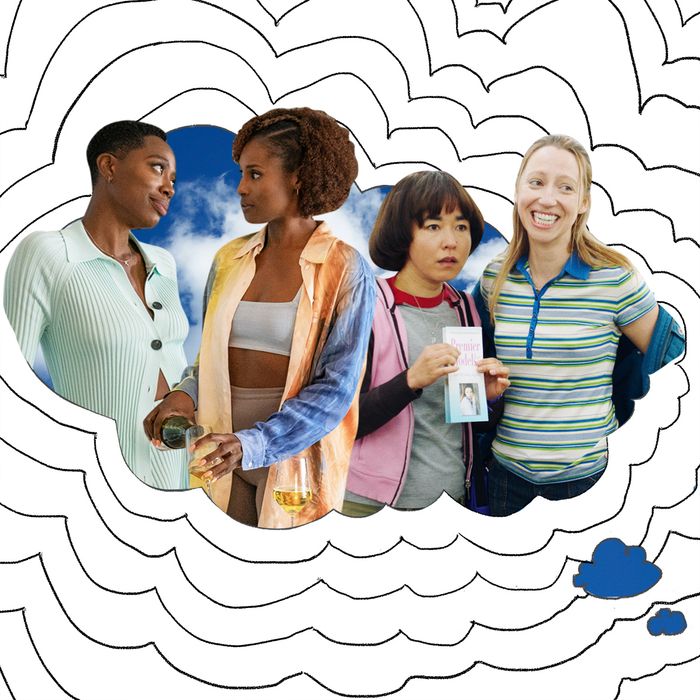 Photo-Illustration: by The Cut; Photos: HBO, Hulu
In television as in dating, we come for the romance but stay for the friendship. The best TV friendships make us nostalgic for old friends, teach us about our current platonic relationships, and inspire us to seek more, different, and deeper connections. Sure, most of the time they're mindless fun, but with the characters below, they can also be a mirror that reflects back our own friendships and shows us the things we can't see on our own. Here, six of our writers reflect on their favorite onscreen buds and their own real-life relationships.
Maya and Anna from PEN15
I knew I would love PEN15 from the start. The Delia's-catalogue opulence. The sound of dial-up. The printed-out lyrics to "Slob on My Knob" practiced in front of a mirror. This show captures the minutiae of early-aughts preteen culture in a way that felt uncomfortably familiar to me, a 31-year-old from a nondescript suburb who still remembers the words to Missy Elliott's "Work It." But what made this show feel so acutely aware of female adolescence is the friendship between the main characters, Anna and Maya.
Anna (Anna Konkle) and Maya (Maya Erskine) were the 13-year-old millennial everygirls I never knew I needed. They're gross and gawky, silly and sincere, naïve and too aware all at the same time. Their friendship is effortless, probably, in part, because Konkle and Erskine are best friends in real life. They dabble in some light witchcraft, practice kissing on their bedposts, help each other pick out AIM screen names, and take turns wearing the same thong, all of which are things I might or might not have done with my best friend at 13. Anna and Maya are fully themselves when they're around each other, and few feats feel as impossible as figuring out how to just be yourself at 13.
PEN15 released its last season in December. I miss the show the way I missed my friends between our shared classes in middle school. It's not like it's been gone that long; it's not like I can't see it again pretty much whenever I want. Still, any chance I get to talk about PEN15, Maya, and Anna, I react like a 13-year-old greeting her best friend after having one (1) class without each other: gleefully squealing, maybe jumping and hugging, excited to exchange whatever groundbreaking thing happened in our brief time spent apart.
Maya and Anna perfectly capture the kind of comfort that comes with an unspoken shared history. That translates to the way I feel about the show and its characters. Like I've known them forever. Like they're letting me embrace the fullness of girlhood. Like I will gleefully squeal anytime I see them again. —Mia Mercado 
Molly and Issa from Insecure
I think almost to an obsessive degree about the ways our closest friendships expand and contract as our life circumstances change. Depending on how much friends care about actively being in each other's lives, a period of contraction could mean naturally drifting apart or confronting head-on the thing that's creating distance between them.
No onscreen friendship illustrates the raw pain — and the transformative potential — of those contraction periods more than Insecure's Issa (Issa Rae) and Molly (Yvonne Orji). Tension grows silently between these two best friends from college as Molly's career takes off while Issa struggles to get her own venture off the ground. It breaks through to the surface when Molly accuses Issa of ginning up drama in her romantic life, then explodes when Issa violates the boundaries Molly set around a serious relationship. Their cutting lines of dialogue hit me hard because they mirror the barbs my own college best friend and I traded when she was settling into a long-term relationship with her now-fiancée and I was feeling stagnant in my own career. Watching Issa and Molly have their blowout block-party fight, I was transported back to a two-top in the middle of a busy Mexican restaurant, where I cried into my margarita while my best friend and I hashed out why we hadn't spoken for two months.
These inflection points lay bare each party's insecurities, and from there, the friendship either never recovers or reconfigures itself into an arrangement that's more mature and honest. In the best-case scenario, having it out with a friend in such a messy and public way allows you both to embrace the sticky reality that the people you were a decade, five years, or even one year ago are not the people you are now. My best friend got engaged a few days before I watched the Insecure series finale; I ugly-sobbed through all the scenes from Molly's wedding. I don't know what our version of the scene where Issa helps Molly out of her wedding dress will be, but I know the sentiment will be the same: appreciating each other "for loving me while I was me." —Catherine Thompson
Arabella, Terry, and Kwame from I May Destroy You
Michaela Coel's 2020 limited series I May Destroy You remains one of my favorites because of the steady and complicated friendship at its center. As Arabella (Coel) deals with the aftermath of a rape she can barely remember, her best friends, Terry (Weruche Opia) and Kwame (Paapa Essiedu), show up to support her as they deal with their own traumas and experiences with sexual assault.
Between Arabella and Terry, the mantra "Your birth is my birth, your death is my death" serves as a reminder of the importance of their friendship, and the series spends as much time developing their relationship as it does any romantic one. Not at all clean-cut, their development as best friends reveals that they will always be at the forefront of each other's lives, and the show flashes back in later episodes to their friendship as teenagers. The epitome of "ride or die," Terry's care for Arabella after her rape brought me to tears.
All together, Arabella, Terry, and Kwame give a show centered on something so deeply upsetting a sweetness and realness I have never before seen on TV. Theirs is a friendship that's anything but perfect, and it made me pull my own friends a little closer. —Brooke LaMantia
Brooke, Peyton, and Haley from One Tree Hill 
The female friendships at the core of One Tree Hill are between Brooke (Sophia Bush) and Peyton (Hilarie Burton), who begin the series as best friends, and then Haley (Bethany Joy Lenz), whom they add to their group. Over the seasons, the three women don't have a perfect friendship — they fight a lot, and there's probably a little too much cheating and jealousy over boys to be really healthy, but what I loved about these friends is that they always come back together. Throughout all the drama, One Tree Hill never endorses the trope that teenage girls can't or won't forgive each other, especially where men are involved. In the first season, Peyton cheats with Brooke's boyfriend; yes, they have a massive falling out, but it's not long before they begin to rebuild their friendship. They challenge each other to be better but also accept each other's flaws. And that's a friendship I recognize. —Olivia Truffaut-Wong 
Taissa and Shauna from Yellowjackets
A lot has been said about the toxic friendship between queen-bee Jackie (Ella Purnell) and wallflower Shauna (Sophie Nélisse/Melanie Lynskey) on Yellowjackets. But now that Jackie's dead, I'm absorbed by the budding friendship between Shauna and Taissa (Jasmin Savoy Brown/Tawny Cypress). Precrash, they were Jersey enemies: Shauna disapproved of Taissa, whose cutthroat cruelty on the soccer field ended in a weak teammate busting open her leg. But postcrash, Shauna gets down with the fact that she doesn't really have a moral compass either. In the wilderness, the two girls see each other more fully. Their friendship is cemented when Taissa figures out Shauna is hiding her pregnancy, and the two bond when Taissa catches Shauna in the woods trying to give herself an abortion with the underwire of a bra. Taissa tries to stop her, but then, determined to help, she takes the wire into her own hands. Ultimately, they don't go through with it, but the whole thing is a horrific and tender callback to the "friend helps friend get something out of her vagina" trope in lighter-fare shows. I thought of The Bold Type, when Kat retrieves a Goop-y jade egg that Jane gets stuck inside her, and of Younger, when Liza Miller first connects with Kelsey Peters by fishing out a tampon for her. It's peak bonding.
Taissa and Shauna remain friends in adulthood. They hide dark traumas together, and they're completely vulnerable and nonjudgmental with each other — Taissa sleeps over at Shauna's house for fear that she sleepwalked and let out the family dog (she killed the dog), and Shauna gives Taissa all the juicy details of the man she's having an affair with (she later killed the man). The women demonstrate that friendships that begin with animosity and neutrality are kind of freeing: You can be good to each other, but you can also be completely awful, like letting your husband blackmail your friend for money or sending a fake reporter to pry into someone's darkest secrets. It's all aboveboard! —Bindu Bansinath
Jerry, Elaine, George, and Kramer from Seinfeld
Jerry (Jerry Seinfeld), Elaine (Julia Louis-Dreyfus), George (Jason Alexander), and Kramer (Michael Richards) are fine individually. Each one is a pleasantly despicable person you perhaps don't want to admit you would be friends with but, yeah, sure, probably. They're at their best, of course, when they're together — when they're complaining, scheming, and arguing, but most of all when they're doing absolutely nothing. (Yes, that's the point; it's a show about nothing, yadda, yadda, yadda.) They share the sort of friendship that's a standing open invitation to come over anytime, unannounced and for no reason, raid the fridge, and flop onto the couch to exchange nonsense conversation.
In the series, the foursome are in their 30s-ish, but their friendship represents what I miss most about college: Being in close proximity to all your friends all the time. Hanging out and talking shit for hours because what else is there to do? The comfort of sitting in a diner — well, a dining hall — for most meals together with no rush to leave and get back to real life.
As we've entered our own 30s-ish, my closest college friends have fanned out across the country. (Well, some live in Manhattan, but I'm in Brooklyn so same thing.) Coordinating a weekend trip, brunch, or even a weeknight Zoom takes dozens (dozens!) of texts, emails, even a Doodle.
Luckily, whenever we do manage to get together, it's exactly like rewatching the series: the feeling of seeing an old friend — old enough to have seen you at peak trash person and still love you for it — and picking up exactly where you left off. —Jen Ortiz