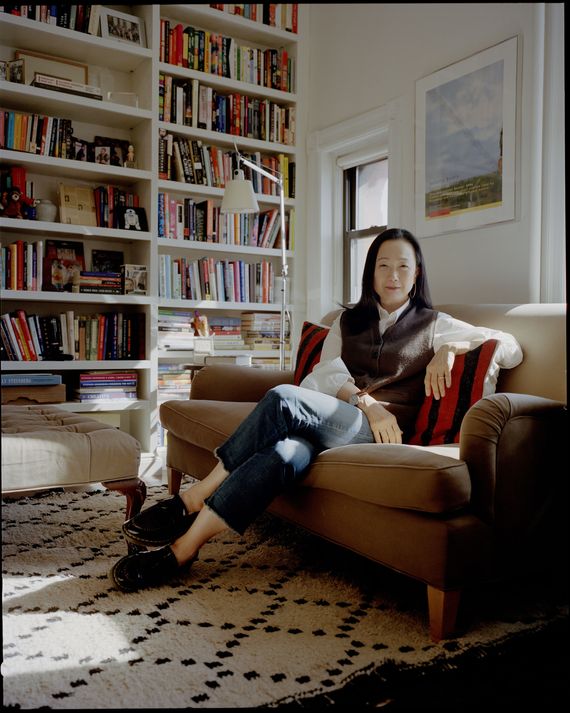 Doing the Most is a special series about ambition — how we define it, harness it, and conquer it.
Best-selling, award-winning author Min Jin Lee is very, very busy. Currently, she's drafting her next book, teaching, writing a screenplay, and working on a "secret opera project." She's also fighting anti-Asian racism. Recently, on the anniversary of the shootings at three Atlanta massage parlors that left eight people dead — six of whom were women of Asian descent — Lee wrote a devastating op-ed in the New York Times on living with fear as an Asian American; she also gave a rousing speech at the Justice for Asian Women rally in Times Square.
So, given the amount of time she spends in the spotlight, you might assume her to be bold and gregarious, but in truth, she says, "If I have something to say, I'll say it; otherwise, I'm happy to listen and clap." In the same way, while she has a deep appreciation for fashion and other decorative arts, her personal style is understated. "I really like to be in the background," she says, "wearing a uniform."
On her everyday shoes: Dr. Martens tassel loafers that were made in collaboration with Comme des Garçons. I'm 53 years old, which means Dr. Martens were cool when I was a child, so they've always been sort of magical and mystical to me. I have three pairs of the exact same shoe. My son calls them clown shoes because they're so big and so wide.
On her go-to outfit for important events: I wear a lot of suits with white shirts. Pretty much you'll never see me in public without a white shirt. When I started to make money, I would invest in very finely tailored things. I care a lot about tailoring and the quality of material probably more than I should. And I never wear color. I'm from New York — for me, it's all about navy blue, charcoal gray, and black. If I get really excited, I'll maybe wear a tan.
On her favorite jewelry: My Ted Muehling hoops or my Gabriella Kiss earrings. I also wear a gold bangle that's Ted Muehling. I'm really not on trend, but once I like something, I feel very convinced that I'm right.
On setting out to write a Great American Novel (and to master quiche): I really didn't know if I could do it. As a matter of fact, I didn't do it for a long time. It took decades to write my novels, and I feel like I can stand by those books. I'm very, very stubborn about quality. I remember when I wanted to learn how to make a quiche. This was over 30 years ago, and back then, quiche wasn't as common as it is now. I read all these recipes and made dozens and dozens of quiches until I really got it — I understood the essence of a quiche. I think it's a mark of my odd personality. I've made peace with who I am.
On writing about and for Asian Americans: Koreans are really tough folks. They are very exact and so rigorous. I wanted to make sure that I could manage their gaze and their scrutiny. The fact that I have is such a relief because I would never want to get that wrong. I would never, ever want to hurt the Koreans and the Japanese and the poor Korean Americans that I knew in New York City who trusted me with their stories.
On wanting to disappear: I need the reader to forget that I'm there — because it's really about your experience as the reader and the story itself. I think there should be a sturdy, clean, and pure quality of sentences, which allows the reader to completely immerse herself in the narrative. She becomes a kind of writer again, telling the tale to herself, because I'm creating the lighting and the mood and the characterization and the narrative, but you should never see me. You should never see my fingerprints.