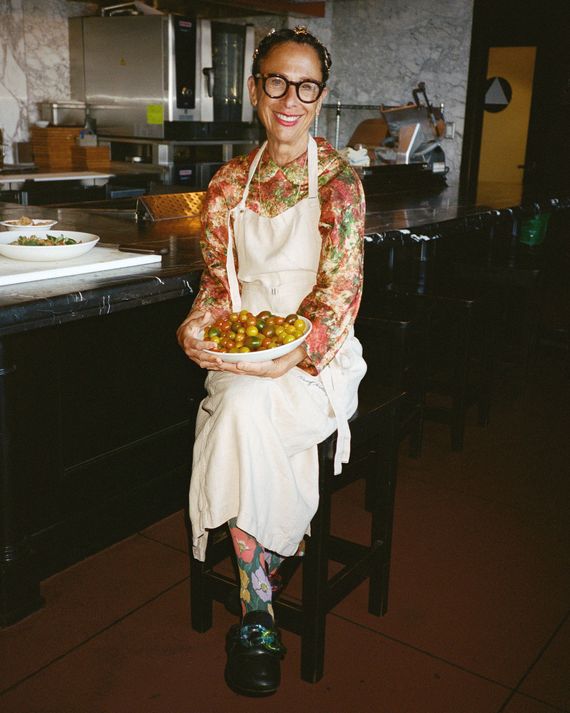 Doing the Most is a special series about ambition — how we define it, harness it, and conquer it.
Plenty of well-known male chefs have turned the success of one restaurant into a global empire (Wolfgang Puck, David Chang, and Daniel Bouloud, to name a few). But female chefs? The roster is slim. One trailblazer: Nancy Silverton.
In Los Angeles, Silverton is synonymous with Italian cuisine. Her first restaurant, Campanile, opened in 1989 and paved the way for a dozen more, including the Michelin-starred Osteria Mozza. She has her own Chef's Table (though she's never seen her episode), has won several James Beard Awards, and has been a judge on Top Chef. Now, she's focused on international expansion.
In October, she opened Mozza Baja at Costa Palmas, a sleek new development in Los Cabos, Mexico, where guests arrive by boat and cap off pasta feasts by dancing under the stars. Mozza Baja came on the heels of Mozza London, which opened in September; outposts in the Middle East and Singapore are slated to open later this year. "When I first started, I couldn't see past having a single restaurant," she says, but now, "I'm not ready to sit back and retire, whatever that means. I like seeing the world and doing it with a work component to keep me busy and interested."
On the article of clothing that makes her feel powerful: An apron from White Bark Workwear, by Charlie Pennes. His aprons are stylish, comfortable, and durable.
On how her style has evolved: I have developed a deep desire to wear stylish clothes. My first restaurant job, I wore Levis and a T-shirt. With my age and financial situation, I have been fortunate to be able to afford the clothes I love. I can put on a Marni or even a Gucci outfit, go to work, and put on my White Bark apron over it. The downside is I have very high dry-cleaning bills.
On whether she's faced obstacles that male chefs have not: I've always said that I have not. I don't know what's been discussed — who knows, there may have been a board of some hotel chain debating whether to take a female chef or a male chef, and they went with the guy — but as far as face to face, I feel like my gender has never gotten in the way, even as a young cook. Maybe that was my attitude, too, like, "I'm just as good and capable as everybody else on the team." Maybe that helps.
On the last three things she bought: A yellow cashmere dress from Noodle Stories on 3rd Street in Los Angeles, a two-piece Marni skirt and blouse, and a Prada sweater.
On how she juggled motherhood and her career: I had my first child when I was a pastry chef at Spago. I told Wolfgang [Puck, the chef and owner of Spago] when I was five or six months pregnant, and his reaction was, "You'll bring the baby to work." That's kind of what happened. It wasn't treated like an illness. I would pick my kids up and take them wherever I was going; if they slept, great, if not, fine. That would never work, the way my daughter is raising her kids now.
On why she did Chef's Table: I didn't want to, initially. I didn't want them to make me appear like someone I wasn't, someone who comes into work every day at 6 a.m. and goes to all the markets and works until 3 a.m. That's not who I am. But my staff, they're all much younger than me, and they really wanted me to do it. I have to admit that I've never watched my episode.
On reading negative reviews: I don't read Yelp. Although, if somebody has it open, I'll take a peek. The Yelp ones are hard because sometimes they're just angry people. But the people who use OpenTable, you feel like they're taking the time to write a good or bad review. There's so much to learn from a bad review, as much as it hurts and I hate reading them.
On what drives her: I get so much satisfaction with the hospitality end of this business, making people happy. Feeding people is such a big part of what feeds me. Food, and being involved in all aspects of it, is definitely my art form. I would be lost without it.