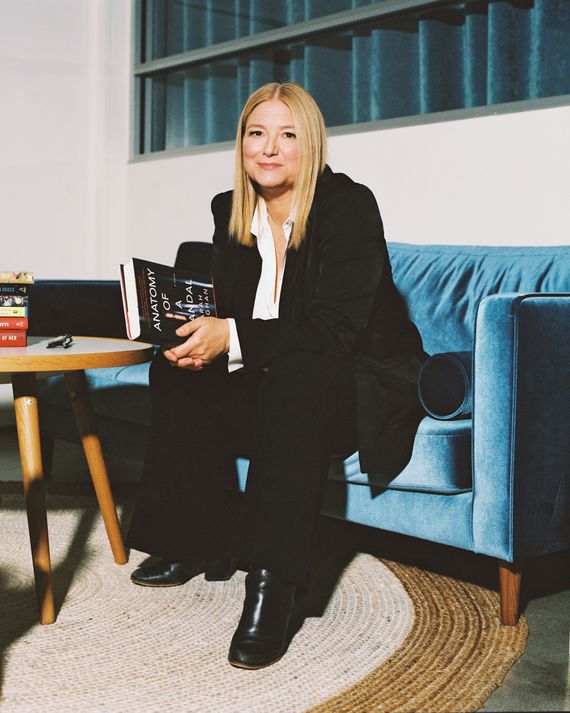 Doing the Most is a special series about ambition — how we define it, harness it, and conquer it.
Bruna Papandrea is the power producer behind some of your favorite movies and shows including Gone Girl, Wild, and Big Little Lies, which she did with Reese Witherspoon before founding her own production company, Made Up Stories, in 2017. She has already created hit shows such as The Undoing and Nine Perfect Strangers, and in the next two months alone, four more of her productions will be out in the world: Pieces of Her, Long Slow Exhale, Anatomy of a Scandal, and Roar.
During the pandemic, she moved all her productions to her native Australia, where COVID-19 spread has been significantly lower because of stringent safeguards. "We're very blessed in our business because we never really had to stop working," she says. "All those things that we had developed for years started to come to fruition. We've made seven things in the last two years."
Becoming a producer wasn't her original life plan. "I wanted to be a 60 Minutes reporter," she says. "I was obsessed." She found her path to film through adventure and exploration, leaving Australia early in her career. She traveled, dropped out of several "very good universities," and eventually found herself in an assistant role at a commercial-production company. She began producing commercials and then movies. "You've gotta put yourself in the way of opportunity," she says. "That's what I say to young people all the time."
On what attracts her to a project: It's always like, Have we seen it? Does it feel unique? If it feels like we can't compare it to something else, that's really thrilling to us. I've so often been pitched, "Well, it's like Big Little Lies." I don't want to do that again. I wanna do something else. We optioned a big sci-fi book last year because I was always interested in a grounded sci-fi with a woman at the center.
On what she wears to set: Normally, leggings and a black T-shirt is my workwear — and there's an Australian work boot called a Blundstone. They're amazing. They get better with age, like all of us. My husband and I have the same shoe size, and we have exactly the same Blundstones. I'm always putting his on by mistake and vice versa.
On what she wears to meetings: I've kind of changed my aesthetic recently because I turned 50, and I was like, Okay, Bruna, it's time to get a little bit more dressed up occasionally, make a little bit more effort. My daughter, who's 9, is so into clothes. She's like, "Mom, put on some color occasionally. Wear a heel!" I have started making a bit more effort. I wouldn't wear a high heel. I'd wear a low heel or a boot. Most of my wardrobe is black, although I am desperately trying to introduce more color.
On her curves: I'm Italian. I've got hips and breasts, and I've been trying to hide that for a long time. But actually what I've learned style-wise is maybe you need to lean into that more and just celebrate it. At 50, you learn a few lessons.
On her Zoom call look: A black T-shirt. I'm not gonna lie. And I'm sure most of the women of America are with me: I've done a lot of Zoom calls in my pajama bottoms. Like, a lot. Like, really a lot.
On her last three purchases: I did just go shopping, which is quite rare for me. I bought an Isabel Marant shirt; it was very floral. There's an Australian designer called Bianca Spender, and I bought a suit jacket. And I bought a shirt of hers too — a sheer shirt. In an effort to not just wear black, I bought a white shirt. I thought that was really cutting edge.
On how her style has evolved: Around when I got married, I got diagnosed with lupus, so my body never felt great for years. When your body feels like it's in pain, you're just trying to be comfortable. You do not want to wear anything that feels too tight because your whole body feels swollen. It's quite hard to describe. I feel really good because I'm really looking after myself, so I don't have any symptoms right now.
On her biggest wardrobe mistake: I did wear a dress to a wedding once that I kind of knew didn't fit me. It was a really slick, glam dress. And I was literally, like, sewn into it. I have photos of myself back then. At some point, I was dancing or moving too fast. The whole thing split. But the first half of the night was awesome. My girlfriends got some good laughs out of it. So that might have been worth it.
On how becoming a parent changed how she dresses: I have twins. So literally the best thing anyone ever said to me is to buy a backpack. You need to have both hands free. I bought a Marc Jacobs backpack, and I wore it for years. I wasn't really a backpack person until I had kids.
On jewelry: I'm terrible. I'm not even wearing my beautiful engagement ring that my husband gave me. With lupus, you get a lot of swelling and inflammation. So it just tends to kind of come on and off a lot. 
On the challenges of dressing for her job: Not knowing what the weather is when you're on set. When you work in the film business, you have bags of set clothes, which basically include rain gear and snow gear, because you never know. I have my favorite photo of myself — I did a side by side: We had won the Emmy the night before for Big Little Lies, and I'm in this incredible Maria Cornejo dress, and I'm all glammed up. The next day, I was back on set in New Orleans in a full netted suit, covering my face, fully covering my body, because there are crocodiles and bugs. It's just like, it's kinda really like this, but it can be like this. That's part of what's so thrilling about our business — you never know where you're going to be.