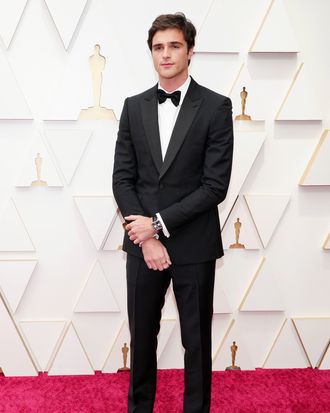 Great news, everyone! Jacob Elordi has arrived at the Oscars — presumably for his jazz piano acting in Deep Water — and he appears to be wearing a little earring. (Hold for applause.)
As we all know, men's Oscar looks tend to be underwhelming, unless that man is LaKeith Stanfield. As we also all know, it is very hot for a man to wear a small earring. While Elordi is wearing a pretty standard tuxedo (boring!) all I am able to see is that itty-bitty golden hoop in his ear. (Hot!) Thus, my professional opinion of his look is … hell yeah.
Please, gaze up the tiny earring. Admire its delicateness. Distract yourself with the faint shimmer before the inevitable onslaught of celebrities trying their best to awkwardly squeeze support for Ukraine into their acceptance speeches.
Elordi is famously great at wearing earrings — dangly ones, even! He is also famously tall despite what he has to say about his own height. So, perhaps the earring is regular-sized and just appears very small on his ear? Impossible to say. At the moment, it is also unclear if he is wearing one earring or two. I will be keeping a close, respectful eye on his lobes when he takes the stage as an Oscar presenter.