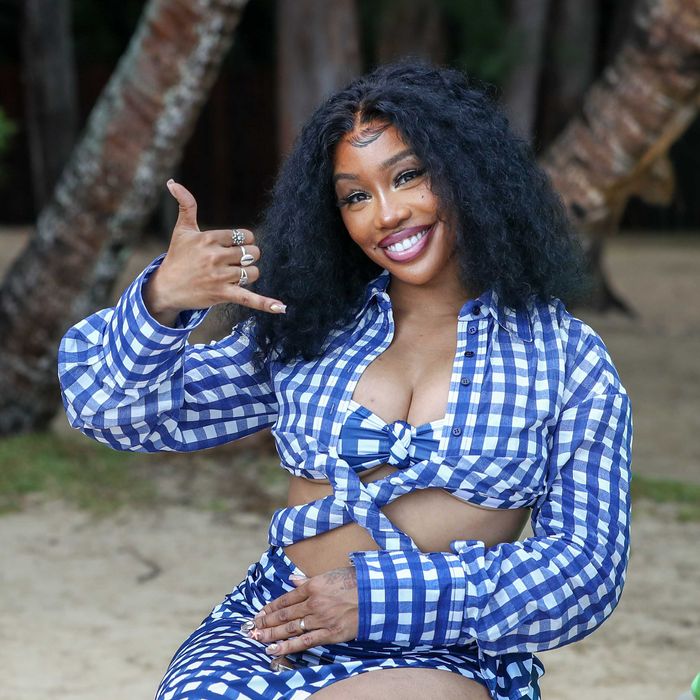 Photo: Darryl Oumi/Getty Images
What is it?
Jacquemus's spring collection "Le Splash" debuted Thursday featuring swimwear and summery essentials that are available to shop immediately. The brand founded by designer Simon Porte Jacquemus has quickly gained a fanbase of celebrities like SZA, Jennie, Amine, and Bretman Rock, who were all at his show wearing the collection.
Do I need this?
We are not so sure. The brand is (mostly) known for their teeny-tiny bags, sexy separates, and drapey dresses with names like La Robe Bahia and La Robe Saudade. If you are a fan of not being able to fit your phone into your bag, there is plenty for you here. The knotted midi skirt, worn at the show by SZA, seems to be a standout in the collection and is already trending on some retail sites for $290.
Why should I care?
We care about anything that includes SZA. But furthermore, this collection calls into question the ever-evolving fashion cycle. The fall 2022 shows were just shown in Paris. But this collection, available now, is meant for spring 2022, which actually makes more sense given that in March, you probably want to start buying clothing for the spring. Hence the phrase used to describe the collection: see-now-buy-now.
What are people saying?
The location itself has drawn criticism. For the first time, the brand is showing outside of France and in Hawaii, where locals had asked tourists not to visit due to a water shortage and the pandemic, which the brand addressed on Instagram. There's also the curious case of some pieces already being on sale, causing some to call into question the already fast cycle of fashion and micro-trends. A Twitter reply pointed out that the sale is just a promotion, though we can't confirm.
How do I get it?
Pieces are available to shop at Moda Operandi, FWRD, Matches Fashion, and the brand's website.