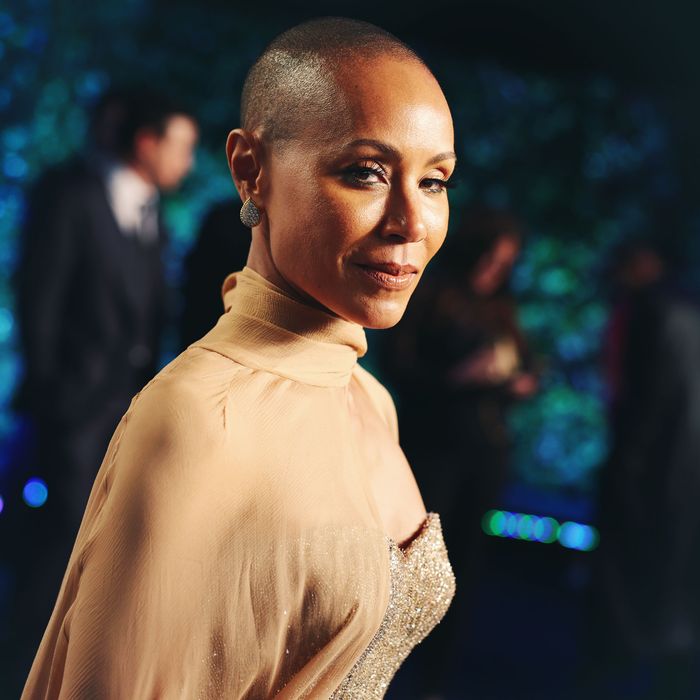 Photo: Rich Fury/Getty Images
It's hard to forget the look on Jada Pinkett-Smith's face during Sunday night's Oscars after Chris Rock joked about her buzzed head. In the two days since the infamous slap that followed, just about everyone on Earth has weighed in on what happened, though Pinkett-Smith stayed silent. She first opened up about her struggle with alopecia in 2018, describing the experience of losing her hair as "terrifying" on her Facebook series Red Table Talk. On Monday, her husband, Will Smith, formally apologized, writing on Instagram that his behavior was "unacceptable and inexcusable." Now Pinkett-Smith has posted a message of her own.
"This is a season for healing and I'm here for it," the infographic reads. Any other day, this would probably read as run-of-the-mill content for Pinkett-Smith's grid — she's posted similar messages on the same pink background in the past, and if the Red Table Talks are any indication, healing is going on year-round in the Smith house. On the other hand, could this be a sign that Chris Rock, who hasn't yet commented on the incident publicly, is about to be brought to the red table? Can you imagine so much healing in one room?