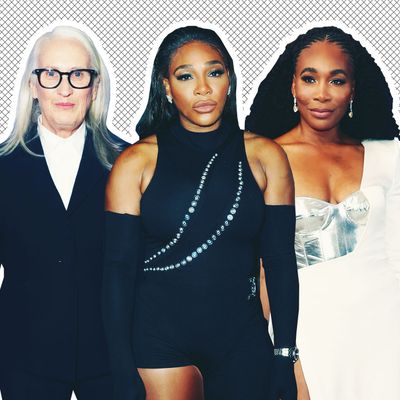 Photo-Illustration: The Cut; Photos: Getty Images
You either log off the internet a hero or stay on long enough to see yourself become the villain. Such is the case for Jane Campion, the Oscar-nominated director of The Power of the Dog. On Saturday, Campion was celebrated for her very chill reaction to Sam Elliot's, um, not-so-chill comments about her movie. (In addition to his recent remarks being homophobic, xenophobic, and misogynistic, Elliot called the film a "piece of shit.") Then, a mere 24 hours later, Campion made some bizarre comments of her own.
Sunday night, Campion won the Critics' Choice Awards for Best Director, making her one of three women who have ever won that award. During her acceptance speech, she acknowledged her fellow nominees in the category who, aside from her, are all men. "I give my love out to … the guys," she said, laughing. Then, apropos of nothing, Campion directed her attention to Venus and Serena Williams, who attended the awards show in honor of King Richard's multiple nominations.
"Serena and Venus, you are such marvels," she said, speaking to the tennis icons. "However, you do not play against the guys like I have to." She laughed. The audience cheered. Venus smiled uncomfortably and Serena gave some obligatory applause. (Venus and Campion later posed for a picture after the show.)
Not only were Campion's comments unnecessary, they're incorrect. As people were quick to point out, Serena and Venus Williams have played alongside men on more than one occasion. The sisters have won multiple titles in mixed doubles, the tennis event in which each team is comprised of one man and one woman. Serena Williams is among the most-decorated tennis players of all time, man or woman. She holds the record for most Grand Slam titles won among all tennis players. In her speech, Campion also said that she'd recently taken up tennis and would love to take lessons … from Will Smith.
In addition to her inaccuracy, Campion's comments make the all-too-common implication that the Williams sisters' achievements are somehow less impressive because they typically play against other women. As a white woman comparing herself to two Black tennis stars, she also ignores the barrage of racism both sisters have faced throughout their careers. Most recently, the New York Times ran a print column announcing the $111 million Serena's venture-capital firm had raised, but they used a photo of Venus. "No matter how far we come, we get reminded that it's not enough," Serena said in response to the Times error. The Times later issued an apology.
On Monday, Campion issued an apology statement in response to backlash over her speech. Per Variety, she called her original comment "thoughtless" and addressed the strange equivalence she had drawn by comparing her career to the Williams sisters' accomplishments. "I did not intend to devalue these two legendary Black women and world-class athletes," Campion said, adding that "the last thing I would ever want to do is minimize remarkable women."