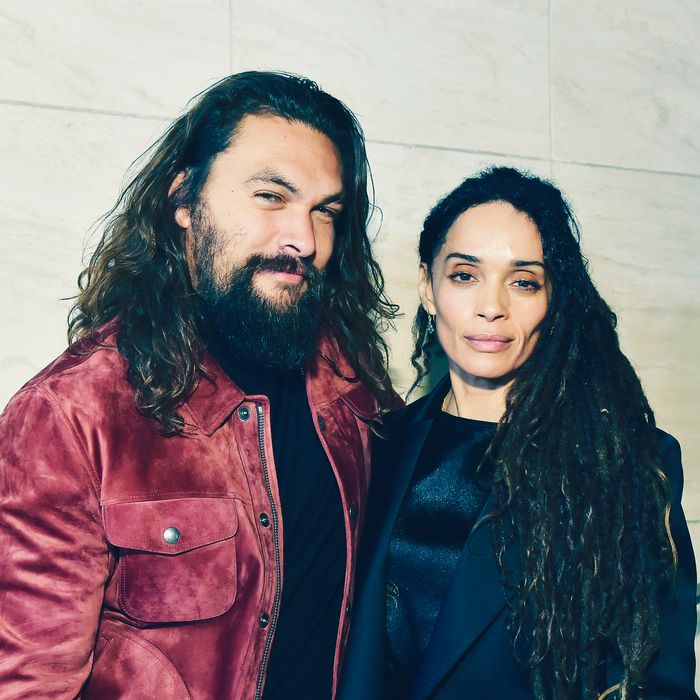 Photo: Stefanie Keenan/Getty Images for TOM FORD
It has been less than two months since Jason Momoa and Lisa Bonet "freed each other" from their marriage. And in those two months, there have already been (very unconfirmed) rumors that the two are back together. However, one thing has remained constant amid the "squeeze and changes of these transformational times" they mentioned in their now-deleted divorce announcement: These two are still extremely chill and cordial.
On Tuesday, Momoa attended The Batman premiere with his two kids, Lola, 14, and Nakoa-Wolf, 13, both of whom he shares with Bonet. "We're just so proud," Momoa told Entertainment Tonight, speaking about Zoë Kravitz, who plays Selina Kyle in the movie. Kravitz is, of course, the daughter of Bonet and Lenny Kravitz. It should be illegal to have so many hot people in one family, but I digress. Momoa continued, "Lisa couldn't be here, so we're representing, me and the babies. We're very excited to just be here … It's still family, you know?" Totally, Jason.
Momoa's comment — which seems to imply that he and Bonet are still separated — is unsurprising, since Bonet's divorce with Lenny Kravitz seemed equally chill. It will come as little shock that Kravitz and Momoa were fast friends. I repeat: Lots of hot, chill people in this family.
While the idea of your mom's ex hanging out with your current boyfriend is usually cause for an ulcer, the relationship between Jason Momoa and Channing Tatum, who is dating Zoë Kravitz, has proven to be incredibly endearing. Just look at these two large men being stoked to go see the new Batman movie:
I look forward to more chill divorce content and, in the meantime, will be using the above photo as my morning affirmation.