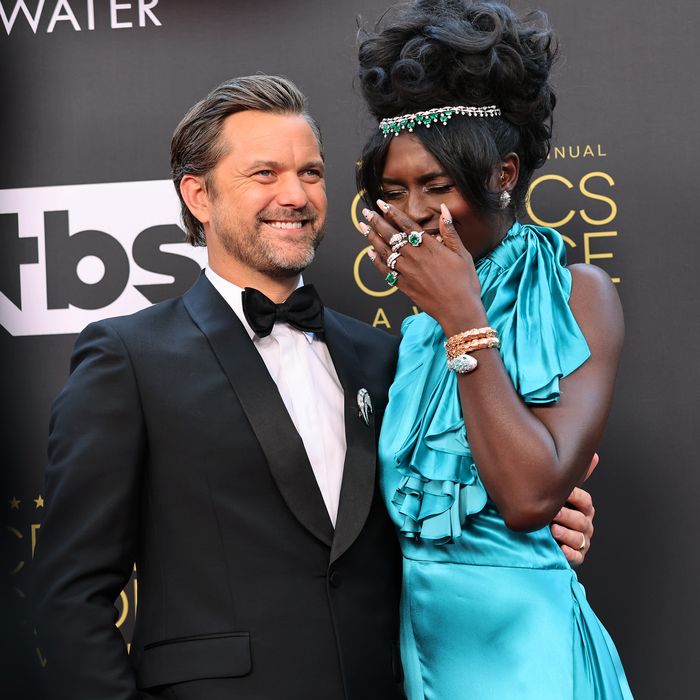 Photo: Amy Sussman/Getty Images for Critics Choice
Normally, when I see two extremely hot and talented people who are very in love, I expect the worst. Surely they can't be as cool, as cute, as into each other, and as hot as they seem, right? And yet, after seeing Jodie Turner-Smith and Joshua Jackson's never-ending adoration for each other, I have to admit that they might be the exception.
Turner-Smith and Jackson have been married for around three years. They have a young daughter and share a long history of hyping each other up on social media. She's constantly reminiscing about his days as Pacey in Dawson's Creek; he's constantly commenting on how hot his wife is. Based on their red-carpet flirtations and social-media posts, they are head over heels in love. I know it's not wise to be too invested in a celebrity couple, but how can I not be when Turner-Smith is tweeting messages to her husband like this: "i love the way you look at me @VancityJax and i love the way you look after me"?
That tweet was in response to a sweet moment the two shared at the Critics Choice Awards just last week — Jackson was up for Best Actor in a Limited Series or Movie Made for Television for his work in Dr. Death. The two stunned at the show, but it turns out the fun for them started way before they hit the red carpet. See: Turner-Smith's new Bridgerton-level hot Instagram post showing off their preshow style.
"The cat that got the cream," she captioned the shots by Frankie Mark (@fancygomez), which included one of Jackson all dressed up in his tux and her wearing only her full face of glam, standing on the hotel balcony. Jackson commented on the photos, writing, "You're talking about me right? I'm the cat that got the cream…because…wow." Don't worry, Jackson, I'm sure you're the cream to her cat, too.