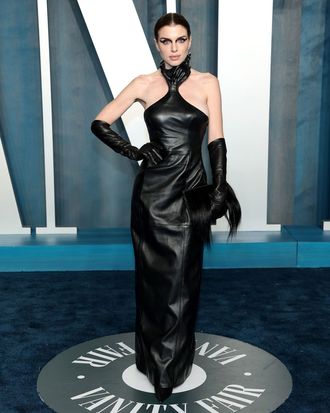 Ring wraith, but make it fashion.
Photo: Dimitrios Kambouris/WireImage
It's been a confusing morning for those of us who went to bed at a reasonable Sunday-night hour and must now wade through a sea of questions regarding an unusually high-drama Oscars ceremony. Why, for example, did I wake up to a push alert informing me that "it's always a bad sign when the Academy has to say it doesn't condone violence"? Will Smith's unscripted slap of Chris Rock has consumed most of the postgame coverage but then there is also the mystery of who stole Timothée Chalamet's shirt (I am happy to let this one go unsolved) plus Julia Fox's after-party outfit. Please, what is this look doing?
In order to answer that one, we will have to break this haunting ensemble — spotted at Vanity Fair's party — down to its parts. Starting from the top, we have a big chalky cat-eye. She wore a version of this liner throughout much of her brief but thoroughly documented relationship with Kanye West and is now calling it "the Fox eye." The over-the-elbow leather gloves are also familiar ground, but it was the skeletal black hand, creeping up from the neckline of her leather gown to throttle her, that grabbed me. A conspicuously spooky choice, you will agree.
The mood of this getup is Isildur slicing the One Ring from Sauron's finger during the War of the Last Alliance, though I am also getting flashes of Kim Kardashian's Met Gala shroud. Others have pointed out that it is perhaps not the best look for Fox to be walking around with, to quote writer Marjon Carlos, "a whole ass Black hand around her throat," and yeah, I can see that. In a red-carpet interview with Vanity Fair, Fox explained that the dress — by Danish design house Han Kjøbenhavn — "is Hans … the last name is German and I can't pronounce it." But the interviewer did not linger on Fox's neck claw and focused instead on her clutch, arresting due to its long and silky fringe. Is that "real human hair?" Vanity Fair wanted to know. "I mean, I think so," Fox replied. "I mean, it looks like it."
Sure does!