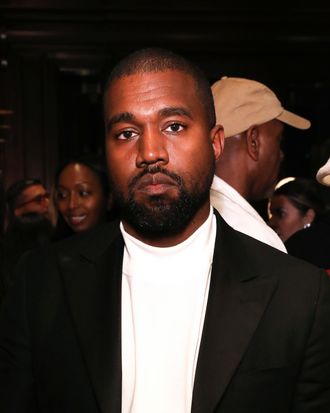 Photo: Robin Marchant/Getty Images for Ralph Lauren
For weeks, Kanye West, now known legally as Ye, has been harassing comedian Pete Davidson, who is currently dating his ex-wife, Kim Kardashian. On Wednesday, things escalated further when Ye released a music video for "Eazy," his song with the Game, featuring a Claymation animation of what appears to be the rapper kidnapping and burying someone who looks alarmingly like Pete Davidson.
"Eazy," which came out in January, includes a line about "beating Pete Davidson's ass." That may seem like par for the course when it comes to musicians who write lyrics about their personal lives, but in this case, it marked the beginning of a disturbing harassment campaign. In February, amid a frenzy of posting and deleting Instagrams, Ye encouraged his Instagram followers to "scream at the loser at the top of your lungs and say Kimye forever" if they saw Davidson in public. Ye then posted what appeared to be private texts from Kim that read, "U are creating a dangerous and scary environment and someone will hurt Pete and this will all be your fault." He later wrote, "Upon my wife's request please nobody do anything physical to Skete I'm going to handle the situation myself."
In the new video, a Claymation figure of Ye — wearing his signature mask — kidnaps an animated Davidson and buries him in the ground with his head exposed. The video ends with text reading, "EVERYONE LIVED HAPPILY EVER AFTER … EXCEPT SKETE YOU KNOW WHO. JK HE'S FINE."
Ye was diagnosed with bipolar disorder in 2017 and has spoken about experiencing manic episodes, which some have suggested may be a factor in his recent behavior. Kim has made clear that she would prefer to keep their divorce proceedings private, writing in a statement last month that Kanye's "obsession with trying to control and manipulate our situation so negatively and publicly is only causing further pain for all." Many have observed that Kanye's recent behavior toward Kim appears abusive, and in recent court documents, she said that Kanye had put "misinformation" on social media that caused her "emotional distress." On Wednesday, a judge approved her petition to become legally single and remove "West" from her name, though negotiations about their assets and custody agreement are ongoing.