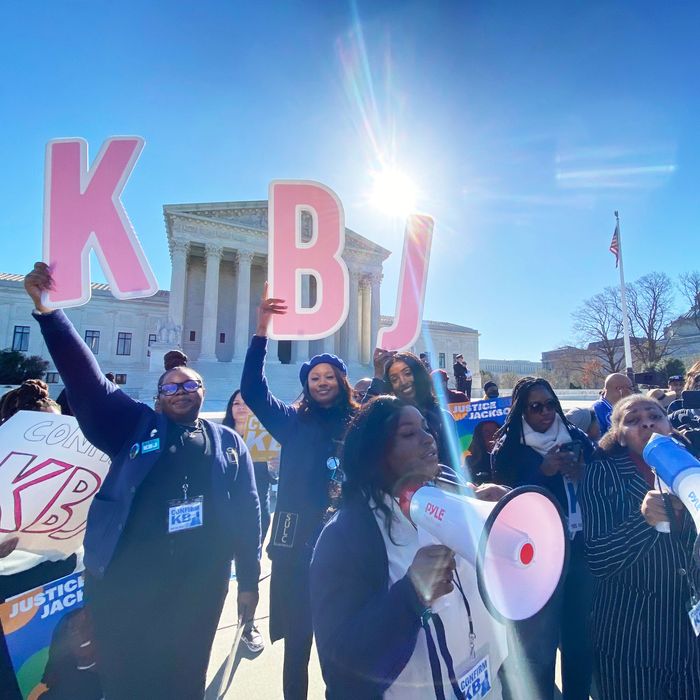 Katera Jenkins was in high school when police fatally shot Alton Sterling, a 37-year-old Black man, in her hometown of Baton Rouge, Louisiana. She remembers lying awake that night in July 2016, thinking, How could I be a voice for my people? How can I be someone whom my community could lean on if I don't know my rights as an individual? While Sterling's death motivated Jenkins to pursue a career in law, Judge Ketanji Brown Jackson's historic nomination to the U.S. Supreme Court has shown her that she can set her sights even higher. "It broadened my horizons," says Jenkins, now 22 and a first-year student at the Southern University Law Center in Baton Rouge. "She's knocking down the walls of history."
If confirmed, Jackson would become the first Black woman to serve in the Supreme Court's 233-year history. A total of 120 justices have served on the Court since its creation, with 115 being men and 117 being white. Jackson is well aware of the impact that representation can have: She has brought up often during the confirmation process that she was born on the same day as Constance Baker Motley, the first Black woman to ever serve as a federal judge, saying she "proudly stands on Judge Motley's shoulders." If confirmed, Jackson will be paying it forward. "I have received so many notes and letters and photos from little girls around the country who tell me they are so excited for this opportunity and that they have thought about the law in new ways because I am a woman, because I am a Black woman," she told Senator Dianne Feinstein on the second day of her confirmation hearings.
Jackson's background — as a federal appellate-court judge who previously worked as a public defender, as a mother of two, as someone who wears her hair in sisterlocks — resonates with Zsa'Queria Martin, a second-year student at Florida A&M University College of Law. To see her before the Senate Judiciary Committee has been a true moment of Black-girl magic, Martin says, in both a room and a career field that remains largely white and male. As of 2020, only 2 percent of equity partners at large law firms were women of color — a number that hadn't changed for two decades. "I'm confident this will encourage other Black women to become attorneys," Martin says.
Martin, Jenkins, and more than 100 other Black students traveled to Washington, D.C., this week to back Jackson during her confirmation hearings, a trip sponsored by Demand Justice, the National Black Law Students Association, and the Black Public Defender Association. For Jenkins, who is visiting the nation's capital for the first time, it felt poignant to rally Monday on the grounds of the Supreme Court and the Capitol, surrounded by other Black folks supporting one of their own. "I felt we were swarming D.C.," she says. The celebration was also "one of the highlights" crowning Viky McDonald's law-school journey. "It's a moment of access, it's a moment of opportunity, but, most importantly, it's a moment of representation," the third-year Southern University Law Center student says.
While the students' rally on Monday was joyous, inside the Senate hearing room, things have wavered between celebratory and tense. Republicans so far have spent two days engaging in disingenuous — and, at times, even dangerous — lines of attack. Senators Josh Hawley and Ted Cruz attempted to smear Jackson as lenient toward pedophiles, blatantly mischaracterizing her record, while Senator Marsha Blackburn accused her of championing a number of conservative culture-war issues, from transgender rights to critical race theory. Jackson smiled through the senators' posturing on the first day of hearings and held her own as she answered several scripted–for–Fox News questions on the second day. "I loved how she handled herself gracefully despite comments that could have been seen as negative," Jenkins says.
For their part, Democrats have sought to underscore the historic nature of Jackson's nomination and carefully detail her exhaustive qualifications for the role. She has spent nearly a decade serving as judge at the federal level, which is more time than Chief Justice John Roberts, Justice Clarence Thomas, and Justice Amy Coney Barrett combined spent serving at the same level before being nominated to the Court. Jackson has already been confirmed three times by the Senate in bipartisan fashion: to the U.S. Sentencing Commission, the U.S. District Court for the District of Columbia, and the U.S. Court of Appeals for the D.C. Circuit. The American Bar Association unanimously rated her "well qualified" to serve on the Court — its highest rating in recent years, which it also gave to justices Barrett, Neil Gorsuch, and Brett Kavanaugh. She is also the only person other than Justice Sonia Sotomayor who would bring experience as a trial judge to the bench, and she'd be the first public defender ever to serve on the Court. "A lot of people are questioning her qualifications, and if her skin wasn't Black, they wouldn't be questioning them," Martin says. "But I know that this won't stop us from rooting for her."
Late Monday after the rally, Jenkins flew home to Baton Rouge to make Tuesday morning's class. She planned to try to tune in to the second day of hearings when she could. With two years of law school left, Jenkins isn't sure if she'll pursue civil rights, go the corporate route, or try to work for the federal government — but she knows her options extend all the way up to the highest court. "If she did it, I could become a justice, too," she says of Jackson. "This opportunity, which I pray she's blessed with, has given me and other Black students, other students of color, that drive to keep going."