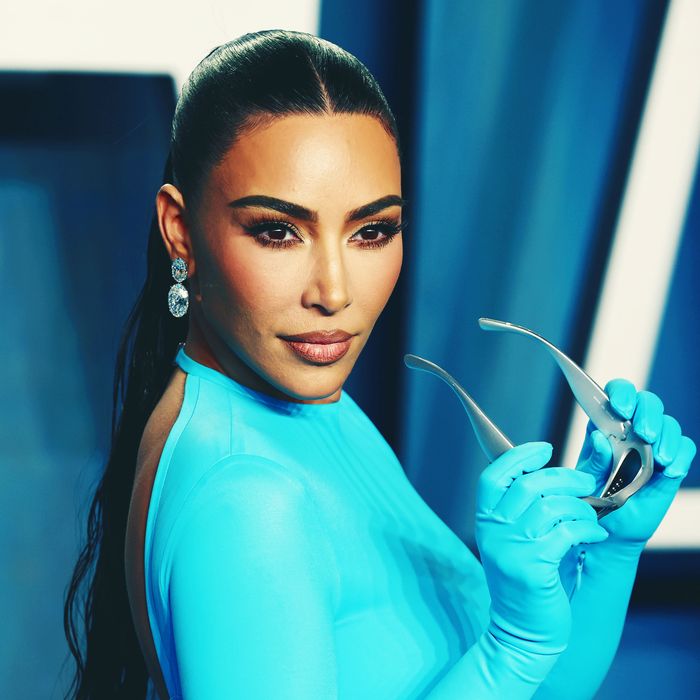 "Get your fucking ass up and work."
Photo: Arturo Holmes/FilmMagic
Attention, all my business ladies: Kim Kardashian is sorry for telling you to "get your fucking ass up and work." Well, sort of sorry. In an ABC interview that aired Monday, the almost-billionaire insisted her comments — on a perceived lapse in the public's work ethic — were taken out of context.
"It wasn't a blanket statement toward women or to feel like I don't respect their work or think that they don't work hard. I know that they do," she said. "But I'm really sorry if it was received that way." Which it definitely was.
To recap: Earlier this month, Kim, Kourtney, Khloe, and Kris Jenner sat down with Variety to do a little press for their upcoming show, The Kardashians, which (as far as I can tell) is just Keeping Up With the Kardashians on Hulu. During the course of the interview, Kim told the magazine: "I have the best advice for women in business. Get your fucking ass up and work. It seems like nobody wants to work these days."
In one respect, Kim is not wrong: I do not want to work. I would prefer to simply exist without worrying about how I will pay for medical bills and a place to live and food. Sadly, though, not all of us can be born into wealth that we then leverage into reality-TV empires. But if Kim has recognized a rise in resentment among workers who are increasingly unwilling to do more for less money and fewer benefits, she did not account for the reasons behind that trend. Nor did she seem to consider that the strain of the pandemic has pushed millions of women out of their jobs. Even for the self-declared owner of 14 gorgeous Friesian horses, the clip sounded exceedingly tone-deaf. Two weeks later, people are still talking about it, with Oscars host Regina Hall offering Dame Judi Dench an "inspirational quote" by Kim at the ceremony: If she wants to win next time around, she'd better "work harder."
Yet according to Kim, Variety fed us "a sound bite really with no context." She told ABC that her interviewer had just asked her a question like, "'After 20 years of being in the business, you're famous for being famous,'" which triggered a change in her "whole tone and attitude." That would be understandable: Kim is an underwear mogul, presides over a beauty brand, has been studying to become a lawyer, parents four children — she does a lot, and I can see where she would be insulted by suggestions to the contrary. Answering a follow-up question about the advice she would give to women, she said she wanted to convey that "having a social-media presence and being on a reality show does not mean overnight success, and you have to work really hard to get there even if it might seem like it's easy."
Okay, fine, only now Variety would like a word. "It's not what she claims," chief correspondent Elizabeth Wagmeister, who conducted the interview, said of Kim's claim on Twitter. "I just reviewed the raw footage. The question was very direct: 'What would be your advice for women in business?' The question about being famous for being famous came after that question, actually."
Clearly, there is only one way to settle this beef, and that is via the release of the original tapes. Your move, Kris Jenner.
This article has been updated.