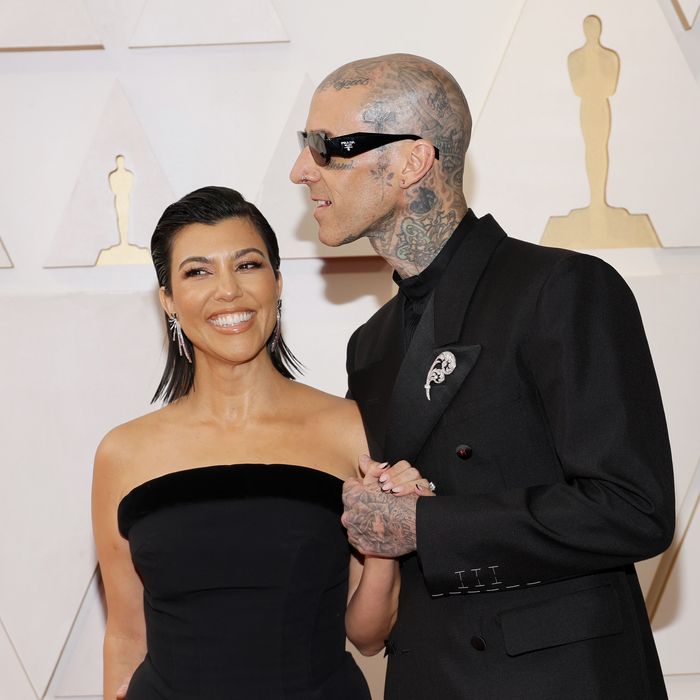 Photo: Mike Coppola/Getty Images
Whoever bet that Kourtney Kardashian would be the first member of Calabasas's first family to make it to the Oscars, congratulations, you saw what the rest of us could not. On Sunday, March 27, Kourtney and fiancé Travis Barker took a break from TP-ing each other's houses and recording music with Kris Jenner to attend the 2022 Academy Awards.
How, you ask, did Kourtney and Travis get an invite to the hottest award show of the season? No, it wasn't because the Oscars decided to create a last-minute Best Reality TV Show Award to honor the final season of Keeping Up With the Kardashians. They were actually there to work. Barker was invited to join the Academy's band alongside Sheila E., Robert Glasper, and musical director Adam Blackstone, and will be playing off long speeches and accompanying Best Original Song nominees throughout the night. (Barker's BFF and frequent collaborator Machine Gun Kelly was, it seems, not invited.)
Wearing all black — Kourtney wore a strapless black vintage Mugler gown — the emo pair looked very loved up while making their first red-carpet appearance since they got engaged in October. The couple famously loves red carpets: They made their relationship red-carpet official at the MTV Video Music Awards in September of 2021. And, in keeping with tradition, Kourtney and Travis kissed for all the cameras (if you can call touching tongues kissing).
Earlier in the day, she took fans behind the scenes of her Oscar prep, sharing an Instagram Story from a visit with aesthetician Iván Pol. I mean, as the first Kardashian to make it to the Oscars, she had a standard to set, you know? Who's the "least exciting to look at" now, Kim? Hmm?