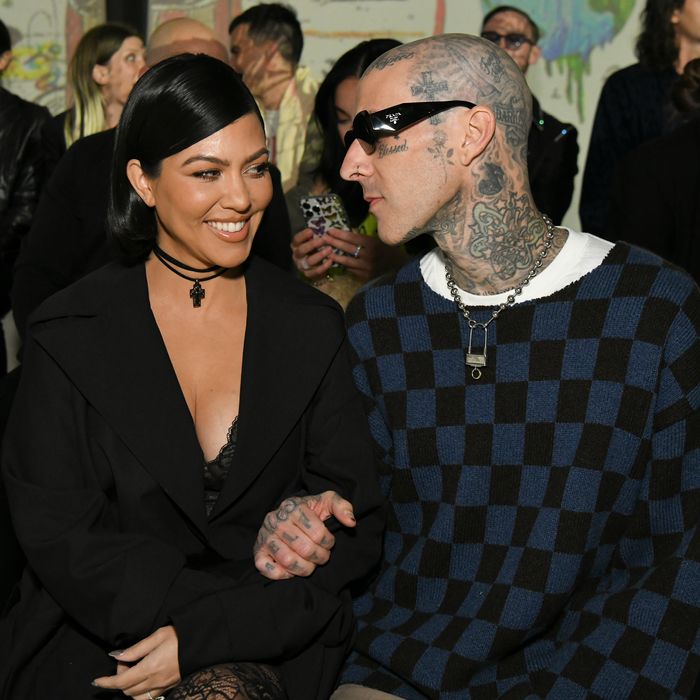 Photo: Rodin Eckenroth/Getty Images
Nothing says "I love you" quite like waking up to a lawn covered in toilet paper. Travis Barker got this lovely declaration of adoration from his fiancée, Kourtney Kardashian, over the weekend. According to her Instagram, Kardashian wrote "Got You" in huge toilet-paper letters on what appears to be Barker's front lawn. She added an "LOL and "HAHA" for good measure.
Kardashian shared a few photos from the great TP-ing of her fiancé's home in an Instagram post on Monday, tagging Barker in an image of his lawn. The post, captioned "weeeeekend," included three photos from the romantic event, showing that she and her accomplices (two blurry figures seen in one of the photos) used at least seven rolls of toilet paper. The carousel also featured a photo of avocado toast, a public-bathroom selfie, and a portrait of Barker done by Kardashian's daughter Penelope. Barker later shared some of the photos on his Instagram stories, commenting, "I love this Penelope" on the image of her portrait.
You have to hand it to them, nobody has a love language quite like Kourtney and Travis. From now on, I'm putting "must declare love with TP pranks" in my Hinge bio.