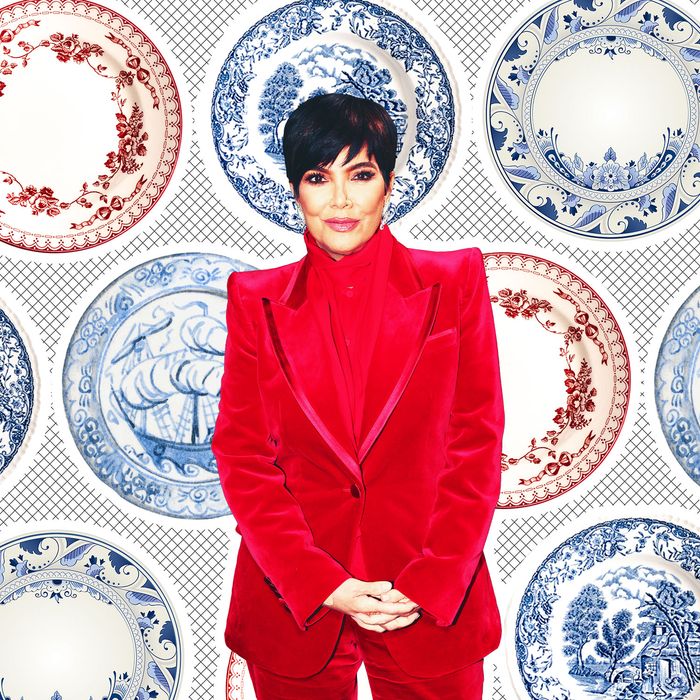 Kris Jenner, purveyor of fine china.
Photo-Illustration: The Cut; Photos: Getty Images
Kris Jenner is doing amazing, sweetie. She's got a new grandchild, a budding music career, and Pete Davidson — what more could a momager need? Perhaps an entire walk-in closet dedicated to expensive dishes? Sure! Why not?
In a recent post on Poosh — Kourtney Kardashian's lifestyle blog I'm still convinced is some type of performance-art piece — Jenner showed off her dish room, which is … exactly what it sounds like. The large walk-in pantry houses thousands of dollars' (if not tens of thousands of dollars') worth of printed plates, matching teacups and saucers, customized mugs, and tiny bowls for your fanciest, smallest soups. The collection is impressive if only because this woman lives in Los Angeles, where there are more earthquakes than there is rainfall. Are these plates glued in place? How does she make sure nothing breaks? I fear that if you sneezed too aggressively in an adjacent room, you could break a $640 teapot.
While my overstuffed cabinets are home to chipped plates my parents didn't want and old pasta-sauce jars repurposed as glassware, Jenner's dish room is designer. There are Gucci coffee cups and Hermès teacups. Would you like a butter dish from the collection? That will cost you a modest $120. I have never eaten butter fancy enough to touch such a dish.
Of course, this isn't surprising coming from the same person whose refrigerator and freezer look like a mini Whole Foods. Kris Jenner's lettuce lives better than I do. Unfortunately, dinnerware appreciation does not seem to be genetic — remember when Kendall Jenner returned the Hermès china set Kourtney gifted her? I'm sure that pained Kris more than it did Kourtney.