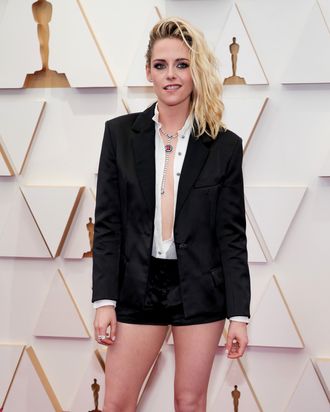 Photo: Kevin Mazur/WireImage
If you heard a loud gasp, that was just our collective excitement over Kristen Stewart's look on the 2022 Oscars red carpet. It is, in a word, impeccable.
Stewart, who is nominated for her first Academy Award tonight, arrived on the red carpet dressed in Chanel. More specifically, Chanel black shorts. Shorts! She could potentially win her first Oscar tonight wearing shorts. An unimpeachable choice. No notes.
Stewart's look also included a black blazer, an unbuttoned white shirt — big night for exposed chests — and heels. At least, she was wearing heels when she arrived at the Academy Awards. By the time Stewart made it to Laverne Cox, who's covering the red carpet for E!, her shoes were already off. Unfortunately, we didn't get a removing-of-the-heels moment like we did at Cannes in 2018, but we'll take what we can get.
Stewart, who brought her fiancé Dylan Meyer with her, is nominated in the Best Actress category for her portrayal of the late Princess Diana in Spencer. The film, directed by Pablo Larraín, closely follows Diana over a three-day period of Christmas festivities at the queen's estate as her marriage to Charles unravels. Also nominated in the category are Jessica Chastain (The Eyes of Tammy Faye), Olivia Colman (The Lost Daughter), Penélope Cruz (Madres Paraleleas) , and Nicole Kidman (Being the Ricardos). If she wins, Stewart would be the first openly queer actor to do so in the award show's history.
Here's hoping she and her shorts take home a little golden statuette tonight.