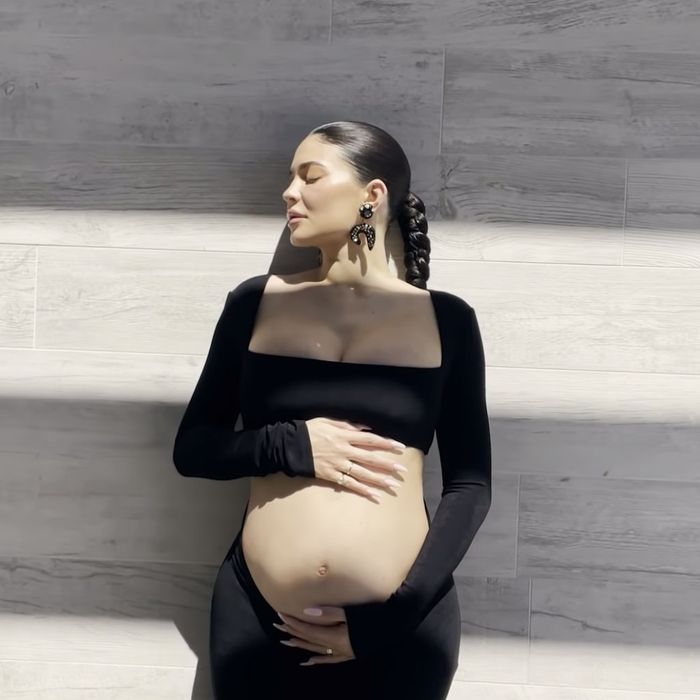 Photo: Kylie Jenner/Youtube
The Kardashian-Jenners never do anything halfway, baby wardrobes included. On Monday, Kylie Jenner gave fans a peek into her newborn son's closet, and I did not know this many kinds of baby sneakers existed.
Jenner welcomed her second child with Travis Scott, formerly known as Wolf, on February 2, and other than releasing a photo of the newborn's hand on Instagram, she's kept details about her baby private — until today. Following in the tradition of the baby announcement for her daughter, Stormi, Jenner dropped a lengthy video tracking her pregnancy journey called "To Our Son." It includes footage of Jenner telling Scott the big news, her extravagant baby shower, and even the birth. She also recreates her "I'm 34 weeks today" moment from the original "To Our Daughter" video.
But by far the most impressive moment is when the video takes you into the newborn's nursery. The room itself is full of neutral tones (think Kim Kardashian's cream-colored home) and features a big, sculpturelike crib and a Louis Vuitton teddy bear. Then there's the closet — or should I say, there's the shoe closet.
This baby isn't even 2 months old, but he already has more pairs of shoes than I do. There are literally five shelves full of baby sneakers and a grand total of 44 individual shoes. That's 22 pairs of sneakers for a child who can't even walk yet. Granted, some shoes look like they were made for babies who are 1 or older, so he'll grow into them in time. I'm not a mother, but I have to wonder, how many pairs of shoes does a baby really need?
If this is what Jenner's son's shoe closet looks like, I can't fathom how many sneakers his big sister, Stormi, has acquired in her four short years of life. Considering previous gifts from her parents include a diamond ring, a school bus, and a giant inflatable replica of her head, one can truly only imagine.