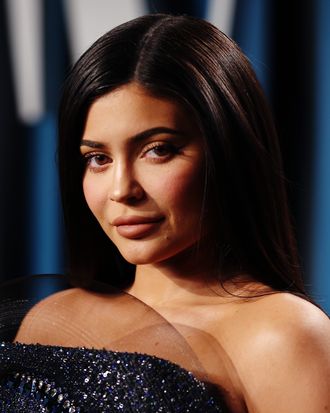 Photo: Getty Images for Vanity Fair
The saga of the Kardashian-Jenner baby names continues, this time with a family first: a name retraction!
On February 6, Kylie Jenner announced the birth of her son with Travis Scott, their second child together, in an Instagram post of a tiny hand holding an even tinier hand. The baby boy, who was apparently born on 2/2/22, is the latest addition to the Kar-Jenner family and, for all practical purposes, Stormi Webster's new personal assistant.
In typical cryptic-celeb-baby-announcement fashion, neither of the baby's parents (or famous aunties) revealed his name right away. But less than a week later, Kylie shared her son's name in an Instagram Story. "WOLF WEBSTER," she wrote, along with a white-heart emoji. Or so we thought.
It turns out the baby didn't really give off "Wolf" vibes, because on March 21 — a full month after Jenner announced her son's name — she took it back. After posting a sweet video chronicling her pregnancy, titled "To Our Son," and seeing fans and media outlets refer to her son as "Wolf," Kylie set the record straight on her Instagram stories. "FYI our son's name isn't Wolf anymore," she wrote. "We just really didn't feel like it was him. Just wanted to share because I keep seeing Wolf everywhere."
So, there you have it … the boy that was once Wolf is now … the boy formerly known as Wolf! I'm still processing: The "2/2/22" caption had me betting on astrological/the heavens–themed names. But, I digress: Consider this my welcome-to-the-world notice to little formerly-known-as-Wolf! May your name fit you just right, whatever it may be.