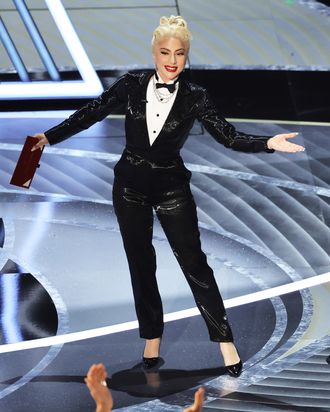 Photo: Neilson Barnard/Getty Images
Mamma Mia! Lady Gaga, despite being snubbed for an Oscar nomination after dedicating her soul and hair to playing Patrizia Reggiani in House of Gucci, showed up to the Oscars at approximately 11:32 p.m. after hitting a different party earlier that night. To which I say, good for her.
House of Gucci, the two-and-a-half-hour Ridley Scott opus chronicling Reggiani's marriage to and assassination of Maurizio Gucci, only received one Oscar nod, with a nomination in the Hair and Makeup category. Disappointing and also a little surprising, considering how much buzz Gaga singlehandedly whipped up during the movie's over-the-top rollout. Still, without that hair, we would not have Gaga's nine-month Patrizia accent, so at least the Academy is willing to acknowledge its significance.
Sadly, even that '80s perm did not earn House of Gucci Oscar status — the Hair and Makeup award, which was announced before the live broadcast of the show started, went to The Eyes of Tammy Faye — but Gaga is not one to let an Oscars appearance go to waste. Presenting the Best Picture award to CODA with the legendary Liza Minelli, Gaga clutched the hand of the Hollywood icon while softly whispering "I got you" in Liza's ear. Brilliant, incredible, amazing, show-stopping, and also profoundly moving. Oscars for all!