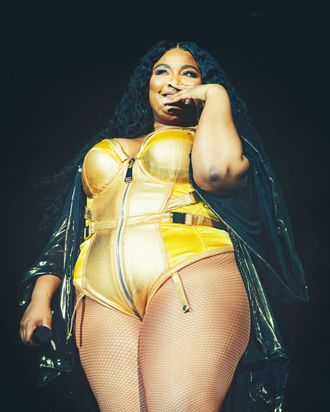 Photo: PYMCA/PYMCA-Avalon/Universal Images Group via Getty Images
How many bodysuits will I buy during this pandemic? Now that Lizzo is launching her own shapewear brand, unfortunately sky's the limit. On Wednesday, March 30, fresh off the premiere of her Amazon Prime show Watch Out for the Big Grrrls Lizzo revealed her new project, Yitty, a Fabletics-backed shapewear line "For Every Damn Body."
Lizzo has been a champion of big girls her entire career, sometimes by speaking out, other times, sadly, but simply existing in the spotlight as she is. Meanwhile, shapewear has largely existed as a way to change women's bodies. Lizzo is trying to give it a new meaning. For the singer, it's not about selling clothes, but selling confidence. "I'm selling a mentality that 'I can do what I want with my body, wear what I want and feel good while doing it,'" she told The New York Times.
The singer has reportedly been wearing shapewear since she was in middle school, saying in a press release that she felt "in order to be considered 'acceptable' I had to inflict some sort of pain upon [my body] to fit into an archetype of beauty." Yizzy is meant to be a comfortable and inclusive alternative. "This is *not* an invitation to change who you are… this is an opportunity to BE who you are on your terms," she wrote on Instagram, calling Yizzy a "chance to reclaim your body and redefine your beauty standard."
The brand is set to launch online on April 12 with three collections: Nearly Naked, Mesh Me, and Major Label. These will include bras, underwear, bodysuits, and matching sets, all ranging from sizes 6X-XS. (For comparison, Kim Kardashian's SKIMS bodysuits only goes up to 4X/5X, with bralettes and panties going up to 4X.) Let's go girls.