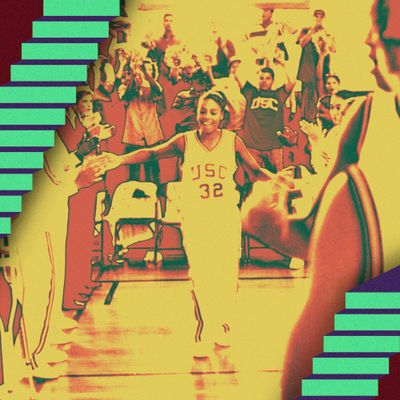 Photo-Illustration: by The Cut; Photos: Shutterstock
In this micro-series, the Cut revisits five Hollywood classics about female ambition.
You can't talk about the portrayal of female ambition onscreen without talking about Gina Prince-Bythewood's Love & Basketball. And not just because it's one of the best female-driven sports movies of all time. It's a celebration of one woman's ambition, yes — but as a debut feature, it's also an example of female ambition behind the camera. The then-29-year-old Prince-Bythewood went on to become one of the most successful Black female directors in Hollywood.
Over time, Love & Basketball became a classic, even though when it was released in 2000 it had a mediocre run at the box office. (It reportedly grossed $27 million on a $15 million budget.) Nonetheless, it was well received by critics, and went to home release before becoming regular programming on cable. I had a rule growing up that if I was channel-surfing and stumbled on Love & Basketball, I would watch it, no matter what — I wasn't the only one.
When Prince-Bythewood first started working on Love & Basketball, her goal was twofold. As she told The Hollywood Reporter, she set out to make a "Black When Harry Met Sally," and to tell a story that would show that "women could have both — love and career." At its core, Love & Basketball is a love story that celebrates a woman prioritizing her own needs ahead of her boyfriend's, a delightful change for a generation of women used to watching women sacrifice their ambitions for love. The film follows Monica (Sanaa Lathan, in her first of many romantic leads), a young Black woman growing up in L.A. who dreams of being a basketball player, and her on-and-off relationship with her next door neighbor, Quincy (Omar Epps), the son of an NBA legend desperate to get out of his shadow. After hooking up in high school, Quincy and Monica spend the first year of their college basketball careers together at USC before it all falls apart.
Midway through the movie, Quincy guilts Monica for having to make curfew to ensure she can play on the team. He wants her to stay out and comfort him — he's just found out that his dad has been cheating on his mom — and in his sadness, can't stand that she's  prioritizing her play, her game, over his immediate needs. After that, their relationship isn't the same. She becomes a starter, and Quincy ends up cheating on her, breaking up with her, and dropping out to join the NBA.
I always saw Quincy and Monica's breakup as one that happened because Quincy's ego was too fragile, his selfishness too blinding, for him to respect Monica's dreams of going pro. It didn't occur to me until a couple years ago that there were people that interpreted the fight differently, who thought Monica was wrong for not staying out past curfew when Quincy really needed her. I had honestly never before considered that Quincy might have a point — wasn't he just a self-centered man who didn't believe in a woman's ability to play basketball as seriously as men?  While I can see the other side now, I'm glad that it took so long for me to understand Quincy's side. Because it let me believe that women could put our ambitions first — that we should.
This is emphasized by how the film treats Monica's flaws. Sure she's quick to anger, perhaps a bit too passionate sometimes, and, yes, cares more about the sport than nurturing her relationship. But there are reasons for that, too. Unlike Quincy, who becomes a star player his first season at USC, Monica must fight for a spot on the starting line. She knows there is more pressure on her to succeed as a woman, and as unfair as it is, she's right. As she tells Quincy, "You talk smack and you get a pat on your ass. But because I'm a female, I get told to calm down and act like a lady. I'm a ball player."
The two eventually find their way back together, but Monica must first learn to balance her personal life and her professional one. Most importantly, she does it without sacrificing any part of herself — not her loyalty to her team, not her passion for basketball, and not her self respect. The only thing she has to do is be honest with him about her feelings and do what she does best: play ball. In a grand romantic gesture, Monica challenges Quincy to a game of one-on-one for his heart. And here, her professional ambitions don't cost her anything — they actually help her win him back.