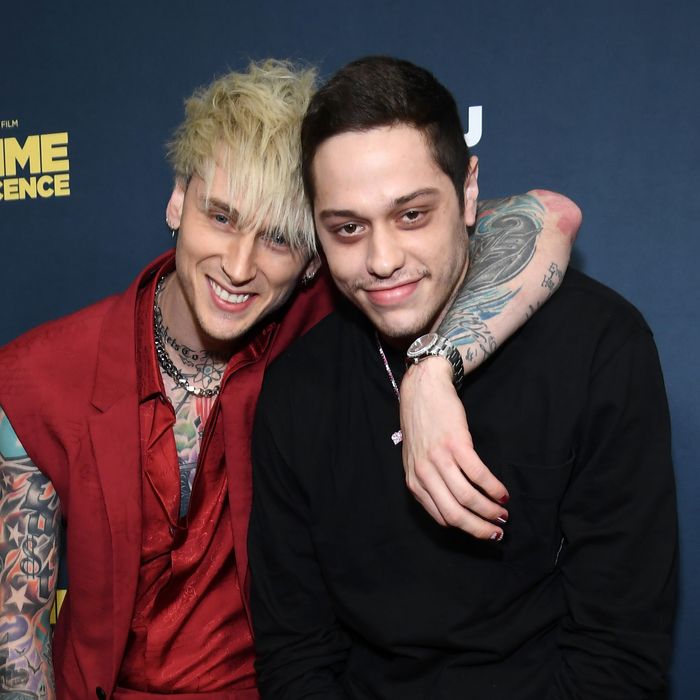 Photo: Dimitrios Kambouris/Getty Images
Before there was Machine Gun Kelly and Megan Fox, there was Machine Gun Kelly and Pete Davidson. Years ago, they weren't in high-profile relationships, or joking about drinking the blood of their fiancées. They were just two tall, lanky, tattoo-covered men whose friendship was the stuff of millennial Hollywood legend. And they're going to take that all the way to the altar.
Machine Gun Kelly, also known as Colson Baker, revealed during an interview with Howard Stern that while he hasn't nailed down his wedding party yet, Davidson will definitely be standing by his side when he ties the knot with fiancée Megan Fox. "I think Pete's absolutely going to be standing there with me," he said, admitting that he plans on having "an army" of "close best friends" as his wedding party. (MGK's friend and collaborator Travis Barker wasn't mentioned, but they have matching tattoos, so I'm guessing he'll be on the guest list.) Based on Davidson and Baker, I'm gonna go ahead and assume they are all tall, lanky men with bleached hair of some sort and I look forward to seeing the photos of this Machine Gun Kelly army.
Baker wouldn't say whether or not Davidson would be his best man, but he did brainstorm a special job for his BFF. "We should mic him just for commentary," he said. To which I say, why not just let Pete Davidson officiate this wedding? What's holding you back?
Of course, before Davidson can even officiate a wedding, MGK and Fox need to plan it. And so far, they've had some trouble. As Baker said during a recent appearance on The Late Late Show With James Corden, it has been hard "trying to find a spot that's matching my artistic [vision]" for the wedding. That vision for his "gothic" wedding apparently includes a red river, which, yes, would be difficult to find in the wild. But if anyone can do it, it's you, Machine Gun Kelly! May you find the red river to give you the emo wedding of your dreams.