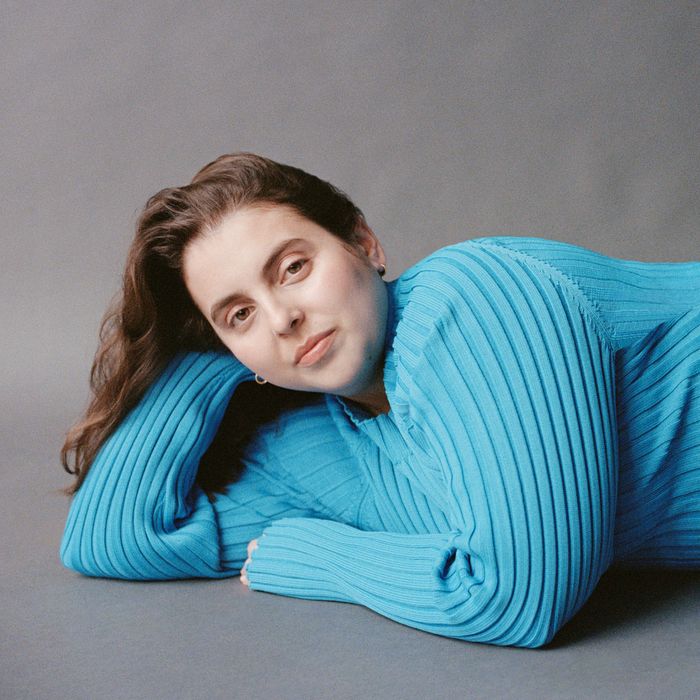 Hanifa
Olivia Maxi Dress, a
vailable at hanifa.co.
Prounis
22K Gold Huga Hoop Earrings,
available at prounisjewelry.com.
Photo: Jody Rogac
In the musical Funny Girl, Fanny Brice is the hopeless-romantic type. Sure, she gets excitedly swept up into a relationship littered with red flags that she ignores until it ends exactly as you'd expect — but that's not what I mean. Fanny is in love with the stage.
This spring, Beanie Feldstein makes her Broadway headlining debut in Harvey Fierstein's revival of Funny Girl in the role that cemented Barbra Streisand's fame.
"Fanny believes that she has something special," Feldstein tells Michaela Jaé Rodriguez in conversation for the Cut's March cover. "And she's very unapologetic in her pursuit of getting to be onstage." Feldstein and Rodriguez are friends and collaborators, currently developing and co-starring in an episode of the upcoming anthology series Girls Can't Shoot (& Other Lies), based on the best-selling essay collection Feminists Don't Wear Pink (and Other Lies). 
Feldstein, a self-described musical-theater kid who "came out of the womb with jazz hands," can relate to Fanny. Well, relate-ish. "I finish a number in the rehearsal room, and I run offstage," she says. "I'm like, 'No, don't look at me!'"
If anything, it's us non–Famous People who can relate to Feldstein. Her mix of "Can you believe this is happening?" enthusiasm, comedic ease, and contagious brightness are what made audiences first fall for Feldstein in 2016's Neighbors 2: Sorority Rising and Lady Bird the following year and later in her breakout role in 2019's Booksmart. Last year, Feldstein proved she could do way more than being typecast as the funny best friend in her starring role as Monica Lewinsky in FX's Impeachment: American Crime Story.
When she spoke with Rodriguez earlier this week, right after the Funny Girl cast's first full dress rehearsal ("I'm shvitzing under here," she said), she was wildly excited. "Nothing gets your gut like musical theater," she said. At one point in their wide-ranging conversation, Rodriguez learns of the motto that Beanie developed as a teen. The secret weapon to stopping herself from caring about what anyone else thinks of her.
It's simple, she tells Rodriguez: "They either want the Bean, or they don't want the Bean."
Michaela Jaé Rodriguez: What has your journey since Lady Bird and Booksmart been like, trying to find your way as an individual but also being creative?
Beanie Feldstein: I grew up in community theater; that was my heart and soul. But my first professional opportunities were on-camera. So I spent most of my 20s exploring this new medium, completely foreign to me, of being on-camera. I fell in love with it, but I couldn't believe it. It's almost like, "You play sports, but do you play soccer? Do you play basketball?" I was like, "I grew up only playing soccer; I don't know if I'm going to like basketball," and that's how I felt about being on-camera and being on a set, but it's very different.
Coming back to Broadway, I'm just reminded that there's nothing like the joy of musical theater. The joy that I get when I'm in a rehearsal room with people and dancing, the joy I feel when I dance.
Michaela Jaé: I feel like theater is a different kind of escape. There's an in-depth, personal connection when it comes to film. Whereas onstage, you get to let loose — I feel like you need to be as big as a child in their toddler stage, and they're running around because they need people to see them.
Beanie: Totally. Fanny Brice was a comic and performer, so even when she's not onstage within the show, she's still this huge personality and takes up space in the room. It's this release, I think. It's so scary and nerve-racking, and it is bigger than I can even digest, but I'm so happy.
Michaela Jaé: But back to your path from Lady Bird and Booksmart — those are such different genres of work compared to the next major role that followed, Monica Lewinsky.
Beanie: Doing Impeachment was a two-year thing because of COVID, and it was long and arduous. It was so emotionally taxing that I didn't realize how empty I was at the end of it.
I remember looking at Sarah Paulson, who played Linda Tripp in the series, as literature —I couldn't see Sarah, but I knew she was in there. We became very, very, very close. I remember looking at her when we were filming one of Ryan Murphy's episodes that he was directing. It was when the FBI took Monica upstairs. We were filming us walking and getting into the elevator and then coming up and escorting her into the Ritz-Carlton room. She knows Linda's a traitor, but she doesn't quite understand what's happening. Imagine being 22 in your workout clothes and the FBI descends on you at the mall. So scary.
Michaela Jaé: How do you deal with moments like that when you're in the scene? Is there a bit of trauma that comes with it, or are you just in the moment?
Beanie: For Monica, it was just very visceral because I'd read everything and I listened to everything. Then I also got to know her a little more as the show went on. But this was right at the beginning. We were filming, I think, January 2021. I looked at Sarah. I will never forget it. We were in the elevator set, and I was like, "I've never been in a drama." She was like, "What do you mean?" She's so sassy with me. She's like an older sister. I was like, "I literally have never been in a drama. I did plays in college, but this is such an emotional story and it's someone's real life. It is so human." It hit me so deeply, and what she went through is really difficult and painful.
It dawned on me all at once. And I had never really done TV. It just was a real journey for me, a learning curve like I've never experienced. Being thrown into that schedule, and then with COVID and the pandemic layered on top of it, was really, really emotional for me and just a more profound experience than I've ever had on anything.
I didn't go to drama school. I went to college, but not for performance. So I learned from Sarah Paulson not only how to be an actor but how to be a leader. Then working with Clive Owen, who played President Clinton, it was like, Oh, I'm in a different universe here. Just to be the young one that got to learn and really just push myself. Anyway, I'll stop talking. I've been rambling for 20 minutes.
Michaela Jaé: I love hearing this because there's so much of a juxtaposition between you doing comedy and doing drama. I know obviously what it entails when it comes to drama, how much you put into it, how it can be draining. Then where's the space left for Beanie?
Beanie: Playing Monica was the first time where I ever had trouble kind of leaving it at the door, leaving it behind at the end of the day. And I think too, because of COVID, I was living by myself, and so it was a very isolating experience. I was only really going out to play Monica. But I do think that, for me, I think I feel it with Funny Girl, the fear and the kind of — it's such a vocal task, and it's all very nerve-racking. But the joy that I feel is — when you love theater, nothing gets your gut like musical theater.
And I get to be surrounded by the most incredible talent. We have like ten or 11 Broadway debuts in our company. There's so much energy and joy in our rehearsal room. And yeah, I think comedy is hard, and it's more of a mental game, but I do think that I can cut loose a little bit more. Of course, obviously, versus with Monica, it was also just it being a real person who I love and who I text. The stakes were so high that I couldn't kind of let them go. And with theater, you just kind of leave it all on the dance floor. I feel like I'm high right now because we just ran the show for the first time; I'm shvitzing under here.
You know, I do genuinely think my No. 1 love of life might be dance. Because I don't have any expectations for myself with dancing. You just get out of your head, and you're just … I don't know. It's so, so fun.
Michaela Jaé: So who is this character you're playing in Funny Girl? What does she stand for? What's her arc?
Beanie: So the show is actually told in memories. When you see Fanny Brice at the top of the show, she's in a very reflective moment. We're not sure why. She's in her dressing room, and she's looking back on her trajectory. She grew up in Brooklyn, and it's 1912 at the show's beginning; it's a different landscape, obviously. And it's the story of a girl who wants to be a star. In a different way than the actual Fanny Brice, I don't look like the other girls, and I don't act like the other girls, and my body is not the same as the other girls. But Fanny believes that she has something special, and she's very unapologetic in her pursuit of getting to be onstage.
She just wants to do what she loves, which we, of course, can understand. But there's this brazen, unapologetic attitude to her that I certainly don't have. I finish a number in the rehearsal room, and I run offstage. I'm like, "No, don't look at me!"
The first song is called "I'm the Greatest Star," and it's just her demanding that we know that she is a star, which is so uninhibited. It's so freeing to play someone who just puts a period at the end of the sentence and is like, "This is who I am, and make way for me." And the whole beginning of the show is people telling her that she's too — in my case, too short or not the right size or this … And she's just like, "Okay, I know I'm not that, but I'm this. And give me a chance to do this." And so, it kind of tracks her trajectory to stardom.
And along the way, she meets Nick Arnstein, who is played by the dreamiest Ramin Karimloo, who just has my heart. He is this kind of player, gambler guy who takes an interest in her. And so it follows their relationship alongside her stardom. There are a lot of really interesting discussions around masculinity and gender roles, and a lot of their tension comes from her being the moneymaker of the couple. In the show, we say something about $68,000, and I looked it up, and that's the equivalent of $1 million today. And so she's making crazy money and paying for his lifestyle, and a lot of the tension comes from him feeling emasculated by that and her just being like, "What's mine is yours. I don't understand why this matters."
Obviously, it was 100 years ago, but I think — look, I'm with a woman, so I don't know — that still happens in a lot of heterosexual couples today in a different way, I imagine. But they're still poignant. We're still in a place where that's not necessarily common or normalized in the same way.
Michaela Jaé: What are the parts that you turn down, and how do you think of that?
Beanie: Growing up in musical theater, I don't know if you feel the same way, but musical theater is extremely reliant on typecasting in a way that I almost argue that Hollywood is ahead of theater. When you make a film, unless it happens to have a remake years down the line, you're making it once. But when you are making a piece of theater, play or a musical, you're building it so that it can go to Australia, go to Japan, go to a high school. And so they cast very close to the original casting. And on Broadway even, often you have to fit into the clothes of the person who played the part before you. They literally are like, "If you don't fit this costume, we can't make another costume." So I think that theater is behind in opening up space for just maybe more exciting choices.
I feel really privileged that I've now gotten to play two roles on Broadway — I'm very different of course than the queen Barbara Streisand. And even with Hello, Dolly! I had people coming up to me after the show saying, "I didn't know you were playing Minnie Fay because she's usually little and blonde." But they made space for me to play that role.
For me, the times I say no are when I feel I'm being pushed to something, just because one identity factor becomes the whole story versus a real human being being the story. It's very, very emotional and powerful for me to be playing a role that I think is unexpected. I hope to always do that.
Michaela Jaé: Yes, I agree with you 100 percent — Broadway is a little behind in that way where the film industry is pushing forward. It's a little deterring. But one thing that I can say, and I know I can speak for you on this, we're soldiers, and that's why you're in a leading role right now.
I feel like there's tremendous small work to do. We have a long way to go when it comes to just what we allot to specific types of people, specific types of races, specific types of gender, specific types of body types in general. And when I say body types, I'm talking about all body types, including trans body types. Our bodies are so policed, and even, what I've realized, in Hollywood, certain body types are put ahead of the ones that are not stereotypically or conventional woman enough, you know? And I think that's how we would broaden and open their minds a little bit more. And just in general, when it comes to POC, I'm a huge person that's not going to stop talking about that because I am POC.
This sounds like a broken record from every actor, I'm sure, that has been able to say something like this, but if we don't fix it now, it will never be fixed. We'll still be dealing with the repetitive cycles that we've been dealing with. It's like generational cycles that we go through. I mean, Beanie, we're a part of a younger thriving generation. We're the new leaders — you know what I mean — alongside the many other great actors and actresses and artists out there; that's what needs to happen. Our voices need to be heard even more. And we have no problem with joining with the older generations; we respect them, but there also needs to be a little more respect for us and how we want to foster and help the youth with our craft and what we do with our storytelling.
Beanie: I mean, I couldn't agree more. There's so much more work to be done. You just need to make space for people. To audition people that you might not normally audition and let people in the door, because there are so many effing talented people out there that just never get the chance. Or are just completely boxed out. And it's so boring. It's so pathetic and boring, and it just has to be over. We just have to do better.
Michaela Jaé: So tell me, what other plans do you have for yourself after this? Aside from the amazing things that we're going to be doing down the line.
Beanie: I was like, "Working with you."
Michaela Jaé: Listen. You're a busy girl.
Beanie: Knock on wood, I'll be on 52nd Street for a long time. I think I'd love to do a film just to hit different characters quickly. I think I'll be in need of something that keeps me on my toes in that way.
Michaela Jaé: The Cut readers are also huge fans of your brother, Jonah Hill. [Ed.'s note: Hi, we interrupted the conversation to ask this, so you're welcome.] So have to ask, has it made it easier or more challenging to be in Hollywood and have a famous sibling? Do you feel like you have to prove yourself more than others?
Beanie: Sorry, I don't mean to laugh. It's just so not how I think of him — we shared a bathroom for so many years, you know what I mean? I see him as Jonah Feldstein, not as much as Jonah Hill. But he's my best friend. We are very close. And we lost our brother, so we have a very, very deep connection, and he's like one of the most important people in my whole life, and being his sister is like my greatest joy.
As far as the career stuff goes, I just came out of the womb with jazz hands. I just wanted to be onstage since I born. I feel so lucky to have him and his expertise and his guidance. And I think he's such a tremendous writer and director, and he's just very creative and wonderful. And so I feel so lucky, but I've just always kind of been on my own path, and I get to go on that next to him.
Michaela Jaé: I feel like I'm always asked this next question, but I want to ask you: For the kids out there who feel possibly misunderstood or ostracized within the musical room, what is a piece of advice that you can give them in the space that you're in and what you've spoken about before? And now seeing yourself in this place, head of the show?
Beanie: I crafted this thing for myself when I was a teenager. I would go to auditions, whether it was at the school community theater every now and then; if I would do a professional audition. I would walk into a room and feel very bigger or shorter or more Jewish or whatever it was; I felt very different than the other girls in the room. I was like, "They either want the Bean or they don't want the Bean."
This was my little motto that I would say to myself. It was really freeing because you didn't feel the need to become something you can't be or that you're not. You have to just lead with who you are and your-ness, your mush, and your humanity and put it out there to the best of your ability.
Then it's either going to be what they need or it's not going to be what they need. I always said to myself, "If you don't get it, it's the best day of that girl's life." So there's always joy happening. It just might not be pointed at you. Sometimes I have to go back to my 16-year-old self and remind myself of that.