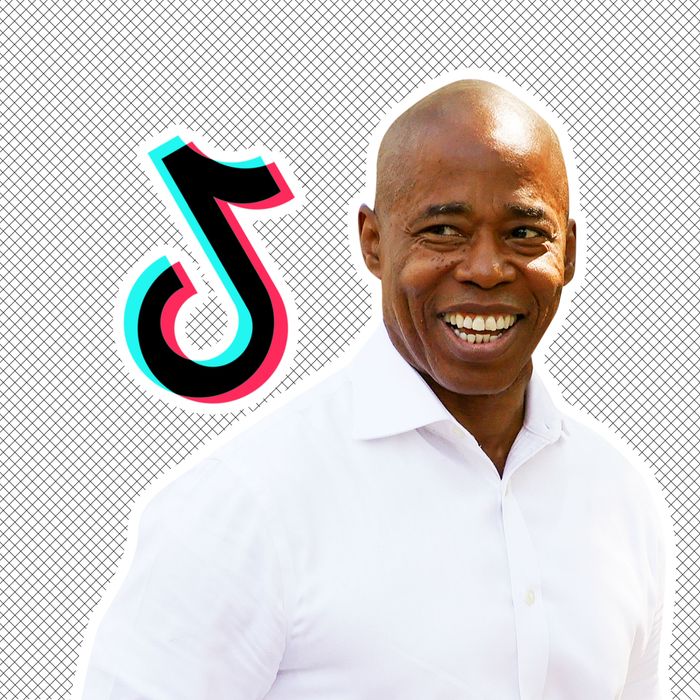 The mayor has joined your little clock app.
Photo-Illustration: by The Cut; Photos: Getty Images, TikTok
Bing bong and good day, fellow teens! New York City's Mayor Eric Adams has joined TikTok, and you know what that means: time for some Cool Content from Gracie Mansion.
First, let us look at Adams's very first TikTok, shared with his 146 current followers as of noon on Monday. Have a seat. There's a lot to take in here:
We open on a clip of NYC traffic — classic. There are some scenic shots of the mansion while Beyoncé's "Crazy In Love" plays quietly in the background. Did they want ambient music but weren't sure how to add audio on TikTok? Does Mayor Eric Adams play "Crazy In Love" wherever he goes? These are the first of my many unanswered questions. While I know this is absolutely not the case, I can't help but imagine the mayor standing outside with his iPhone pointed toward the sky, doing his little TikTok edits himself. Anyway, on with the video.
We get a gorgeous one-second shot of Adams's infamous green smoothie, which reads more as a sick-brown chunky. Then, finally, we see the mayor himself, standing in the dark, smoothie in hand, gazing out the window. "Bing bong, New York City. Your mayor's on TikTok," he says. "Let's get stuff done." Yes, sure, bing bong to you as well. But first, can we turn on a few lights?
In honor of the mayor's latest attempt to appeal to the Youth, here are some humble suggestions for Mayor Eric Adams's next TikTok:
1. Make this salad. We all know the mayor loves his greens. Thus, his obvious next step is to make Baked By Melissa's green goddess salad that uses, among other ingredients, a whole head of cabbage. Then, because I believe it is physically impossible to consume this salad in one sitting, he should spend the next week eating the salad at all his press conferences. Tortilla chips required!
2. A Hype House audition video. Adams was already seen partying with the D'Amelio sisters before the election. It's only a matter of time before he attempts to join the Hype House. But hasn't the Hype House met its demise?, you ask. To which I say: exactly.
3. An Emily Mariko–style tutorial on how to make his gloopy smoothie. Mayoral ASMR!
4. A bleak smash or pass with legislation and current issues. Expanding composting? Pass. Bail reform? Pass. Working from home? Hard pass. Ending pandemic-related mandates and skateboarding? Smash.
5. Bing bong! If there's one thing New Yorkers can agree on, it's bing bong. It's nonsensical. It's cathartic. It's an easy distraction from silly little issues like addressing the homelessness crisis or undoing lobbying disclosure mandates. Will Adams make public transportation free? Probably not but, in his words, bing bong.