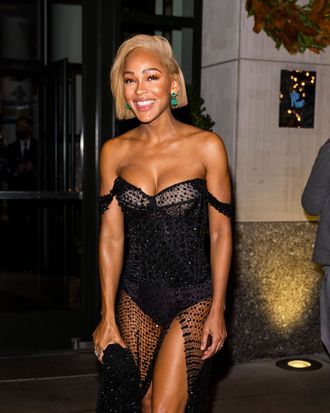 Everyone has been saying Meagan Good is back, but did she ever really leave? The 40-year-old actress has recently been in the news because of her divorce from film producer DeVon Franklin, whom she was with for nine years. She's been open about the split being the "most painful thing I've ever experienced." But she has been busy. In December, she starred in Amazon Prime's Harlem, in which she plays Camille, a popular upcoming professor at Columbia who has an on-and-off love affair with her ex-boyfriend.
Shortly after her divorce was announced, Good stepped out to a football game in a jersey reading "Ms. Good If Ya Nasty," and Twitter users certainly had a field day saying how much they've missed her. Today, she is in her selfish era. You will often find her with her best friend, actress Amy Correa Bell, and her sister, La'Myia Good, by the pool smoking hookah and having a glass of wine or cooking. She has also brought prayer into her life with her friends in a bigger way: "We pray together a lot. Even if we're not together, we'll just call each other and be like, 'Oh, I just wanna pray over you.'"
You're working with TreSemmé Future Stylists Fund, a scholarship program supporting diverse representation in the hairstylist community, to help choose ten winners. Tell me about your role with the fund and why you wanted to do it. 
There is not enough diversity especially within my industry and behind the scenes. I can't tell you how many sets I've been on where there wasn't someone there who could help take care of my hair, and that really made me see what a deficit there is.
I remember one time I was working with a stylist on set, and I said to her, "Look, if we straighten my hair, because my hair is so thin and so fine, if you put anything water based in it, then my hair will start to revert back to being curly, so it will defeat the purpose." And she was very insistent, saying she's sure it'll work. Eventually I caved because I felt bad. I let her try, and of course, my hair started going curly again. So then she had to put heat on it while it was still in that condition, which burned my hair a little bit, and you could smell it. I had to grow out that portion of my hair.
So I will always do what I can do to help see other young women of color get into the industry and have an opportunity to be out there and support each other. We need it.
Did you have a mentor growing up? What part does mentorship play in your life?
Jim Brown has been a big mentor of mine since I was a kid. He is my godfather. He was someone who really encouraged me that being an actress is a beautiful thing and getting to do creative things is amazing. But it has to be bigger than just that; it has to be bigger than you. He really gave me the spirit to get involved with activism and to be vocal.
As you're entering this new chapter in your life right now, what does self-care look like to you these days?
No judgment and rediscovering myself. I'm taking time to pray and read my Word like I always do, and I'm always intentional, but I'm hanging on every word now like, Lord, what am I supposed to be doing? Please order my steps specifically and help me stay in alignment with you. Taking care of myself has been a little selfish, which is different for me because I'm very much a people pleaser and try to do as much as I can for people, which I've probably been at fault for myself. In the past, I've found myself kind of ending up falling short. Once I said something about being mad at myself or something, and my best friend was like, 'Let me ask you a question: Would you talk to me that way?' And I said, 'No, never,' and she was like, 'Then don't talk to yourself that way.'
That is great advice. Harlem just got renewed for season two. How did you build the character Camille?
I've had a best friend for 25 years, and she's a Gemini. Camille's a Gemini. For the first time ever, I based a lot of my character off the Gemini personality. I explored who she is as a person and all of that, but I really questioned, like, How would a Gemini handle this? In other worlds, How would Amy, my best friend, handle this? And that kind of helped me build the character as well.
I didn't know you were into astrology.
It's so fun because, you know, I'm super Jesus time, and I don't believe in basing our life in the stars, but I do believe there are principles about the zodiac personality types that are so spot on. I totally believe in that. I just don't believe in, like, "Oh, this month, you're gonna fall in love" and "This month will be a month for prosperity" and all that.
Right, like don't start with the psychic stuff. 
That part. To each its own; it's just not for me.