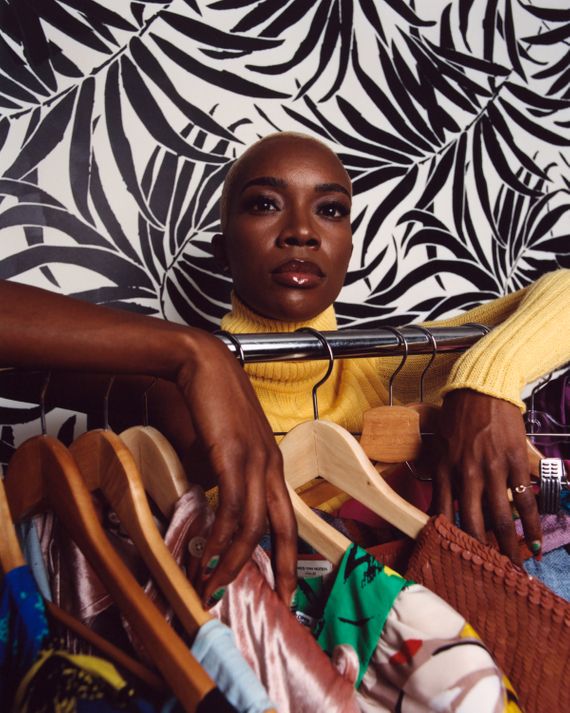 For Derica Cole Washington, costume designing is just as much about filmmaking as it is about clothes. After studying art history at NYU, working as an intern at the Studio Museum for director and chief curator Thelma Golden, and doing a stint in prop art, Washington has spent the past ten years steadily working up the ladder of costume design. She has served as an assistant on films like Selma and Da Sweet Blood of Jesus, as well as stepping out on her own to design for the indie movie How to Tell You're a Douchebag and Netflix's True Story.
On Wednesday, Washington was nominated by the Costume Designers Guild Awards for her recent work in Zola; among the other nominees are some of the biggest names in the industry, including Ruth E. Carter, whom Washington assisted early in her career.
What in your early life put you on a path to being a costume designer? 
My mother and grandmother both sewed, so I always had an understanding of garments and construction. My mom made all my clothes for me when I was a toddler. I never sewed with them, but I saw the process of them taking a fabric and turning it into something wearable. In Cincinnati, I went to a school for creative and performing arts. Even though I got into the school for singing, I went into the technical theater in middle school and began doing scenic art design for the sets. That got me interested in design.
At NYU, I studied art history. When I was studying abroad in London, I went to the Victoria and Albert Museum and was like, Oh my God. I love the experience of walking through, seeing how and what was on display, what the walls looked like, how the actual design of the exhibition space worked.
How did you get into costume design?
I was on Pinterest in 2012, and I noticed costume designer Ruth E. Carter was following me. Pinterest was big back then; it was like Tumblr. I only really knew who she was because of the films I was watching at the time, but she wasn't a household name to other people. She had just finished designing the first season of Being Mary Jane. I was 23, and I had no inhibitions. I just reached out to her and said, "Hey, my name's Derica. I have a degree in visual culture and costume studies from NYU. I'm interested in costumes." And she was like, "I'm working on this commercial, come assist me." I loved it.
How did you sustain yourself when you were starting? 
For a while, I was living out of suitcases and I had little to no money. When I was assisting Ruth, I moved out of one apartment, moved back home for a second, would stay with friends, sleep on couches. I found it adventurous because I was young. But in reality, it was super-stressful.
What is something that no one knows about your work as a costume designer? 
I can dress someone head to toe and then we never see that fabulous shoe or we never see that high slit in the skirt because of the way that particular scene is shot.
What thrills you about costume design?
I get to be this person who envisions what someone wears and how they move and creates their attitude. And I really love filmmaking. I can open a script and so many things can happen.
What is the first thing you do when you start to envision a character's look?
When I did Zola, because it was based on a Twitter thread, I made my look book look like a Twitter account. So just like pops of images, words, kind of just a variety of different things as to how you would process a Twitter feed. When I did the show Twenties, I made it an Instagram account because it's people in their 20s and they're always on their phone scrolling. I approach it differently for each job, but the main thing is the contents of the look book, and I pretty much go from there and work off of that.
What's your favorite look you've done? 
My favorite looks are definitely from Zola. Dressing Riley Keough, she got into the character, and it's always amazing to see someone get into it once they get their wardrobe on. There were these Adam Selman pants, they were not period appropriate, but they were just so fabulous, and I had these vintage Dior jelly sandals, and I remember thinking, This is the look.
What's something frustrating about your job? 
My biggest issue with the industry now, especially in contemporary work, is that I feel like there's no value placed on the costume designers. It's about, We want to partner with this fashion brand for promotion.
Are there any other artistic mediums you want to try?
I definitely have an interest in doing interior styling. Your space is such a reflection of who you are. It's so interesting when I see people who dress really well and have no idea how to do that for their home environment. I definitely like to live a full lifestyle; everything needs to match. That's why now I like vacationing more than I ever have.
How do you make a space feel more homey and more aesthetically pleasing? 
Fresh flowers. I always want something to feel rich and lived in.