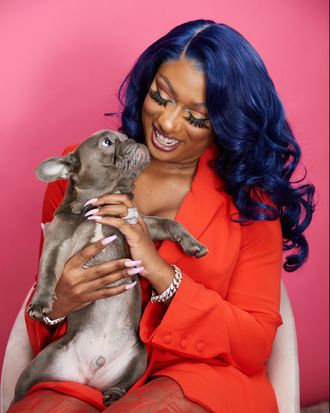 Photo: Sara Jaye Weiss/Shutterstock
Drop everything — you need to see how Megan Thee Stallion's dog eats pasta. On Monday, the rapper celebrated the birthday of her French bulldog 4oe with an Instagram post showing off his superb table manners.
"Happy birthday to my sonnn @frenchie4oe," she captioned the post. "My lil old man." The rapper shared three photos of 4oe, who is now three human years old, including one incredible shot of him sitting at a table getting ready to eat a small mountain of pasta. I cannot stress enough how polite and restrained this little gentleman is in front of his delicious pasta treat. His paw is literally lying delicately on the fork as if he's waiting for Megan's food to arrive before digging in. But the real joy of the photo is the setting: Based on the gondola sign behind him, it would seem little 4oe was eating spaghetti in Venice. What a life.
It's no surprise 4oe has such refined taste. Ever since Megan took him home, he's been a celebrity in his own right. Though the rapper reportedly has six dogs, 4oe is the only one with his own Instagram account, and he frequently accompanies his mom at various press events. He even appeared in Megan's Sports Illustrated "Swimsuit" photo shoot and her Popeye's commercial. "I take 4oe everywhere," she said in a 2020 interview with GQ. "They need to start getting him his own dressing room at this point because he's famous."
4oe may be her most constant companion, but Megan loves all of her pups. In fact, she loves them so much she created a show for them on Snapchat called Off Thee Leash With Megan Thee Stallion.