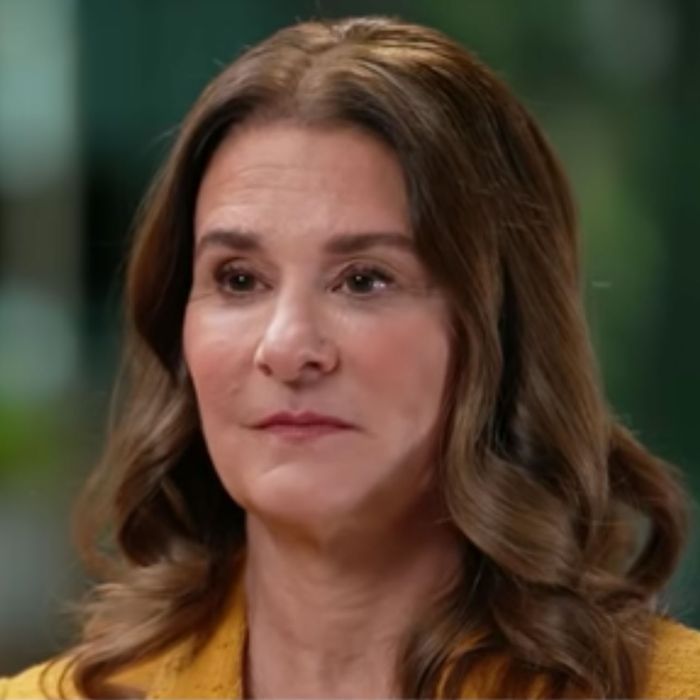 Photo: CBS Mornings/YouTube
For the first time since they announced their separation in May 2021, Melinda French Gates has publicly spoken out about her divorce from Bill Gates. In a new interview with CBS Mornings' Gayle King, French Gates, who is worth an estimated $11.4 billion, opened up about her split from the fellow billionaire, giving further insight into why they ended their marriage.
"It's not one thing; it was many things," French Gates said. "But I did not like that he had meetings with Jeffrey Epstein, no … I made that clear to him." Bill Gates had a working relationship with Epstein, reportedly receiving business and relationship advice from the convicted sex offender. Gates has since tried to minimize their relationship, but he did say in a statement to CBS News, "Meeting with Epstein was a mistake that I regret deeply. It was a substantial error in judgment."
French Gates said she met Epstein once and "regretted it" instantly. "He was abhorrent. He was evil personified. I had nightmares about it afterwards," she said, though she didn't give details on the interaction. When pressed about why Gates continued to meet with Epstein after her reaction to meeting him, French Gates said questions about Gates's relationship with Epstein are "for Bill to answer." However, she added, "I made it very clear how I felt about him."
King asked how Gates's infidelity impacted their marriage. (He admitted to having an affair with a Microsoft employee in 2000.) "I thought we had worked through some of that," French Gates said. "There just came a point in time where there was enough there that I realized it just wasn't healthy. And I couldn't trust what we had." When asked if he had more than one affair, French Gates said those are also "questions Bill needs to answer."
As of now, French Gates said she and Gates are "friendly," but when asked whether she would consider themselves friends, she was hesitant. "Friends is a different word for me," she said. "That might come over time, but for me, there's still healing that needs to happen." The two still have a working relationship as they have continued running the Bill & Melinda Gates Foundation together during a two-year trial period.
She acknowledged she's needed to grieve the loss of their relationship. "I gave every single piece of myself to this marriage," she said, adding that there were "a lot of tears." She continued, "Days where I'm literally laying on the floor … thinking, 'How can this be? How can I get up? How am I gonna move forward?'" However, she says she's on her way to the other side and feels like she's "turning a page."
As far as what's next, French Gates is focused on her new firm, Pivotal Ventures, a philanthropic company focused on empowering women and families. She said she's also easing into the dating pool: "I'm dipping my toe in that water." When King asked what the water looks like, she responded, "Interesting."