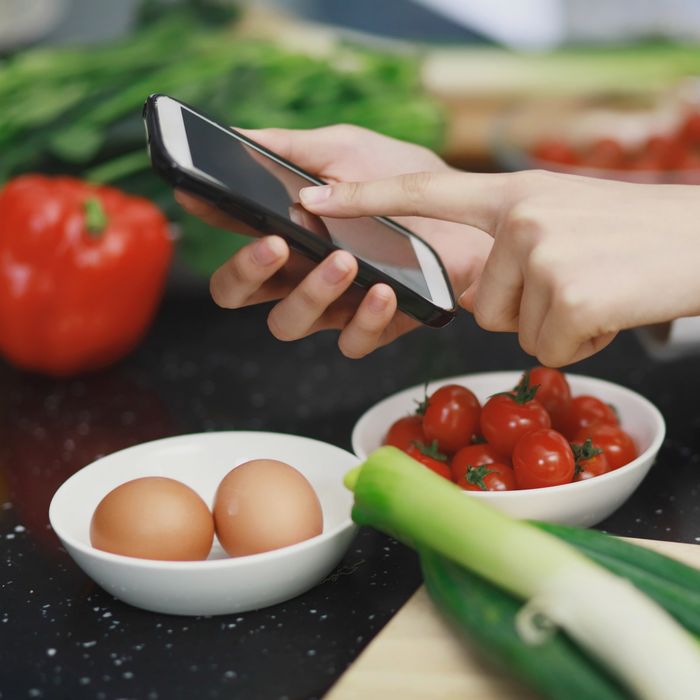 One of the first apps I ever downloaded to my first iPhone was MyFitnessPal. It marketed itself as "the best weight loss and fitness app" out there. I was 17 and had been an avid calorie counter before. But this time, I became obsessed.
MyFitnessPal was one of the first food-tracking apps. But over the next decade, hundreds more — including Noom and Weight Watchers — made their way into the app stores, and weight-loss programs shifted from existing in weekly meetings to living in your pocket. Just about anyone with an iPhone could download them, including teens and young adults with impressionable body image in an already Instagram-heavy world.
These apps aren't inherently bad — there are some who swear by them and use them in a healthy, beneficial way. But as eating disorders have steadily risen around the world in the last two decades — and dramatically increased during the pandemic, especially among teen girls — it's also become clear that using these apps can sometimes cause more harm than good.
"Technology that constantly monitors the body can lead to obsessive thinking and anxiety around body image and food, even for those that do not have a history of an eating disorder," says Johanna Kandel, founder and CEO of the National Alliance for Eating Disorders. "Research has shown time and time again that any type of dieting (including calorie counting) is the greatest predictor of, and risk factor for, an eating-disorder diagnosis."
Even after quitting MyFitnessPal, I still found myself writing down numbers in the corners of notebooks and napkins. At 18, I entered recovery for my eating disorder for the first time. Eventually, I enrolled in an online-only intensive outpatient program, where my nutritionist suggested I try out an app called Recovery Record. There, I could log my food, but instead of equating them to a "good" color or low caloric rate, I instead was encouraged to write about how I felt before, during, and after eating.
It's one of a number of apps that can aid in recovering from an eating disorder or help people looking to create a more mindful relationship with food. Here are four apps recommended by professionals.
This diary app aims to mend an unhealthy relationship with food by prompting users to record what they eat in photos and written responses. Not only do you log what you ate, but you also log where you ate it, who you were with, what you were doing, and anything else that could affect your mood. Recovery Record has the built-in bonus of being able to add a doctor or nutritionist to your account, to help see your logged entries or encourage healthier behaviors. "It allows the ability to have your treatment team (dietitian, therapist, etc.) included in the app, which may provide additional accountability and support," Kandel says.
Made by the same company behind Recovery Record, this app isn't geared strictly towards eating disorders, according to Quinn Haisley, a dietitian at BALANCE eating-disorder treatment center. She explains that Nourishly is a more targeted plan based on any health needs, such as food allergies, pre-diabetes, or gastro problems, in addition to ED-tailored assistance. During the recovery process, some other underlying health issues may arise, which is why Nourishly specifically caters to more than one diagnosis.
Taking an intuitive eating approach, this app helps you tune into cues from your body, rather than eating emotionally. "It's like eating according to your own internal system, versus external," Haisley says. With information from experts in intuitive eating and Health at Every Size — or HAES, an eating-disorder recovery movement aimed at reducing the stigma around what eating disorders "look like" —UnDiet Your Mind caters to all different types of eating disorders, including binge-eating disorder and bulimia, with lessons, courses, and meditations. There's also a physical journal to help repair your relationship with food when you are not using the app.
Created by developer Junyu Liang while she was in recovery, this app prompts you to select one of three goals: to recover from an ED, to figure out if you have one, or even just to understand what eating disorders are and learn more about mindful eating. The app operates as a hybrid between a mindfulness app and a recovery app and shifts the focus from what you ate to how it made you feel and how to cope with any negative feelings. It has an optional daily check-in reminder, where you can log any situations throughout the day where your food intake or emotions were affected, and guides you through coping mechanisms, like breathing techniques and guided relaxation.