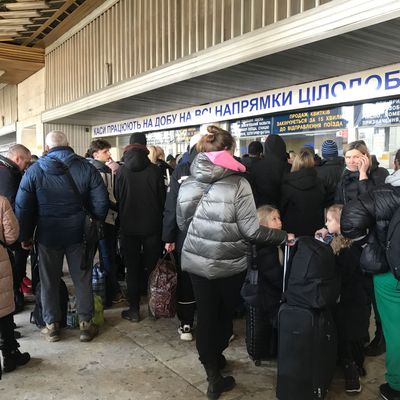 This article was featured in One Great Story, New York's reading recommendation newsletter. Sign up here to get it nightly.
When I first heard an explosion in the city of Kharkiv, I was walking alone. It was the early afternoon of February 24, a few hours into the Russian invasion of Ukraine. The streets were empty, which made me anxious; I heard another explosion and ran into the nearest hotel. Later that day, I would find out that shelling and artillery fire on the outskirts of the city marked the beginning of a massacre and that a 14-year-old boy was one of the first victims.
As a human-rights journalist, I'm trained to work in hostile environments. I've been writing about the conflict in Ukraine's separatist regions for seven years, and I'd been in eastern Ukraine covering the humanitarian crisis on the front lines since December. But it still came as a shock when Russia launched the largest military attack in Europe since World War II, resulting in at least 1,900 civilian casualties in less than three weeks. After finding myself stranded in the epicenter of the fighting, I fled the country with some of the 10 million Ukrainians who have been forced to leave their homes, witnessing firsthand how difficult it is to get across the border to safety. Escape isn't even an option for the many without the resources to flee, or for those who can't part from loved ones.
There was little sign that Ukraine was about to dissolve into chaos as I set out last month from Kyiv on a press trip arranged by the United Nations, during which I was to interview elderly and disabled civilians in settlements around Kramatorsk, a city in eastern Ukraine. On a completely booked-up night train to Konstantynivka, another town in the east, on the evening of February 23, I slept on the top bunk of a four-bed compartment. Below me, a man and a woman shared their bed with their baby daughter, who was falling asleep to the soft hum of nursery rhymes. I slept for a few hours, but shortly before 5 a.m., I woke to a feeling of angst. People had started waking up, packing their bags, and nervously whispering the word "war."
When I checked my phone, I saw dozens of messages from people telling me that heavy fighting was unfolding all around eastern Ukraine. "Please be advised that our trip has been suspended," wrote the U.N. officer who was supposed to accompany me to the settlements. "Will you still pick me up?" I asked. No reply came until I called the officer back and was told that the agency's staff had been advised to stay put. From now on, the officer said, I was on my own. If even I couldn't get an international aid agency to protect me, there was still less hope that help would reach the most vulnerable civilians stuck sheltering under siege.
I decided to get off the train at the first possible station, a small town called Lozova that didn't seem at risk of imminent attack. An elderly woman, Olga, joined me as I was waiting for the train's doors to open. "I am retired and I was traveling to the separatist regions to pick up my pension," she told me. As our fellow passengers buzzed about the news of military operations in the region, Olga told me she'd decided to immediately return to Kyiv, where her daughter lived. But then she started crying. "I don't know if I have enough money to buy a new train ticket for Kyiv," she said. The couple who hummed to their baby also got off the train and wished me luck as they nervously ran away.
Dozens of other passengers remained on the platform. The train station attendant told me the next train to Kyiv would be in 12 hours and that I would have better luck catching a train to Kharkiv, where there were supposed to be many more trains heading west. But when I arrived in Kharkiv, the station was full of frantic people queuing for trains to the capital. Those trains would never arrive. A friend sent me a map of Kharkiv's bomb shelters, and I made a few calls to loved ones I wasn't sure I'd get another chance to reach.
Then I ran inside the metro, hoping to reach a hotel. As I struggled to find my way, a young woman explained where I needed to go and let me take a picture of the metro map on her phone as my hands shook. The minute that woman sacrificed to help a stranger has stuck with me; it's the kind of compassion you see only in a war zone. A few seconds later, the electricity went off, accompanied by a public announcement: "Please be advised there will be no trains until further notice."
People started rushing out of the station, and I followed the distressed crowds. By the time I arrived at a hotel, Ukrainian tanks were moving around the city, attempting to encircle and protect it from attack. I hid in my room and lay down as far away from the window as possible. Sirens went off the following morning, and I ran with the other hotel guests into an underground car park. Children sat in the middle of a circle of chairs in a makeshift shelter, including two girls in pink sweaters. A family fussed with a child who was screaming, afraid to enter the bunker. A toddler cried in Russian, "Mom, I am too afraid to flee."
A few minutes later, an international organization aiding reporters called to offer me the last free seat in a car with one of their contacts leaving Kharkiv. I accepted because it was clear that I had to get out of the city for my own safety, but I kept thinking about the elderly and disabled people, the babushkas, families, and children I had interviewed over the years. They did not all have the option to hop in a car and drive away from the advancing Russian forces.
The roads out of Kharkiv were jammed with desperate and confused people on the run. I stopped next in Kropyvnytskyi, a small city in central Ukraine more than 200 kilometers from the hostilities. Inside the nearest hotel, where more than 500 refugees were trying to hide for the night, the security manager, Igor, a tall man in his 50s, told me it was becoming impossible to find a room anywhere in the region. I asked where the refugees were coming from. "Everywhere," he said. "Kharkiv, Kyiv, and many other cities. They are confused and simply trying to protect themselves." The influx was so great that the city council created a hotline and started placing desperate refugees in schools, kindergartens, and hospitals to protect them from the bitter cold at night. At one point, a minibus pulled up in front of the hotel and a man got out, while three or four women holding small babies in their arms stayed inside. I asked the man where he was headed. "We don't know," he said. "I barely remember where we came from. I cannot believe this is really happening. All I know is that we want to flee to a place where there is no airstrike, but I have no clue where that might be."
The following night, I moved on to Lviv, a city in western Ukraine that at the time was both a refuge from the fighting engulfing other parts of the country and a muster point from which cars and buses full of refugees set out toward the Polish and Slovak borders. A couple in their late 20s, Dima and Viktoria, offered to drive me to Slovakia. Their car was full of water, food, and supplies, and they had a 5-month-old gray kitten with them — the desperate couple's only source of joy. Dima, who is disabled and was walking with crutches, told me they had also fled Kharkiv. "We could not leave our kitten back there," he told me. He said all his friends were sheltering in their basements or else fighting with the Ukrainian army. He then showed me videos of the Russian shelling of his beloved city. "This is my school that just got destroyed by an airstrike," he said. He showed me another video of a building that had collapsed: "And this is the flat where I used to live."
We spent four full days queuing at the border, sleeping in the car, and eating food distributed a couple of times a day by local volunteers. The volunteers wore colorful costumes, dressing like clowns or cartoon characters to entertain the thousands of children stuck in the ever-growing line. Everyone wanted to get to the border as soon as possible; tempers ran high, and at times we saw people panic and fight one another. There were also moments when Dima and Viktoria cried inside the car — we were all following the news from Kharkiv and other cities on our phones, and the devastation we saw was difficult to process.
As I finally approached the Slovak border crossing and safety, Sergiy, a Ukrainian friend of mine who decided to stay in the east, sent me a Telegram message in Russian. "Dear Sara," he wrote, "I now only speak Russian to people who cannot fully understand the Ukrainian language and whom I highly appreciate — otherwise, I will never speak Russian ever again. Myself, my wife, and my son are now hiding in our small basement as the war has come to our city. But we are Ukrainians. We are strong. Please, message me that you are okay. I am worried about you." I told him that I would help him and his family if they came to Slovakia. "Ukraine will remember kindness," he said, but he rejected the offer, choosing to stay and help drive refugees to safer places until he could join the army. We're still in touch every day.