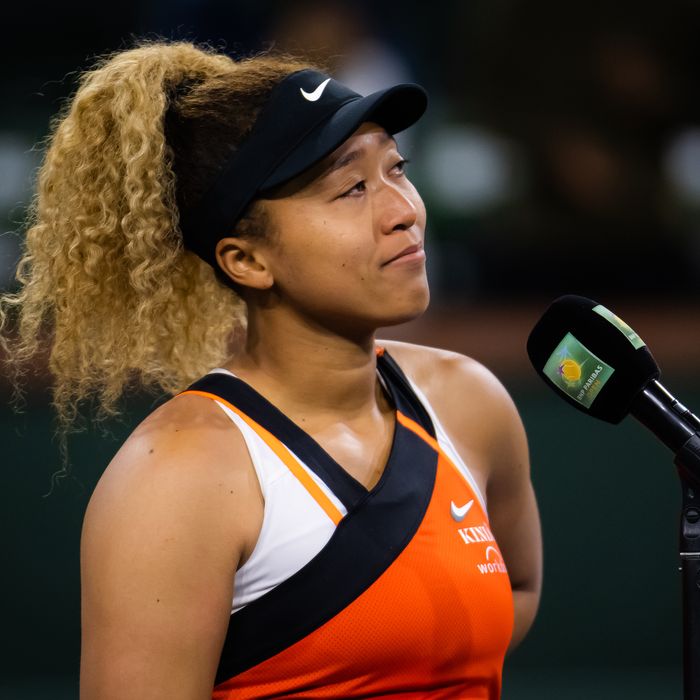 Photo: Robert Prange/Getty Images
When Naomi Osaka took a step back from playing professional tennis in mid-2021, she revealed that she didn't get joy out of competing anymore. And if you're wondering what might suck the joy out of being one of the best tennis players in the world, take a look at her most recent experience with a heckler at the BNP Paribas Open in Indian Wells.
Osaka went head-to-head with Russia's Veronika Kudermetova in the second round of the tournament on Saturday, March 12, but was thrown off her game early in the first set when a heckler took advantage of a silent moment to yell, "Naomi, you suck!" Despite support from others in the crowd, the remark clearly affected Osaka, who approached the chair umpire, Paula Viera Souza, to discuss the matter. It was reported that she seemed to ask for the heckler to be ejected from the stands, and, after she began to cry on the court, requested a microphone to speak to the crowd directly. Souza declined.
Osaka ended up losing the match, but instead of walking off the court to have a moment to herself, she stayed through Kudermetova's postgame interview and waited to address the crowd herself. "I just wanted to say thank you," she said, to cheers from supporters. "I've gotten heckled before, but it didn't really bother me, but it's, like, heckled here … I watched a video of Venus and Serena being heckled here — and if you've never watched it, you should watch it — and I don't know why, but it went into my head and it got replayed a lot." Through her tears, Osaka ended her message by once again thank the crowd and congratulating Kudermetova on her win.
Osaka, who has spoken about dealing with depression, anxiety, and low self-esteem, was referencing the 2001 Indian Wells tournament where Serena Williams, Venus Williams, and their father, Richard Williams, were heckled by almost an entire stadium during the finals due to a rumor that her father had fixed the semifinal and essentially gotten Venus Williams to withdraw to allow her sister to get to the finals. (Venus was unable to play due to a tendonitis injury.) Both Venus and Serena have reportedly alleged that some hecklers used racist language throughout the match. They boycotted the tournament for over a decade until Serena returned to play in 2015. If Osaka decided to do the same, I wouldn't blame her.