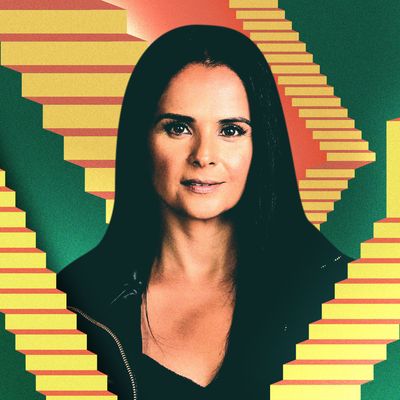 Photo-Illustration: by The Cut; Photo: Jessica Chou/Netflix
"My Biggest Setback" is a micro-series that asks powerful women to reflect on their biggest career setback and how they moved on from it to find professional and personal growth.
Growing up, Bela Bajaria wanted to work in television, even though she never saw herself represented onscreen. "It was kind of isolating," says Bajaria, who was born in London, then spent her childhood in Zambia before moving to Los Angeles at the age of 9, where she watched television to teach her about American culture (and help her lose her British accent). Now the head of global television for Netflix, responsible for shows like Squid Game and The Queen's Gambit, Bajaria recalls landing what she thought was her dream job as the president of Universal Television. But five years in, she was fired. In addition to dealing with what felt like a personal failure, Bajaria had to explain it to her three kids. Bajaria spoke to the Cut about the grief process of losing your job and how to give yourself space to rebuild afterward as a professional, a person, and a parent.
What was your career goal when you were starting out? 
My dream job was to run a television studio. Every job I did was to hopefully get to that point. Could I have imagined I would have gotten there? I was an Indian woman in Hollywood. I didn't see the path in front of me or someone who looked like me who had done it. But my goal was to do it. Eventually, I did. I became president of Universal Television. I was very lucky that I had supportive parents and a dad who told me I could be anything. And I believed him.
What was your biggest setback along the way? 
I was fired from Universal Television after five years. I had rebuilt the studio, hired a team, and made a lot of successful shows, many that are still on to this day. But there was tension between the network and the studio at that time, and I got fired.
How did you deal with it personally and professionally? 
The immediate thing of going home and telling my three children I got fired from my job was hard to wrap my head around. I had to deal with the personal part of rejection and failure and also wanting to model to my kids as a parent. How was I actually going to handle this? It was embarrassing to tell them, and I knew it gave them feelings of fear and instability over money and other basics. I'm generally pretty emotionally steady, and during that time I really had to go through the roller coaster of emotions that comes with being fired, which is very much stages of grief. I gave myself space and grace and let myself go through that. I also had a great foundation of family, culture, a strong personal life, and priorities outside of work. But it was interesting to learn how to separate your identity from your job. A career is something I'm very proud of and work hard at, but it's not who I am. The most effective thing I did was to not make very specific plans for what the next thing should be or had to be or what it would look like. I was just open and curious. To give myself that space was important and ultimately led me to Netflix.
Did you ever consider giving up? 
No. I was lucky. Before that happened, I'd had a 20-year career. I'd had a lot of experience and success. I knew that the relationships I had, the shows I'd advocated for, and the people I'd worked with all of these years would lead me to the next interesting thing. I knew there was a next chapter. I just had to figure out what it was because I'd already achieved my dream job, then lost my dream job, and ultimately, five years later, I'm at the dream-dream job that didn't even exist when this happened. It was a painful period to be fired and own that, but there was lots of growth and learning, which I would not trade.
How do you feel about the setback now? 
When I was going through it, I couldn't even imagine the learning that would come out of it. When you're in the thick of it, there's no way to see that clearly. Being a woman of color who ran a major television studio and knowing how important that was for people — to show them if you could see it, you could be it — and then getting fired from there was challenging. After a while, I realized it was powerful to be able to own that and talk about that. With women especially, it's hard to talk about your vulnerabilities and failures. You feel like you have to be perfect at everything. It took me a few years to be able to publicly talk about this, but I found a greater responsibility in speaking about it and owning it.