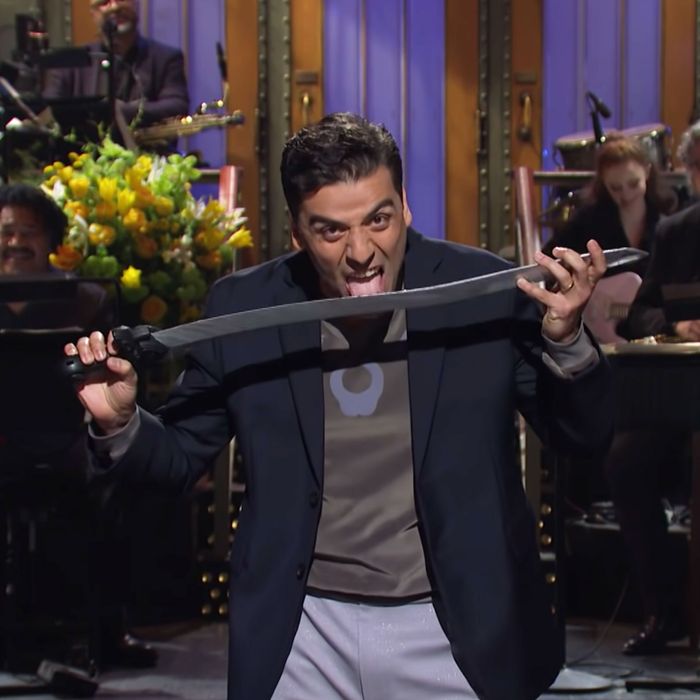 The current contents of my brain.
Photo: Saturday Night Live/YouTube
Celebrity-sword enthusiasts, you have been gifted yet another sword-wielding celeb to add to your collection. Thus far, your menagerie includes Carly Rae Jepsen, who was given a sword at the behest of the internet. There's also Ashley Olsen hiking with a machete in one hand and a drink in the other — a fine addition to your display! We also have Grimes in her 2021 Met Gala look, holding a medieval-inspired sword and asking for a green card. And who's that in the back corner? Ah, yes. It's Princess Beatrice accidentally slicing Ed Sheeran's face with a ceremonial weapon! Huzzah! But now, you have acquired your most prized possession yet: Oscar Isaac with a sword.
Actually, "with" is an understatement. During his opening monologue on Saturday Night Live — he hosted the show for the first time this weekend — Isaac did not merely hold a sword on stage. He licked it. He licked the sword. With his tongue. Oscar Isaac licked a sword with his tongue in front of me and you and Jessica Chastain and everyone.
Though Oscar Isaac licking a sword requires no further context, I will give you some for posterity's sake. Isaac's monologue included a clip from an action movie he made when he was ten called "The Avenger." (No relation.) In the clip, the hero (played by Isaac) stabs the bad guy (also played by Isaac) in the face with a sword (played by a prop weapon). Relishing in his enemy's defeat, Hero Isaac licks his foe's blood off of the sword. Fin.
So, in honor of encouraging kids to be weird or the internet to be horny, Isaac concluded his SNL monologue by licking a blood-splatted sword. The "blood" must have been "fresh," as some of it stayed on his tongue. Hell yeah. No notes.
Now, if anyone ever says something about SNL not being funny anymore, I will show them this clip and they will say, "Touché."