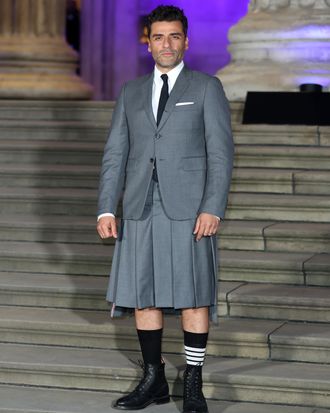 Photo: Mike Marsland/Mike Marsland/WireImage
Oscar Isaac casually using a Marvel red carpet to make the best argument for men showing some leg might be the hottest thing Hollywood has seen in a few months. The actor arrived at the Moon Knight premiere wearing a Thom Browne skirt suit, showing off just a few inches of bare shin, visible where his gray pleated skirt ended and his crew socks began. The internet might never recover.
"Oscar has been a long-time fan and has been wanting to wear skirts for press and events," his stylist, Michael Fisher, told Vogue of the premiere look. Fisher also styled Isaac in a similar gray skirt from Commission, paired with a leather jacket, for press last week. And he looked damn good. Oscar Isaac in a skirt is, in a word, hot.
As if that wasn't enough, Isaac's legs had a moment earlier today when his Moon Knight co-star Ethan Hawke shared a photo of them doing press on Instagram. Though he was (regrettably) not wearing a skirt in that photo, Isaac was wearing some very nicely tailored maroon pants. (Because I am an adult with boundaries, I'll just say that his thighs looked particularly excellent.) But perhaps more exciting was the innocent brush of his thigh against Hawke's. "You tell me. Are Oscar and I playing footsie?" Hawke wrote in the caption.
So, to recap, in the past 24 hours, Oscar Isaac's legs have rubbed against Ethan Hawke and stunned in a skirt on the red carpet of a major premiere. I can only pray that my legs have as wonderful a day before I die.