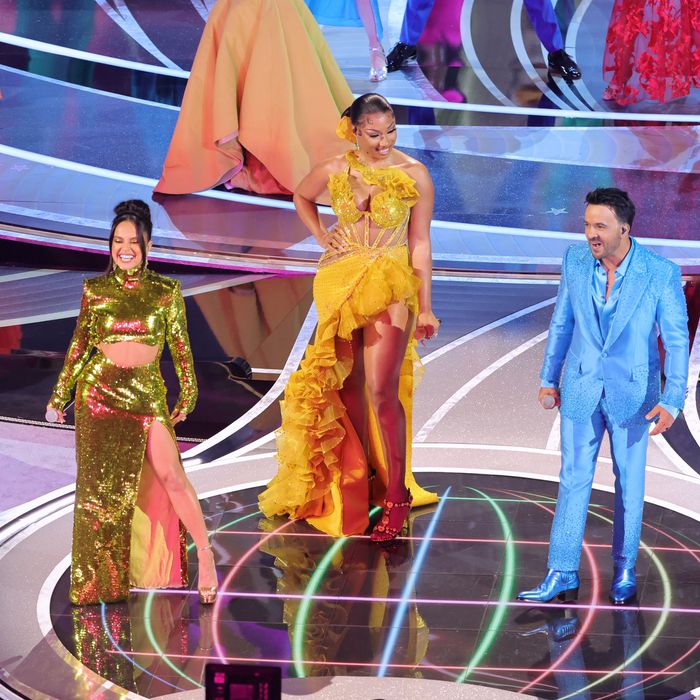 Photo: Neilson Barnard/Getty Images
Um, did we all just see what happened at the Oscars? Was it planned? Was it spontaneous? It's all anyone can talk about … Megan Thee Stallion gave a surprise performance with the cast of Encanto! Also, there was that thing that happened between Will Smith and Chris Rock. Anyway, Encanto! "We don't talk about Bruno-no-no"! Ha-ha, how fun!
If you've been anywhere near TikTok, a radio, or anyone with a toddler, you have definitely heard "We Don't Talk About Bruno" from Disney's Encanto. Despite its popularity, it was not nominated for Best Song. It seems everyone realized that was a mistake because, to appease the masses and/or boost ratings, the cast of Encanto performed a version of the song on Sunday night.
Unfortunately, they didn't include the best verse. Though I suppose I will forgive the Academy, et al because, instead, they brought out the Hot Girl herself, Megan Thee Stallion.
She name drops Zendaya! She name drops "Let It Go"!? It is the remix we don't deserve, and they gave it to us anyway. However, I suppose we can only have so many good things as the performance eventually became … something else entirely.
After Megan's verse, Becky G and Luis Fonsi performed a verse of the song rewritten especially for the Oscars. It included a very literal shout-out to Lin-Manuel where Fonsi sang, "Shout-out to Lin-Manuel." Becky G was forced to sing the words, "Three lady hosts, that's the way," which was followed by the line, "Better make it equal pay." Rather than the repeated refrain — "We don't talk about Bruno" — they sang, "We're here to celebrate Oscars." … Okay!
So, if you're looking for something bizarre but, uh, slightly less controversial to discuss, there's that, I guess.