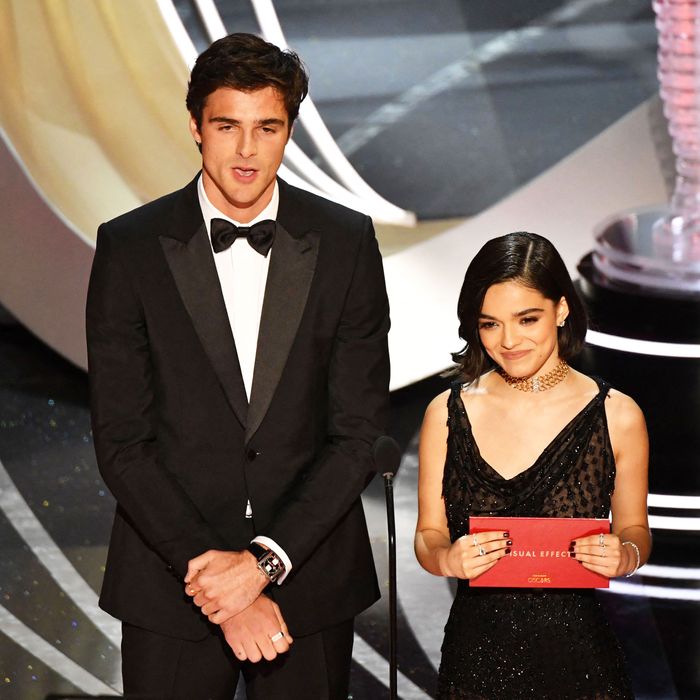 Photo: ROBYN BECK/AFP via Getty Images
Euphoria actor Jacob Elordi made me question everything I knew about height when he told Men's Health last year that he was not, in fact, tall: "The trick is they just always cast me with girls who are five-foot-two," he told the magazine, "they're quite small."
Maybe so, but his recent appearance at the Oscars has confirmed: This man is extremely tall, and anything he says otherwise is a bald-faced lie.
Perhaps his "small" female castmates have made all 6'5" of him look extra huge in the past, but following his presentation at tonight's Academy Awards I have trouble believing that any man can soar so high above another human's head and still not be considered a giant.
Elordi presented with recent Oscar's invitee Rachel Zegler, and it's safe to say that no height difference so astonishing has ever graced the Oscars stage. Zegler, at five-one, is no giant, but her cute little bob sat well below Elordi's shoulder, aligning approximately with the dude's bicep.
Maybe Elordi and his tiny earring are spinning an elaborate hoax by deliberately standing next to short women and then telling everyone he's tall. I wish he would stop. I mean, being tall is a pretty desirable trait. Would it be so hard to just lean into it?