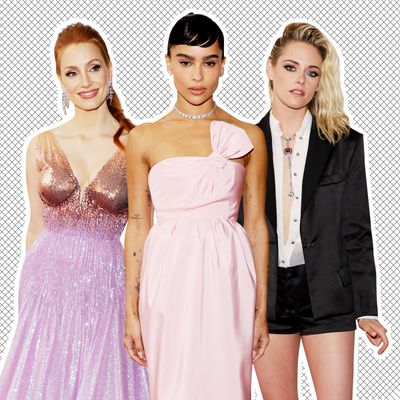 Photo-Illustration: by The Cut; Photos: Getty Images
As the late André Leon Talley once said, my eyes are starving for beauty. Can celebrities on the Oscars red carpet deliver? It's been three years since the show had a proper host, so this year they're making up for lost time with Amy Schumer, Regina Hall, and Wanda Sykes all sharing the job. So that's three looks right there — plus plenty of outfit changes throughout the course of the night, and a performance from Beyoncé. With Kristen Stewart, Zendaya, Timothée Chalamet, and so many other stylish celebrities nominated as well, the show surely won't disappoint. Below, the best, hottest, and most glamorous looks from the 94th Academy Awards ceremony, from hot pants to shimmering gowns.
Hottest Hot Pants: Kristen Stewart in Chanel
Kristen Stewart has many talents, and one of them is breaking red carpet rules. She's kicked off her heels before, and on Sunday, she wore shorts with her suit. Pharrell has worn shorts to the Oscars before, and Demi Moore also once wore bike shorts to the ceremony as a part of her dress, but this might be the first time an actress has worn hot pants on the red carpet — certainly ones this hot. Her fiancé, Dylan Meyer also looked smokin'.
Best Throwback: Zendaya In Valentino
If Zendaya's Oscars look seemed familiar on Sunday night, that's because you've actually seen it before. Well, if you were alive and watching the Academy Awards in 1998, when Sharon Stone wore something similar on the red carpet, then you've definitely seen it before. (Zendaya was 2.) But the look, which consists of a Gap shirt and a Vera Wang skirt, has since gone down in history as one of the greatest red-carpet looks of all time.
Best Use of a Steamer: Uma Thurman in Bottega Veneta
This look also seemed somewhat inspired by Sharon Stone's 1998 Oscar's outfit, but it is stunningly wrinkle free, and tailored with such incredible precision that it's arguably one of the sharpest looks of the night, beating out the men in their suits. (Seriously, though, where can I get stylist Kate Young's steamer?)
Best Vintage: Kirsten Dunst in Christian Lacroix
As Vogue's global director of social media, Steff Yotka pointed out on Twitter, Dunst's ruffled red gown is actually Christian Lacroix couture from 2002. More celebrities should wear vintage. It's so much more surprising.
Outfit I'd Most Like to Wear at Home: Maya Rudolph in Valentino
Nothing will likely ever top Rudolph's red Valentino turtleneck from 2018, but I'd be very happy to wear this orange feather caftan around my apartment when I work from home. Maybe even as a nap dress.
Best Case for a Landscape Image: Jada Pinkett Smith in Jean Paul Gaultier Couture
Jada Pinkett Smith's train is so long and substantial, it simply could not be captured vertically. I'm not entirely sure how she'll sit down while wearing it — she might have to go horizontal herself.
BiggestVibe Shift: Zoë Kravitz in Saint Laurent
After seeing Zoë Kravitz in all-black Catwoman attire for Batman, and her subsequent press tour, it's lovely to now see her in something so sweet. It can be hard to get a bow right, but this subtle silhouette adds a layer of sophistication.
A Dress You Could Get Married In: Alana Haim in Louis Vuitton
Hopefully, she doesn't have to give it back, and can just wear it again when the time comes.
Best Pants: Ariana DeBose in Valentino
These pants are not wearing Ariana DeBose; Ariana DeBose is wearing these pants. You can tell she has style by the way she carries herself.
Best Jewelry: Venus Williams
Elsa Peretti's Tiffany Bone Cuff bracelets are timeless pieces of jewelry, but I especially love how Williams found a dress to match.
Best Handbag: Eva von Bahr
The Swedish makeup artist who worked on Dune knows a thing or two about prosthetics, so I'd like to think she made this bust herself. Her dress, meanwhile, features a Renaissance painting by Raphael.
Best Dress to Hang Your Handbag On: Maggie Gyllenhaal in Schiaparelli
Another example of someone wearing a work of art on the red carpet, only I'm afraid people are going to try to use it as a coat rack throughout the night. (Maybe Gyllenhaal herself.)
Best Midriff: Timothée Chalamet in Louis Vuitton
It seems Chalamet forgot something when he left the house tonight. Or maybe he was just in a hurry. Either way, he's giving the Miu Miu midriff some competition. Does this mean we can go shirtless now to work events?
Best Miu Miu That Wasn't THAT Miu Miu: Demi Singleton in Miu Miu
Yes, the brand makes other things besides mini skirts — and they're lovely!
Best Monochrome: Kodi Smit-McPhee In Bottega Veneta
There was a lot of red, metallic, and pastel pinks on the carpet tonight, but Kodi Smit-McPhee stood out in pale blue. I appreciated the studs on his boots — they have this otherwise innocent color some edge.
Best Hat Thing: Rita Moreno in Carolina Herrera
No one can describe this look better than Rita Moreno herself, so I'm not even going to try: She thought, "What the hell?" and simply threw it atop her head. "I love the way I look," she told E! on the carpet. "I can't get over myself. I love the way I look. Kill me. Sue me."
Most Glamorous: Jessica Chastain in Gucci
I love the colors in this dress — they aren't ones you usually see together, and they compliment Chastain's complexion so well. I also appreciate the amount of shimmer here — a good amount, but not to the point of ridiculous.
Best Use of Boob Tape: Tracee Ellis Ross in Carolina Herrera
Personally, I never want to wear a bra again, so I appreciate this look.
Most Somber: Billie Eilish
As someone who wears a lot of black all the time, I'm sad to have to admit that it's maybe possible to wear too much of the color, and that might be the case here?
Best Newcomer: Renate Reinsve in Louis Vuitton
The star of The Worst Person in the World is ironically one of the best dressed. She looks like a mermaid who became a really cool pirate or something.
Honorable Mention: Hans Zimmer in a Bathrobe
This one's for the rest of us at home. Cheers!