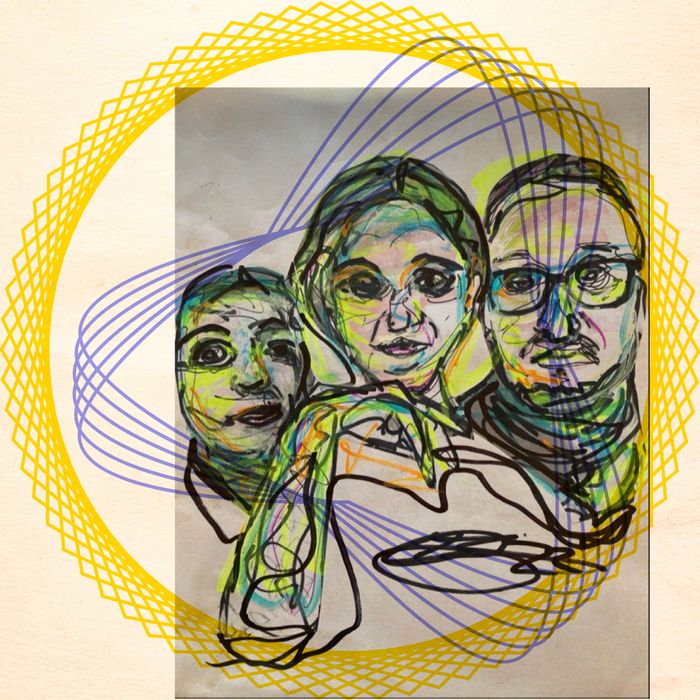 Photo-Illustration: by the Cut; Photos courtesy of the subject.
In early 2018, my partner Lex told me that they were pregnant. Sitting on the stairs, they lifted up their shirt to show an early pregnancy bloat: "I mean, look at this?! How didn't I know?" Incredibly relieved that the news they insisted on telling me in person was actually celebratory, I turned to look at Manuel, their husband and also my other partner (whose name isn't actually Manuel). "I'm so happy for you two!" I said.
At this point, I had been dating Manuel and Lex, a longtime married and nonmonogamous couple with three children, for a few months. (I was also newly in a relationship with my would-be boyfriend; at that point, we'd been seeing each other for a few months.) Lex knew how much I wanted a baby, and they wanted to be there for me in case the news was hard to hear. Fast-forward a few months, and all four of us were shocked to learn I was pregnant, too. Despite dating for just a short time, my boyfriend and I decided we wanted to have the baby.
As partners building our families in tandem and in overlap, all 7¾ of us — Manuel, Lex, their three kids, their one-on-the-way, me, my boyfriend, and my one-on-the-way — enjoyed big dinners, community brunches, and hand-me-downs from Lex and Manuel's older children. When Lex and Manuel's son was born, I held his tiny, warm body against my pregnant belly, excited to meet my own little dude that coming summer.
When my son was born in June 2019, I was spoiled by all the love and support from my boyfriend, who committed to babywearing nearly 24/7, changing diapers and handling nonstop wake-ups; Manuel helped me put together furniture and planned baby-friendly outings; Lex helped me figure out breastfeeding and validated my struggles with new parenthood as postpartum depression consumed a majority of my son's infancy. As the following spring began to bloom, my boyfriend, son, and I settled into our new little house, and I was just starting to feel like myself again.
Then COVID-19 happened.
As a nonmonogamous person, I've always made it a practice to widen my own definition of family and partnership. My vision of parenthood was never meant to be nuclear — it was always intended to include the Venn diagram–like overlap between my co-parenting partner and my other partners. When COVID entered the picture, what had once been an enriching community forged by two households became fractured. While it hurt to physically break off from Lex and Manuel's family, my boyfriend and I felt that the most ethical, safest thing to do was to isolate.
Like most people, we thought this relational adjustment would be temporary. Our once-multifaceted relational life was whittled down to just us three. I barely saw Lex and Manuel in person for a year, and we were far from the only ones dealing with this seismic shift.
As a sex-and-relationships therapist specializing in nonmonogamous, kinky, and LGBTQQ+ individuals and partners, I've always worked with clients exploring the edges of their sexuality and navigating dynamic relational dilemmas, but once the pandemic hit, my caseload exploded as partners everywhere buckled under the pressure of "the new normal."
Zooming from my now-toddler's room in my compact home, I saw monogamous couples who were rapidly trying to adjust to being each other's singular social support, child-care provider, sexual partner, domestic chore-doer (or don't-er), and work-from-home co-worker. Nonmonogamous clients, who I had always worked with around themes of expansive definitions of love, commitment, and partnership were suddenly forced to close ranks and practice "nonmonogamy in theory" that was starting to look an awful lot like monogamy in reality. I could relate.
When I had envisioned becoming a parent, I never imagined doing so in isolation with one person. I never desired to be anything like a stay-at-home parent. And I was committed to maintaining rich and varied relationships, both new and established. And yet, there I was with one partner, working from my child's nursery, isolated from my other relationships.
I encouraged my nonmonogamous clients to pull on their unique strengths of communication, relational creativity, boundary setting, and risk management to navigate this new world of forced choice, but it was a challenge. Nonmonogamous clients struggled to determine who to include "in their pod," whose risk profiles aligned or clashed, and where one person could isolate after visiting an out-of-state partner.
I, on the other hand, was frozen in place. Lex and Manuel lived just 30 minutes from me, but I could barely manage a FaceTime date or a Zoom birthday party, burnt out on trying to make screen time feel like a real connection. Eventually, we graduated to an outdoor birthday party and some masked walks, but I just couldn't access my former level of intimacy or community without feeling like I was putting myself and others at risk. Just nine months after my near-constant struggle with postpartum depression, COVID's isolation felt like reentering the dark stage I had just narrowly escaped, and I couldn't envision a way out.
So instead, I focused on work. I crammed new clients into every available scheduling space that was not already taken up by parenting or deadlines. Weekdays were spent seeing clients virtually from a pop-up card table next to my son's crib — 50 minutes on the hour telling client after client that a virtual connection with their lovers could still be meaningful and to just buy a dishwasher already — and breaking down in my own kitchen (where I stubbornly continued to hand-wash my own dishes). I sobbed to my boyfriend about how much I missed our old lifestyle, how much I just wanted to walk into a bar and have a stranger check me out.
Though we prioritized intimacy, the fact remained that I saw my boyfriend nearly every second of every day, often in parenting mode, and rarely in the exciting context of our formerly sexually varied life, a life we were (pre-pandemic) committed to maintaining alongside the wholesome arenas of parenting and our mutual love of our son. Without dynamic desire in my life, I knew I wouldn't thrive.
As someone planted firmly in the spheres of sex positivity and nonmonogamy, I often hear that sexual exploration, pleasurable experiences, and partners outside of a dyad are extraneous, not essential. And though I've never personally or professionally agreed, when forced into a pandemic reality, I acted as though I did. The question of what (and who) is "essential" has been asked over and over again during the past few years — and I've slowly come to realize that my relationships are vital, that I am willing to take relational risks to allow myself to be the fullest version of myself, and that not taking these risks is damaging to my sense of personhood.
I recently started seeing someone new, and when I turned 36 in January, they organized the testing logistics so we could celebrate with Lex and Manuel, who got a sitter and came with balloons, gifts, and an offer to watch my son while I got a massage. That night, over takeout from my favorite local restaurant, my partners were sitting around my kitchen table, laughing at something funny my toddler said, and my heart and home felt warmer than it had nearly all pandemic. I watched the people who love me enjoying each other's company, in person, for the first time in what felt like forever. I realized I could find a way to fully thrive in my relationships despite the pandemic rather than suspending the reality of what really matters.
Sex is never just about sex. And despite stereotypes, neither is nonmonogamy. Sex and nonmonogamy both can be a form of self-expression, discovery, pleasure, esteem, excitement, and connection. As someone who talks to strangers about sex and relationships all day every day, I might even go as far as to say that the fullest expression of our sexualities and relationship values are indeed essential to being alive.
Today, I'm rebuilding my family with these beliefs in mind: No matter the circumstances, who we are to each other — and who we allow each other to be — is worth fighting for.