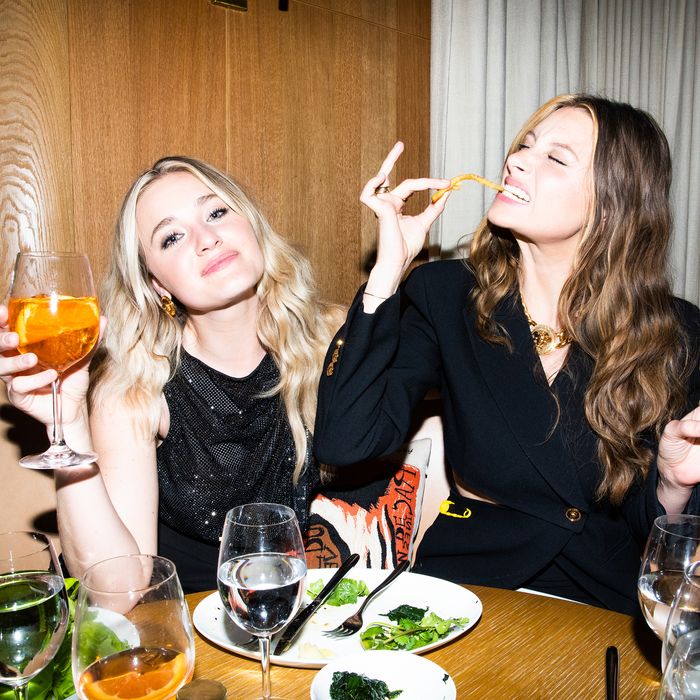 A perfectly well-behaved dinner at L'Avenue.
Photo: Vincenzo Dimino
Maybe my very first crush ever as a pre-tween — back before, well, you know, I realized I wasn't all that into girls in that way — was Aly Michalka. You probably remember her as the curly-haired older sister to AJ Michalka, who together made up the mid-aughts Disney pop duo Aly & AJ. Among Phil of the Future, a couple of so-bad-they're-good Disney Channel "original movies," and the slightly angsty music videos of theirs that Disney played during commercial breaks (plus all of that weird logo-drawing), the Michalka sisters were constantly on my TV screen when I was a kid, and I liked them more than most teen idols because they seemed just a touch more sophisticated than their sugar-pop cohort, and I fancied myself a really mature 8-year-old. Looking back, I realize I probably just wanted to be Aly, and look where that's gotten me. Pretty far, I'd say.
Anyway, I hadn't really thought about Aly & AJ all that much in the past decade-plus. But the bubbly feel-good 2000s didn't just go away with the ascendancy of Gen-Z eye-rolling. Hillary Duff is back on television again, Brenda Song went off and got engaged to Macaulay Culkin, the Jonas Brothers are all doing their own thing, and Hannah Montana is Miley Cyrus. So when I heard that Aly & AJ released an album last year — called, of all things, A Touch of the Beat Gets You Up on Your Feet Gets You Out and Then Into the Sun — and their publicist offered me a chance to spend what I was secretly hoping would be an entirely debauched NSFDC night on the town with my parasocial childhood friends, I jumped at the chance to see the maybe not-so-PG side of these very PG child stars. Apparently, since then, Aly & AJ have mostly been up to the same things as before: acting, singing, and playing sisters. They also got introduced to a slightly younger generation when their most popular song from their Disney days, "Potential Breakup Song," went viral on TikTok, racking up 1.3 million plays. They also rereleased the song last year with a handful of "fucks" and "shits" they couldn't sing back when they were teens. That gave me some hope that they were going to let loose a bit.
And yet …
8:01 p.m. | Dinner is at L'Avenue at Saks, the swanky but somehow always tame French restaurant on the top of Saks Fifth Avenue. In the elevator, I remember that this is also the site of my only New York breakup. Technically, it was a "potential breakup" — how appropriate that I'm meeting Aly & AJ, "you're not winnin' 'til you're winnin'" — because I got too drunk to process the information and he had to break up with me again a week later at a much cheaper French bistro in Cobble Hill. The dining room, all brown leather, wood-paneling, and soft masculinity, is filled with middle-aged, moneyed ladies out to dinner with their girlfriends. I find our table next to a blonde with a yappy Shih Tzu in her lap.
8:20 p.m. | Aly & AJ arrive in last season's Versace — Aly in the black jacket and skirt Dua Lipa wore on the runway, and AJ in a slinky cut-out dress and strappy sandals. I assume they've been styled for the evening to look like going-out types ("Versace is the epitome of a night out," their stylist confirmed to me later), and when I compliment their outfits, AJ insists they mostly wear blue jeans back home: "We're casual people in real life back in L.A." Tonight is apparently something other than "real life," which again makes me hope they might really be in it to win it all night long. Aly may be two years older than AJ, but they act like telepathically connected twins, completing many of each other's sentences. Together, they decide to order Pinot Noir, then they change their shared mind and opt for Aperol spritzes instead. They explain that much of their nightlife — nightlife being defined as activities between the hours of 8 and 11 p.m., which for me are pregaming hours — involves eating dinner at well-reviewed restaurants or maybe getting together with friends to watch Drag Race. AJ explains that their actual clubbing days ended before they turned 21, having spent their Disney teens driving from their home in the Valley to Hollywood to "drink Red Bulls and Coke," as in Cola, at the club. Maybe child stars don't all end up in rehab.
9:37 p.m. | The sisters are especially chatty, slowly sipping their spritzes and politely picking at their plate of salmon. "Okay, enough of all of that," AJ says, waving her arms in the air when we talk too much about their Disney days and "PBS" (meaning "Potential Breakup Song" and not "Public Broadcasting Service"). Mostly they talk about how much they love each other, and as much as I try to spot any sisterly tension, I can't find it. "Life has felt like just us two most of the time," Aly says, commenting on how weird it was to get married before her sister. "We always thought we'd live our lives at the same time," AJ adds before cheekily pointing out that at least she got her period and lost her virginity first. AJ snaps a photo on her film camera, and Aly explains that they prefer film over digital because it keeps them "honest." The sisters' publicist, who has joined us for dinner, joins me in ordering a third drink; Aly orders a second but never touches it.
10:15 p.m. | When dinner's over, we decide to move on quickly, but not before they make a run to the restroom (yes, together). Aly realizes she lost her mask, one thing they can't share.
10:27 p.m. | The sisters tell me that one of their favorite places in New York is Metrograph, and despite my reservations about going to an arty theater on a Saturday night, they ask that we stop by briefly for a cocktail (AJ just wants a … coffee). On our way there, we talk about their fashion taste — Collina Strada, Maryam Nassir Zadeh, Peter Do, Rachel Comey, Bode ("We're big Bode people"). Embarrassingly, we move on to talk about our painful experiences of losing Joan Didion and Eve Babitz in the same month. When they mention their plans to stop by Catbird for matching bracelets and REI for Sorel boots tomorrow, I remember that they're tourists. As AJ reminds me, "We're really L.A. girls."
11:02 p.m. | "We had to stop by. We fucking love this place," AJ says when we arrive at Metrograph, alongside their publicist and their stylist. In the lobby, the sisters take cutesy posed photos for their socials. "I'm going to start uploading content," their publicist says, pulling out his iPhone.
11:15 p.m. | The Metrograph's bar is actually kind of a sexy place for a Saturday-evening cocktail — score one for the tourists — mostly empty and with all of the maybe-real plants giving it Indochine vibes. The devastatingly hunky, ash-blond bartender, whom AJ calls a "sexy Draco Malfoy," is also helping. The stylist returns from the bar to tell us she's met a handsome photographer who, after a few minutes of talking, told her, "I feel like I was meant to meet you." Aly scoffs, "That would never happen in L.A.," and AJ, practically jumping out of her seat, smoothly waves the guy over to join us. Then we turn our backs and leave the new couple to flirt among themselves.
11:52 p.m. | Aly and AJ are, they make clear, huge drag hags, and more than anything, they tell me, they'd love to be judges on Drag Race, listing off all of their favorite queens though I'm a bad basic gay and have no idea what they're talking about. Undeterred by my lack of personal investment in RuPaul, the publicist decides our last stop for the night will be Playhouse, the West Village gay bar where all the baby gay boys have tight little haircuts, shaved faces, and completely unbuttoned button-downs. On the way, we talk more about Aly & AJ's music and its inspirations, namely the artists of the '90s-women's music festival Lilith Fair — Alanis, Liz Phair, Sarah McLachlan, and Jewel — surprising me yet again with our shared good taste. As we get closer to the club, AJ takes a deep breath: "I'm not gonna lie, I'm absolutely exhausted. But guess what? As soon as I enter that space, it's going to fire me up." That perks me up.
12:07 a.m. | At Playhouse, we enter through the side door rather than waiting with the not very pretty boys in line out front, but not before the sequined door gay snaps a photo with the sisters. There is almost no room left on the dance floor inside, where the glistening gays and their girls are writhing all over each other to "My Humps." The owner shows us to a table on the side of the room, and looking out at the crowd under the disco ball, AJ asks me, "Should we be worried about COVID here?" Too late for that. To calm their nerves, they order Vodka Redbulls (sugar free), which arrive in red Solo cups. On stage, a buxom drag queen booms, "We're gonna have a good time tonight, and the way to do that is by drink-drink-drinking." Aly and AJ take tiny little sips.
12:15 a.m. | The handsome photographer from Metrograph has joined the party, but judging by the way he's chatting up the boys at the club, we start to suspect he's gay and not interested in the stylist. When the publicist questions him, he insists that he's straight but then proceeds to keep chumming it up with the twinks slithering to Olivia Rodrigo.
12:22 a.m. | The bar only gets smellier and louder, and Aly asks me, "What's the last good drag show you saw?" though I struggle to explain to her above the din that, hmmm, I'm just Not That Kind of Gay. As if on cue, two queens appear on the stage to announce: "If you were born in the '90s, there are legends in the room tonight." When the spotlights hit the sisters' faces, the room goes wild, all of the gays using each other's shoulders to push themselves above the crowd and catch a glimpse of the Michalkas. The queens perform "PBS," and at the end of the song, the ceiling explodes with confetti. Almost at exactly the same time, both of the sisters say, "It's so extra," and one of the queen's announces a vibe shift —"I'm gonna change it up and do something big and Black" — by turning on Lizzo. The sisters dance in their seats, even more enthusiastically than they did to their own song. Are they big dancers I ask? Aly recalls that they went through dance classes as kids to prep them for all of Disney's fancy footwork, but these days, not so much. Honestly, I'm happy at the excuse to not get groped on this dance floor.
12:30 a.m. | I must look miserable because a girl approaches me with a bag of weed cookies and asks, "Do you need edibles? You look … hungry?" It makes me think it'd probably be fun to get high and watch Aly & AJ's old movies as an adult now. The sisters, on the other hand, look like they're enjoying themselves, like two proud moms watching their misbehaved kids in the school play.
12:45 a.m. | While the DJ plays more throwbacks, like Kelly Clarkson and Avril Lavigne, the Michalkas welcome fan after fan to their table to snap selfies. It's a lot of attention, but they handle it well, hugging and chatting with everyone who approaches them teary-eyed to say, "I LOVE YOU GUYS SO MUCH. IT'S SO LOVELY TO MEET YOU." The meet and greet seems to provide something of a rush for them. When their song "Rush" comes on shortly after, AJ stands on top of the booth and takes a video of the screaming crowd. "We're very private people. If we sent our mom that video, she'd cry," AJ tells me. The bartender brings out more vodka Redbulls, but the sisters give them away (to me, hehe). "What's your type?" Aly asks, and we discover that we're kind of into the same thing: tall, lanky, and brooding. Unfortunately, there's none of that here tonight.
1:00 a.m. | While Aly and AJ finish their drinks, we keep dancing demurely in our seats — the sisters do a lot of very small, running-man-adjacent fist-bumping — though both sisters express some well-mannered displeasure with the music the gays are so enjoying. "I listen to old stuff. Do you know these pop-culture pop-song lyrics?" AJ asks me, and Aly adds, "All I know is Aly & AJ songs. Everything else, I'm like no." When Katy Perry's "Hot N Cold" comes on, we all sing along, though Aly whispers to me, "Teenage Dream was the best pop record, and I want her to get back to that." One vodka later and the pop princesses have arrived!
1:06 a.m. | Finally, the sisters' beds (I hope) at the Bowery Hotel start calling to them. "We're gonna sleep real well tonight," AJ says, both of them throwing their fancy coats back on and running to catch their car across Seventh Avenue. I'm disappointed in their lack of misbehavior, but after what has felt like a monthlong bender, I decide it's probably a good idea to follow their sober lead.
1:10 a.m. | Still, I can't help but linger and smoke outside of the club, where I start chatting with a Penny Lane type, a 24-year-old fashion designer in sunglasses and a fur coat, who tells me, "Well, that was fun … for Playhouse." She is less enthusiastic than some of the other partygoers about seeing Aly & AJ but hypothesizes that all of the excitement inside is just a sign of the times: "Nostalgia's a thing right now because everything sucks so much." I consider heading back inside for one more drink, but, convincingly, she talks me out of it: "Do you really want to go watch people fingie each other?"
1:30 a.m. | Waiting on a car, I meet two girlfriends in ripped jeans leaving Playhouse. One of them, Tori, tells me that Aly & AJ's first album Into the Rush was actually her very first CD, describing in detail exactly what it looked like down to the fake signatures. "You know how everyone has their first CD moment? For my 9th birthday, I got Into the Rush, and it was sold out everywhere, and I cried. I was like, this is the best day of my life." Oh, and how could she forget? "AJ was my gay awakening." Because they're superfans, I ask if they were able to snap a photo with the sisters tonight. "Oh no. Everyone deserves a night out." Mine was last night.