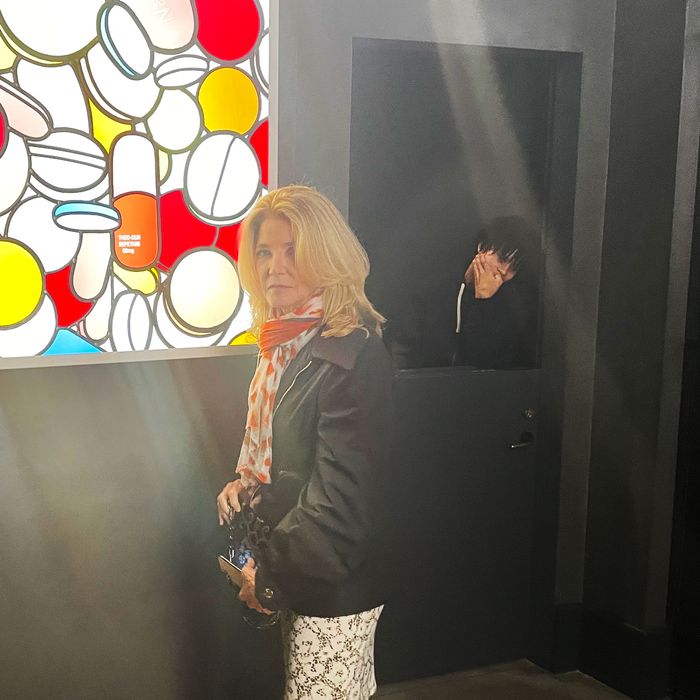 Candace leaving the Blond.
Photo: Brock Colyar
Like a lot of people who were born in the provinces — I grew up in Tennessee — in the 1990s, I find it's basically impossible to imagine New York City and what I wanted to get from moving here without the idea of Carrie Bradshaw. Which is to say, the ideas of Candace Bushnell, the party-girl writer whose New York Observer column inspired the Sex and the City series starring Sarah Jessica Parker as Carrie Bradshaw as Candace Bushnell. Even in their early-aughts HBO prime, Carrie, Samantha, Miranda, and Charlotte were a decade-plus older than me and my friends now, and their pre-digital, Manhattan-centric life was very different from ours in its details. Still, I can't remember the last time I went a full week without someone I know referencing some sexual faux pas or dating disaster first experienced, in our minds, on the show. It remains Candace Bushnell's City, and even though SJP is, for most people, Carrie Bradshaw, she was always just the actress. Candace lived it and wrote it, and is still here — as blonde as she's ever been, still drinking Cosmos, wearing Manolos, living the single life (yes, she was once married to a ballet dancer, which is a bucket list item for me too), and wondering when she'll have it all (i.e., more money, more success, more fame, and a wealthy husband).
"I like to think the heyday is still to come," she told me when I met her on Friday night at the Blond, the Soho nightclub described, in a line not quite worthy of Bushnell herself, as "where rich, bald dudes pick up gorgeous models" by the New York Post when it opened in 2016. Turns out it's also where Bushnell and a coterie of well-preserved boozy ladies sometimes meet up for an early-evening cocktail. In person, Candace turned out to be exactly what you really want for Carrie Bradshaw (and maybe yourself) at 63: hot, a bit messy, a petite little fairy godmother with a naughty side. Right now, she's on a break from her one-woman Off Broadway show, Is There Still Sex in the City?, which is soon to reopen at the Carlyle. Asked what she has planned for after its close, she told me she's hoping to keep working on projects where she's the star, rather than writing stories for Sarah Jessica Parker, saying SJP's full name in a whiny baby voice. Which, I have to say, made me love her even more.
7:40 p.m. | Candace arrives in leopard-print kitten heels and a black-and-white Norma Kamali dress, all twinkly eyes and sparkling teeth (she'd also spent most of the nice day inside getting her roots done). "Part of me wants to order a Cosmo," she says, perusing the cocktail menu, before doing just that, but not before clarifying with the waitress that the pink drink she made famous would be shaken with "fresh lime juice."
7:46 p.m. | Candace's friend, the fashion designer Nicole Miller, shows up in tinted aviators inside the dim, mostly empty club, and the two quickly launch into gossip. The only words I can pick out of the chatter are "drunk" and "mess" — seemingly about their friend Luann. "De Lesseps," Nicole clarifies: the Real Housewife who, just two nights before, had been kicked out of a gay piano bar in midtown for reportedly drunkenly hogging the mic. "My crazy friends are still crazy," Candace would tell me later, which is rather comforting.
8:00 p.m. | While Nicole chats with their publicist friend — okay, I like her a lot, but she's no Samantha — Candace reminisces to me about cavorting around the brightly lit big city with her cohort of cokehead contemporaries (Bret Easton Ellis, she says, preferred to write hung-over, though she never possessed that morning-after willpower). For the record, she no longer partakes — for one thing, she's afraid of fentanyl — unless you count a few weeks ago when her friends were visiting from the U.K., but that doesn't really count because the British "all do coke still." It would be tragic, she says, maybe thinking ahead to the tabloid headlines, to be found slumped over in front of "lines on a coffee table." Unlike reboot Carrie, she's also left the cigarettes behind, though she tells me she had a feeling I smoked, which makes me think I should've worn more perfume.
8:22 p.m. | Enough about her: She asks about being young in New York right now — "Are people having fun anymore?" she wonders, with a fair amount of doubt. But when I tell her about raves and Ridgewood, like many people of her generation, it doesn't compute. "I don't know if I'll ever make it out to Brooklyn," she says. Soon she is back in full nostalgic reverie about 1980s and 1990s Manhattan, which she describes as a place where you can be "the most fabulous version of yourself" and where going out meant going out "somewhere where people talked" in a city "full of characters," rather than staring into their phone screens. But then — draw close, children, and let me tell you a story — "like anything romantic, it was also a little bit tragic." Now, she mostly sticks to the Upper East Side, where she lives with her standard poodles, Prancer and Pepper, but I get the sense she's still down for whatever. If there's one thing she seems to have a lingering interest in when it comes to clubbing today, it's doing ketamine, which she says she thinks she only did once, and unfortunately, combined with a few other things, it left her feeling "fine" the next day.
8:42 p.m. | Ignoring (and maybe annoying) the others, Candace and I talk careers and relationships. (On dating actors: "They want you to fuck them … I want you to fuck me.") After all, I, too, party for work, and neither of us should ever be parents. After exchanging probably shitty dating advice (I tell her I'm having recent luck with a tech bro, a species of men she has little familiarity with), she says, in a voice that almost seems to be mocking herself: "You have to be your own Mr. Big." Easier said than done, of course. I compliment the heels she's constantly slipping on and off of her feet, and she calls them "Manolo types" — apparently, not the real deal — and explains that her rule for shoes is that she only wears them if she can walk ten blocks in them. We order a second round of Cosmos, and I wonder how booze consumption factors in that rule.
9:32 p.m. | Slowly, the Blond starts to fill with young women, and Candace and I assess them ruthlessly. Maybe because most of them are alone, we end up talking about being the Single Girl. Candace tells me Norma Kamali got engaged at 75, so she's still personally holding out hope that Mr. Right will come along. At this point, she doesn't even care how old he is, as long as he has money: "If you're 21 or 91, chances are you're looking for a connection" (sure enough, later in the night, a model who's familiar with Candace would tell me she's always asking to be set up with his younger friends). Recently, she says she tried using the dating app Raya, but just as Luann warned her, she didn't make any worthy matches. In part, she blames her dating misfortune on having natural boobs.
9:45 p.m. | "In the '80s, you could walk down the street and have sex. You could do it on the elevator between the 15th and the 31st floor," Candace says (I don't mention that this might be even easier if she were my age today, with our various sluttiness-enabling apps). Still, as much as she wants to get laid, she admits, "I don't think I can have sex without falling in love." So she's definitely not a Samantha. For every time she brags about living a life without the traditional trappings of feminine domesticity, she also makes a bleak joke about offing herself — "Do you know where I can get some fentanyl?" — if she doesn't get what she wants. As for her other cravings… "No one's going to give me any drugs," she says half-jokingly, as we exchange silent but knowing looks about the crowd that's filling out the dance floor. I lend her my weed pen, though she warns me that THC won't get her high.
9:57 p.m. | Well, Candace is pretty stoned. Add in another Cosmopolitan — our third — and she's quick to gossip about some of the women she knows: One is a sex fiend, one is dumb, one's a stoner, one's suprisingly quite pretty, and another did way too much blow back in the day. All of them are current or former Real Housewives of New York. We both complain about how And Just Like That … tries too hard to be woke (especially Che Diaz), but then Candace says a few questionable things herself — first complaining that she has the "smallest house in Sag Harbor" and then about the fact that she's "a straight, white female, a straight, white, cis female … I hate it as much as you do."
10:18 p.m. | For a brief moment, Candace and I consider abandoning the Blond, because she tells me she'd like to go somewhere "where people look like they're on The Bachelor," and currently the club is full of basic bitches (though to me, that's kind of The Bachelor). Despite my pleas and a few moments in which I feel she's ready to give in, we ultimately decide to stay put, and Candace, again sucking on my weed pen, does what she calls her "poodle dance," turning her hands into limp paws and waving them in front of her.
10:28 p.m. | To entertain ourselves, Candace decides we should probably do my job and figure out who these Bottega-mule-wearing blondes and their preppy boy toys at the club are. "LET'S RANDOMLY TALK TO PEOPLE!" she yells, zipping across the room and heading straight at a tall Judd Apatow type at the bar. "WHY ARE YOU HERE? WHAT ATTRACTED YOU TO BEING HERE?" she questions him, and the man, seemingly peeved at two people he's clearly not interested in asking him questions, replies simply, "It feels like 2007." Candace moves on, but not before giving me some career advice. "IS YOUR RECORDER ON? IT SHOULD BE!"
10:30 p.m. | Next up, we talk to a group of stilettoed girlfriends, who give middling reviews of the Blond. "Pre-COVID, the Blond was cool," one says. Another admits that she only came here tonight because she couldn't get into "vibe-y places" like Temple Bar or the Nines. Candace quietly exits the conversation and, unbeknownst to me, the building. "She's awesome, but she was also like, Shut the fuck up, I don't have time for this conversation," the girl says.
10:54 p.m. | According to Nicole, who is still here, sipping a cocktail, Candace made an Irish exit. But when I head downstairs for a cigarette, I find her wobbling back inside, unable to get a car. When she hands me her phone, I update the Uber app, switch out her expired credit card for Apple Pay, and walk her to the car when it arrives two minutes later. We've all been there, darling.
11:04 p.m. | With Candace gone, I head back inside the Blond to figure out who comes partying here after the early-evening ladies who lunch head back uptown. The dance floor is slowly but surely becoming less basic, filling with models, fashion designers, artists, and people who call themselves "creative directors," of what I'm not sure. Around the room, the makeouts begin, the bottle-service girls arrive, and the DJ starts playing songs people want to sing to, like that awful Dua Lipa "Rocket Man" remix that every damn club in the city seems to be playing. At the corner of the DJ stand, I watch one woman, in pointy heels and low-cut jeans, brush off a guy who's trying to kiss her, and on the other side of the stand, another woman in big gold hoops rushes off the dance floor, telling me on her way out, "I have a dick appointment, so I'm gonna go do that." Finally, there's sex in the city.
11:28 p.m. | I meet a white-guy restaurateur in a jean jacket who tells me he comes here on a weekly basis. Why, I ask? "Diversity," he responds.
Midnight | Outside the restroom, I talk to two finance girls who tell me they also come here often to scope out guys. Specifically, they say they're looking for "Europeans … but we're open." Tonight, unfortunately, they're not having much luck: "I feel like there are a lot of girls that are models tonight. I'm like, Holy shit, everyone's so pretty … and skinny."
12:44 a.m. | On a couch far off the dance floor — the clubbers' attractiveness appears to correlate to their distance from the DJ stand — I stumble across three well-made-up, self-described "Marquee girls" who tell me they discovered the Blond on Instagram. After an hour of dancing, they've decided to head out. "We're used to more ratchet bars. Not, like, to the point where people are tipping over drinks. Just … the people," one begins, before another interjects, "It's not mixed enough. I saw two other Asian people."
12:55 a.m. | While smoking outside, I watch a stout 30-something come running out of the club, screaming, "ALL MEN FROM NEW YORK CITY ARE ASSHOLES!" Sure enough, some asshole guy near the door jokes, "Oooooh, she must have lost her dick appointment." His friend passes him a joint, cackling, "Now she has to go home and do herself." Curious, I ask the woman what happened. "My friends were inside but all they want to do is date skinny blonde girls, and I'm not skinny or blonde. I'll be single forever because this town sucks and all guys want is some bimbo. I think I'm pretty. All they want to do is find the next-best thing tomorrow." Hard to disagree with you there, sister.
1:15 a.m. | On the dance floor, the now-raging crowd seems to dance in-sync, everyone throwing their hands in the air and dropping low at exactly the same time. Meanwhile, the women's restroom becomes a central hub of gossip and girl talk ("Do men exist?" I hear someone scream from within a stall), with groups of friends fixing each other's makeup and taking photos for the 'gram. A towering girl in a blazer tells me she likes the place because "it's expensive without being pretentious. You're just chilling and vibing and it doesn't feel very finance-y." What does she do? She works in finance.
2:42 a.m. | As much as me and all of my friends think we're Carrie Bradshaw, at some point, watching the crowd, I wonder who exactly she'd be in 2022, and after several more conversations with stick-thin blondes who either brag about the exclusiveness of the Blond and/or complain about the men who've come to the Blond, I figure that maybe this is who she would at least write about: these confident young women determined to find a zipless fuck (or a rich husband or, ideally, somehow both) at this dark and model-filled club, where the door guy seems to have a preference for women who look like them. Wary about becoming someone's Stanford for the night, I walk carefully back down the spiral staircase at the exit, taking note of a neon sign that reads, "We are just complicated animals," and where, sure enough, a Blake Lively look-alike throws her arms around my shoulders and carefully places me in an Uber, just like I did for Candace a few hours ago. "I'm living my life," she says before shutting the car door. On my way home, I notice a video Candace posted from her own Uber, of the city whizzing by out the window, captioned, "Try to compete." Who could?