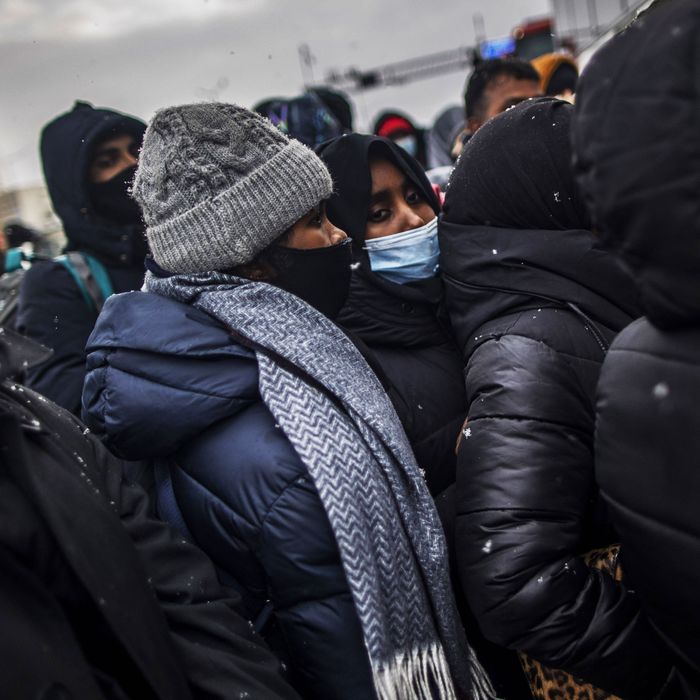 Photo: Bruno Thevenin/SIPA/Shutterstock
As the death toll from Russia's invasion of Ukraine rises, tens of thousands of refugees have flooded out of the country, and images from the Ukrainian border show refugees in long lines waiting to leave. But amid the mass exodus, there are reports of racist encounters at the border, with the safety of white Ukrainian residents taking precedence over people of color.
Thousands of African and Indian students are trying to leave Ukraine and reportedly encountering what seems to be a de facto "Ukrainians first" policy that has guards sending Black and South Asian civilians to the back of lines, pulling them off of trains and buses to make room for white Ukrainians, and stranding them at the border for days. One student told CNN she saw guards violently preventing Indian men from passing through and pushing an Egyptian man so hard he was knocked unconscious.
On Monday, members of the U.N. Security Council representing Kenya, Ghana, and Gabon condemned the discrimination their citizens have faced trying to exit the country. The African Union also released a statement calling the treatment of Africans leaving Ukraine "shockingly racist and in breach of international law."
A spokesman for Ukraine's Border Guard Service denied the allegations, telling CNN that there is "absolutely no division by nation, citizenship, or class at the border." Meanwhile, the U.N.'s refugee agency addressed the crisis during a press conference Tuesday afternoon, acknowledging that there had been instances of "different treatments with Ukrainians and non-Ukrainians."
"There should be absolutely no discrimination between Ukrainians and non-Ukrainians, Europeans and non-Europeans, Filippo Grandi, who heads up the United Nations High Commissioner for Refugees, said Tuesday. "Everyone is fleeing from the same risks." Per the Independent, Grandi also said that the U.N. is planning to intervene to make sure everyone is treated equally at the border.