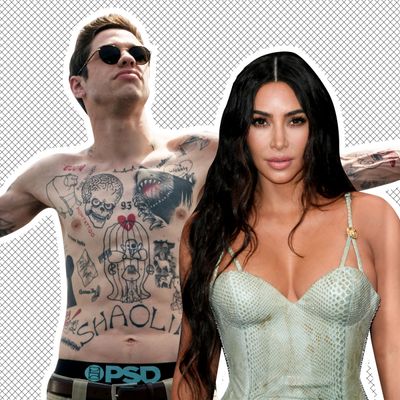 Photo-Illustration: by The Cut; Photos: Getty Images, Shutterstock
Once Kim Kardashian and Pete Davidson became Instagram official, it was only a matter of time before they became tattoo official. Davidson has a history of getting tattoo tributes to his girlfriends (remember all the Ariana Grande ones?), and Kim is no exception. But this time, he's not just depending on new ink to declare his love. He's taking it a step further with permanent "KIM" scarring.
Speculation about Davidson's "KIM" tattoo started over the weekend when texts supposedly from Davidson to Kanye West were posted on Twitter. The texts featured a selfie of Davidson shirtless in bed, his chest tattoos on full display. His tattoos were nothing new, but the "KIM" mark just underneath his right shoulder sure was. The photo was grainy, and the comedian has so many tattoos it was hard to tell if he had one that read "KIM" or if it was something else. Now Kim herself is setting the record straight, and unfortunately, it's much worse than you thought.
"It's actually a branding," Kardashian told Ellen DeGeneres during her Wednesday appearance on The Ellen DeGeneres Show. What fans spotted in the photo isn't just a tattoo; it's a scar. "He wanted to do something that was really different," Kardashian explained, adding that Davidson told her he wanted to get something he couldn't remove. "He's in the process of getting rid of his arm tats and his neck tats. So he's, like, 'I don't want to be able to get rid of it or cover it up, and I just wanted it there as, like, a scar on me.'" Nothing says love like taking a burning-hot piece of metal to your chest, right?
To be clear, Davidson does have other tattoos to commemorate his current relationship. Kardashian wouldn't disclose all of them, but she did say her favorite reads, "My girl is a lawyer." Multiple tattoos for a woman you've been dating for a handful of months may sound serious, but if you're Davidson, tattoos aren't as permanent as they seem. Just ask Miley Cyrus, who reportedly found out via a Smartwater ad that Davidson had had their matching tattoo removed. Tattoos can come and go, but a branding? That's forever.