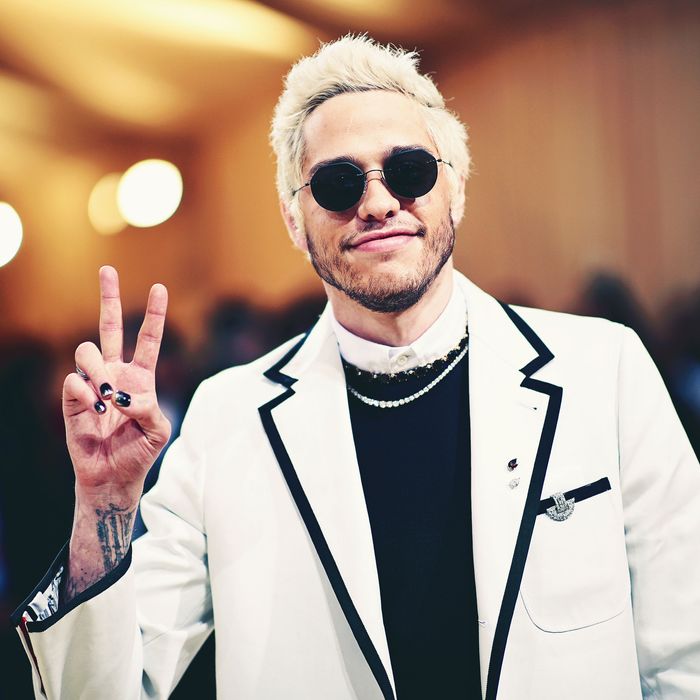 Photo: Dimitrios Kambouris/Getty Images for The Met Museum/
Sad news for the edge of space: Pete Davidson will not be visiting anytime soon. Following an announcement from Jeff Bezos's Blue Origin that Davidson would be a passenger on its phallic space shuttle later this month, the company said on Thursday that he has backed out.
The reports that Davidson was considering a trip to space on Bezos's rocket actually made some sense: His girlfriend, Kim Kardashian, brought him to dinner at the Amazon mogul's home in January, and per a "Page Six" report, Davidson and Bezos really hit it off. Alas, for reasons that are still unclear, it sounds like Davidson has decided to forgo his chance for 11 minutes of weightlessness. He has a lot going on down here, and I'm not sure there's enough room on this spacecraft for The Kardashians' camera crew.
Per Blue Origin, a replacement passenger on the March 29 flight will be announced imminently. I'm sure there are some other people Bezos would be willing to gift a $28 million ticket to, but here are a few humble suggestions from me:
Leonardo DiCaprio, as an apology for threatening to push him off a cliff
Lauren Sanchez, his alive girl(friend)

Kim Kardashian, to do preliminary research on a line of Skims space apparel

Any Amazon employee (on second thought, maybe just pay them the $28 million)

A fully trained astronaut
Luckily, Davidson can still enjoy plenty of earthly delights down here, such as branding your own skin and sharing animal-style fries with your significant other.