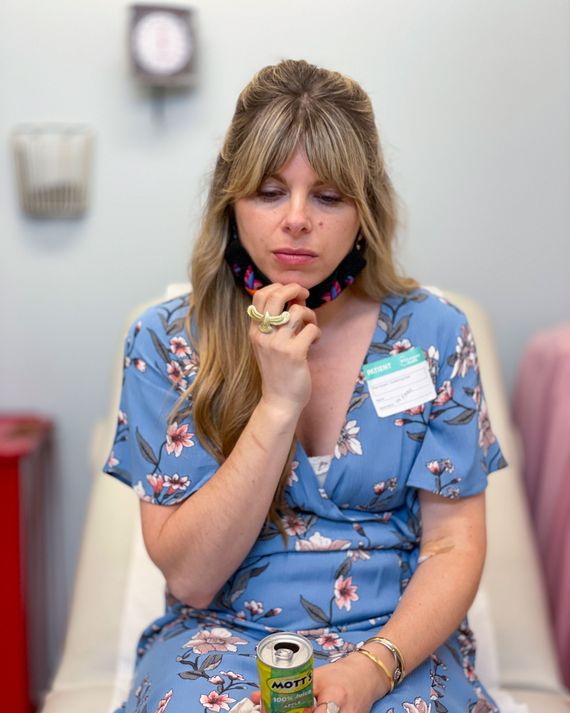 Casey and I had known each other for three months when I got pregnant. At least, we had only recently gotten to know each other: We first met 15 years ago in New York City. When I bought a home in Woodstock in late 2020, not far from where Casey also happened to live, mutual friends put us in touch again. He came over to catch up with a dinner that lasted well into the night. We were pretty inseparable after that.
Not long after, I took the test, and Casey, a photojournalist, started taking pictures.
"Oh, fuck," were the first words out of Casey's mouth when I FaceTimed him with the news. I had never felt a strong desire to be pregnant. I wondered if the universe had forgotten to give me a biological clock. Since my younger brother and I were adopted, I always thought that's how I would become a parent.
I didn't let my body dictate the life decisions I made. I was free to move through the world without worrying about my aging ovaries. But here I was, 40 years old, pregnant for the first time.
I actually wanted to keep the pregnancy.
I started to show very early. I was constantly nauseous and fatigued. These were all good signs that the pregnancy was progressing, my sister told me, and that I was probably having a girl. I bought this bathing suit to fit my burgeoning belly and was so excited to wear it.
I was ten weeks along. We were starting to discuss where we would live and which room would be the nursery. I let myself peruse the internet for nursery themes and décor.
On our way to hear the baby's heartbeat, we saw the crosstown bus where my parents met 48 years ago speed past us down 34th Street.
I thought of their chance meeting and the excitement and fear they must have felt about the life to come. I felt the same.
The ultrasound was silent but for the faint beeping of the monitor.
We passed each other a confused glance. The tech quietly left to get the doctor. I was sitting on Casey's lap when she came in, and her pursed mouth and lack of eye contact said it all.
The pregnancy had not progressed, and there was no heartbeat.
I didn't know how badly I wanted a baby until I was told I wasn't having one.
After he heard the news, Casey cried to his friend on the phone outside. The cars whirred past while he stood frozen in grief.
He didn't realize how much he wanted to be a father until he wasn't.
I was given one dose of mifepristone at the doctor's office and sent home with the misoprostol to take 24 hours later.
How did I not know anyone who had taken this drug before? Who had to force their body to reject their dead fetus?
The doctor did not prepare me. She made it seem so routine. "Unfortunately, this happens all too often," she said in a cavalier tone. But why wasn't anyone talking about this?
The waves of nausea were violent and unrelenting. They took away any ability to process what I was experiencing.
There was really nothing to distract me. We tried watching In the Heights between trips to the bathroom to vomit and pass blood clots.
My insides felt like they were being ripped out of me, but when I contacted my doctor over the hospital app, she suggested I take Tylenol.
I don't even know how many times I had to get up to go to the bathroom to pass the tissue. I was bleeding through everything.
No one could have prepared me for the pain, but I wish someone had tried.
The gruff tech rattled off statistics, hurriedly jamming the ultrasound wand into every corner of my uterus.
There was a small likelihood the misoprostol would not be effective in terminating the pregnancy. We were in that category.
Because of COVID restrictions, Casey had to wait in the hallway with the other dads.
I took a second round of misoprostol to get the rest of the tissue out, but nothing happened. When I called the doctor, I was advised to let Mother Nature take her course.
What would life look like now? What kind of relationship would we have? We jumped so far ahead, only to be boomeranged back to where we began. My depression started to rear its ugly head.
But it's summer, and it's over, and I can enjoy myself now — the voices of denial settled in.
Plus, there was Paris. Initially we had planned to travel there in the fall because it was my 40th birthday. But when we found out we were pregnant, we said, "Why don't we go sooner than later, and make this kind of a babymoon?" After the miscarriage, we thought about canceling the trip, and then we said, "No, you know what, let's get away, let's be together and continue to enjoy our lives and not let this stop us." Two weeks later, we flew to Europe.
Our first day in Paris.
That Sunday morning I was sitting at a sidewalk cafe in Paris eating a croissant. I dipped flaky pieces into my coffee the way my father had taught me, watching the tourists and locals pass by on the cobblestone street.
This was before the blood erupted out of me, streaming down my legs and staining the vintage skirt I had bought that morning a deep crimson.
I texted Casey: "It's bad, you need to come now."
After what seemed like an eternity he entered the bathroom to see me crouched on the toilet, drops of blood gleaming on the tile floor, which was strewn with red tissues, towels, anything absorbent I could find.
I remember saying, "I need to get to bed." Casey put his arms around me, my face as white as my lace shirt. I stepped into the kitschy lobby with its blue velvet banquets and glittering gold-foil wallpaper.
Then everything went dark.
I came to in our hotel room and found myself bleeding on the bleached white sheets, a bloody towel wrapped around my waist.
The French EMS were huddled around, their Popeye arms working diligently, maneuvering the cords and pumps and machines with deafening beeps.
"We're taking you to the hospital," Casey said.
I heard Casey telling me to stay awake, stay with him.
"Don't leave me," I pleaded. "I'll never leave you," he said. "I'll be here forever."
There's a lot I don't remember after this point.
At the hospital, the nurse led me to the bathroom for a urine sample and handed me a waxy paper cup, the kind that used to balance along the sink's edge in my childhood home. I cried as I handed it back to her.
Inside it was a magenta blob, the color of my college manicures, shiny and whole. The nurse took it from me. "It's all right, it's all right," she whispered in her heavy French accent. She patted my back and gently laid the cup in the trash can.
Casey stood grasping at the doorway, exchanging glances with the nurse. "Was that the baby?" I asked him and pointed at the trash can. That was the baby.
It was the first time I referred to it as the baby.
I had dismissed this loss as a collection of cells. But those cells would have turned into a baby if I had carried it longer. My body failed me. Why hadn't I heard the echoing of my biological clock earlier in life?
There had been so many distractions. There had been so many goals and tasks to complete. It was hard for me to be still. I blamed it on my adoption, this need to find something. I found it confusing to try to define myself.
I was hemorrhaging because my body was still holding on to tissue from the pregnancy. At one point the doctors told me I might need a blood transfusion because of how much I had lost. I went into surgery for a dilation and curettage (D&C) procedure to get the rest out.
When they brought me back into my room after surgery, it was around 4 a.m. Casey had been sleeping on the floor.
After a sleepless night, we left the hospital that morning.
It was all over. I was literally empty. I still had a belly, I still looked pregnant, but the physical symptoms were gone.
Now we could focus on our relationship and continue to get to know one another. We had only been together for five months and had just gone through an intense trauma. We felt closer than ever.
My parents sent a bottle of Champagne, an early birthday present and a consolation prize. I wasn't having a baby, but at least I could drink again.
We had another five days in France. I wanted to try to enjoy the trip, but I had no energy and just felt kind of empty.
I didn't know what I was supposed to be feeling. I wasn't pregnant for that long. I wondered, Can I mourn this? Can I be sad about this? Am I allowed to be?
The day after we got back, I went to the doctor, where I got an ultrasound and was told everything looked okay. "You can start trying again in a few months," she said.
It felt like nothing even happened. The pregnancy had been erased.
Looking at these photos later, it was hard to believe that was me. The fullness in my hips, breasts, and cheeks remained. The eating disorder that stole my 20s made these images even harder to look at.
But I saw something else in the photos. I had evolved into a sturdy oak. I was rooted so deeply, ever present in my changing form, which had forgotten that I was no longer pregnant. Would I feel the warmth of growing life again?
I remember being annoyed with Casey for taking pictures. What I didn't realize was the whole time I was bleeding, being operated on, and recovering, he was photographing. This was his love language, his way of saying, "I'm here, I see you and your pain."
I didn't know it then, but Casey bought an engagement ring online as we were flying back to New York from France.
We're getting married in July.
Becca Leitman is a psychotherapist and Casey Kelbaugh is a photographer based between New York City and the Catskills. Together they're launching Carriage, a web3 space for people to share their miscarriage stories and support one another.