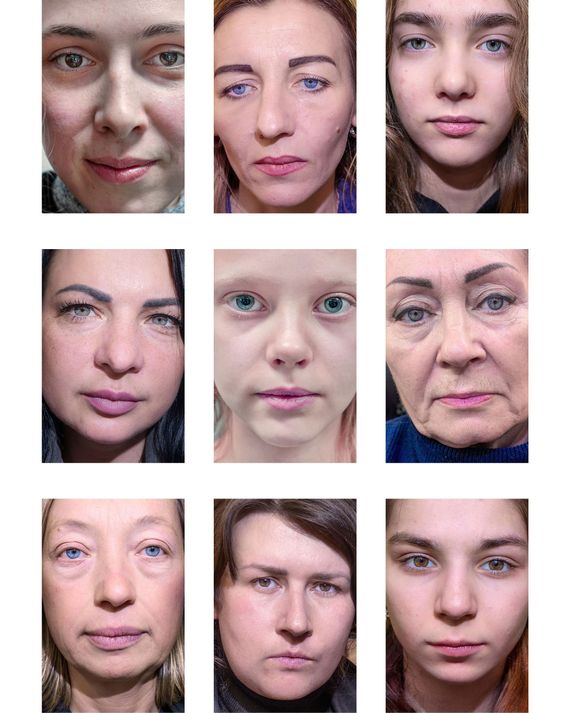 Photo: Jean-Marc Caimi and Valentina Piccinni
Women and girls are driving the Ukrainian refugee crisis, one of the biggest in recent history. Since martial law forbids Ukrainian men between the ages of 18 and 60 from leaving the country, the vast majority of refugees are daughters and wives forced to separate from fathers and husbands; they're mothers and expectant mothers journeying across borders while also caring for children and aging parents.
In "No Woman, No Cry," photographers Jean-Marc Caimi and Valentina Piccinni documented the plight of Ukrainian refugees passing through Przemyśl, Poland, through penetrating portraits. These shots, tightly zoomed-in around the women's and girls' faces, are almost claustrophobic in their closeness. The photographers also asked their subjects to display one important thing they were able to take with them from home. Some of these objects are sentimental, some are practical, and occasionally, they're alive — one woman traveled alone with a small dog. Other refugees showed off wedding rings, stuffed animals, family photos, and Bibles. "The children showed us their toys, the middle-aged ladies their cell-phone photos of flowers in their garden," Caimi and Piccinni explain. At least one object had a darker connotation: the large kitchen knife one woman grabbed "instinctively to protect the children on the escape route," according to the photographers.
Crossing the border is an act of survival. It's also a profound interruption to one's family life — there's no certainty of being able to return to loved ones who had to, or chose to, stay behind. According to Caimi and Piccinni, many of the refugees they photographed emphasized that they did not want to leave their homes. Galina, a 30-year-old woman who said she worked as a florist before the war broke out, had previously fled Lugansk in eastern Ukraine when Russia annexed Crimea. Galina said she was contemplating what country she would have to seek refuge in next. The one important thing she said she took with her was her passport, an unassuming beige-covered document that is also a powerful symbol of her identity. It's what allows Galina — and all the refugees pictured — to safely cross borders and start their new lives elsewhere. Those lives will be temporary arrangements at most, or so these women and girls are hoping.
The psychological toll of family separation weighs heavily on refugees. At border checkpoints, some have described the forcible parting from husbands and fathers as a "a little death." Lesia, 26, a refugee who planned to travel to Germany, was separated from her husband who stayed behind to fight in the military. She showed Caimi and Pinnicci her slim rose-gold wedding band; they snapped a photo of her holding the ring in her outstretched palm. The ring makes Lesia feel connected to her husband, and it not only represents her ties to him but to her home country as well.
Ukrainian border guards had begun searching cars to ensure no military-age men were trying to leave, and many mothers traveling without their spouses have run into legal obstacles because they don't have all their children's legal documents, leaving them stuck. Several children were fleeing Ukraine unaccompanied by adults. Meanwhile, many elderly folks remained in the country, isolated from family members and sometimes physically unable to escape conflict zones.
Many of the refugees with whom Caimi and Piccinni spoke described elderly Ukrainians as particularly resistant to leaving home. Marina, 43, a deaf-mute factory worker from Kyiv, told the photographers that she fled the city with her teenage daughter and some friends — her mother chose to stay behind. When she was asked about her most important possession, she showed Caimi and Piccinni a photograph of her mother, smiling beside a spray of purple flowers, on her cell phone. Another refugee whose grandmother chose to stay behind gave her a special parting gift. Leroy, 13, told Caimi and Piccinni that her grandmother's angel statuette will be the first item of furniture in her room when she reaches Berlin — a comforting reminder of her home country.