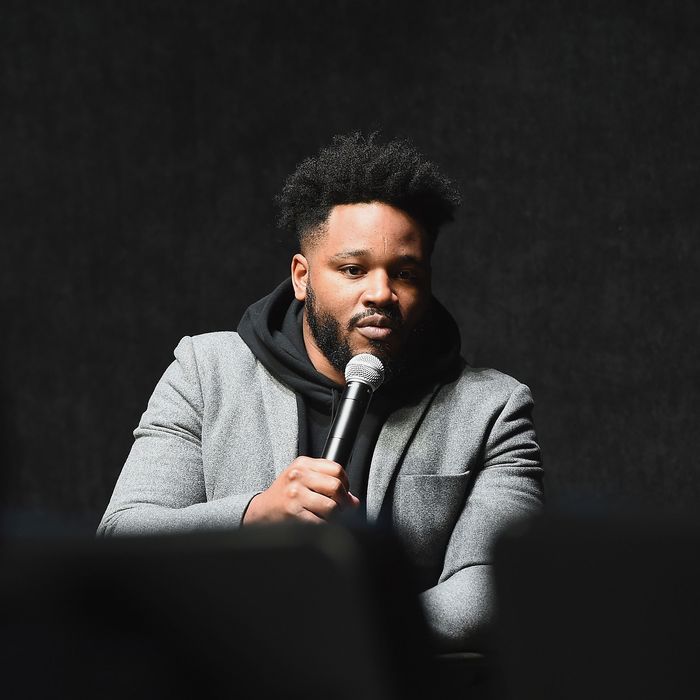 Photo: Ilya S. Savenok/Getty Images
Bank of America has apologized for mistaking the director of Black Panther for a robber. Let's back up: On January 7, filmmaker Ryan Coogler, who is Black, walked into a Bank of America branch in Atlanta. Per the New York Times, Coogler was looking to withdraw $10,000 to pay a family medical assistant. According to a police report, he handed the bank teller multiple forms of verification, including a California ID, a Bank of America account card, his pin number, and a withdrawal slip. In a note on the withdrawal slip, Coogler asked the teller to "be discreet" when handing him in the money, later clarifying that he felt unsafe waiting for a large amount of bills to pass through a machine. According to the report, the teller, who is a Black woman, says she got a high-risk-transaction alert from Coogler's account. She notified her branch manager, who reportedly mistook Coogler for the physical description of an at-large robber and called 911.
Apparently, the officers who arrived at the scene found an SUV out front. The driver and passenger of the SUV were waiting for Coogler, who they told officers was a movie producer. The officers then detained Coogler's acquaintances before entering and handcuffing Coogler, escorting him to the back of a police car. It's not clear when exactly police realized they had mistakenly arrested a trailblazing Marvel director in what appears to be a blatant instance of racial profiling, but they eventually released Coogler and his acquaintances. Following the incident, Coogler requested the names and badges of officers involved. Police, meanwhile, laid blame on Bank of America, calling the incident the bank's "mistake" and affirming that Coogler "was never in the wrong."
On Wednesday, Coogler released a statement to the Times about the incident, which he says "never should have happened." According to Coogler, Bank of America has worked with him to appropriately address the situation, and the two parties "have moved on." In a separate statement, Bank of America apologized to Coogler and expressed regret, though their apology did not include any mention of racial profiling.
"She got scared when a Black dude handed her a note," Coogler said after the incident. "I don't know what else to say."