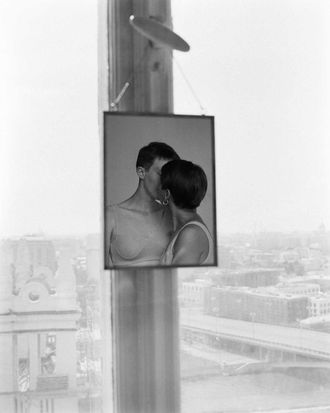 Margo Ovcharenko's
Nastasya & Oksana
via Pictures for Purpose.
Photo: Margo Ovcharenko
Olya Oleinic's photograph Kyiv 2021 captures the city skyline in black-and-white, foregrounded by water and trees. It's a rendering of the city as she sees it: a combination of nature and city she describes as peaceful and, as of a few weeks ago, nostalgic. "I feel any photograph from prewar Ukraine right now is nostalgic, a postcard," Oleinic says.
Transformed by war, today's Ukraine is unrecognizable. In cities, air-raid sirens sound off ad nauseam. Destruction is widespread, with millions of citizens evacuating or sheltering underground. As the Russian invasion continues to escalate, Oleinic is one of a number of artists with ties to Ukraine who have donated art to fundraisers to benefit relief efforts. Here, two print sales you can support right now.
'Art for Ukraine,' NEU Workshop 
Munich-based NEU Workshop has assembled a collection of prints that capture the joys and youth culture of prewar Ukraine. Its "Art for Ukraine" series, which includes Oleinic's Kyiv 2021, explores the quietness of a bygone everyday: women relaxing in fields in Odesa, strangers drinking afternoon tea.
Each print costs $55 and is on sale through March 31. Proceeds will benefit Voices for Children, Vostok SOS, and Libereco.
Pictures for Purpose 
For their Ukraine print sale, curators for this Netherlands-based organization selected images that evoked themes of freedom, solidarity, and resistance. The collection includes work by many artists with ties to Ukraine, including Daria Svertilova's idyllic portrait of two women embracing in a southern-Ukrainian estuary and Paolo Ciregia's photo at a pro-Ukraine demonstration during the occupation of Crimea — a discomfiting reminder that war was brewing even then.
Each print costs $138 and is available for purchase through March 24. Proceeds will go toward World Central Kitchen, which is working to provide fresh meals to refugees and Ukrainians remaining in the country. Contributing artists can also choose to receive up to 25 percent of print-sale proceeds. "Artistic labor shouldn't constantly be reduced to charity," says Isabella van Marle, one of the fundraiser's organizers. While most of the artists have chosen to donate all proceeds, "the model remains a valuable lifeline for some, particularly those artists directly affected by events in Ukraine."