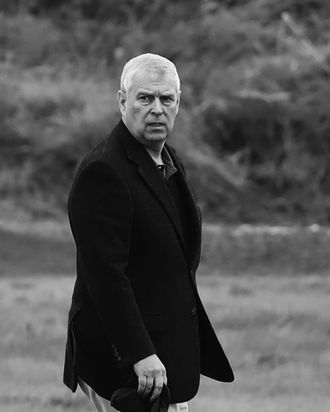 The queen's (allegedly) favorite boy.
Photo: Liam McBurney - PA Images/Getty Images
The past few years, it is almost an understatement to say, have been acutely embarrassing for Prince Andrew, the man ninth in line for the British throne and reportedly the queen's favorite boy. Deservedly embarrassing, maybe, but a real barn burner of a tabloid nightmare regardless. The Duke of York's long and apparently close friendship with the late sex offender Jeffrey Epstein came under fresh scrutiny ahead of the financier's 2019 arrest. The Department of Justice accused Epstein of architecting a sprawling sex-trafficking ring, coercing countless young women and underage girls into intercourse with him and a cadre of his high-profile acquaintances.
After Epstein killed himself in jail, investigators did not drop their case but focused instead on his enablers. As the Feds escalated their search for the disappeared Ghislaine Maxwell, the British socialite convicted of sex trafficking in December, the spotlight on Andrew grew hotter: She introduced him to Epstein, and when Virginia Roberts Giuffre sued Maxwell in 2015, she said she'd been forced into sex with the prince on three separate occasions as a teen.
The palace has always insisted that "any suggestion of impropriety with underage minors is categorically untrue," but then there is also that saying — what is it, no smoke without fire? Yeah, there's an alarming amount of smoke billowing from Andrew land. There are photos of Epstein and Maxwell lounging outside a cabin at the queen's Balmoral estate; photos of Maxwell and Kevin Spacey (another Epstein associate accused of sexual misconduct with minors) in the Buckingham Palace throne room, laughing on the queen's special chairs; photos of Andrew and Epstein sunbathing with topless women on a yacht. There are flight logs from Epstein's private jets (including the Lolita Express) that list the duke as a passenger. There are witnesses who recall seeing Andrew at Epstein's various homes and at "naked pool parties." And there was another lawsuit, this time aimed firmly at the prince.
In August 2021, Giuffre filed a civil claim against Andrew accusing him of raping her when she was 17. For months, his attorneys worked to get the case dismissed, but in January, they filed an official response denying all of Giuffre's charges. Fast-forward about three weeks, and Andrew gave up his demands for a jury trial in favor of settling with Giuffre for an undisclosed sum. That is a pretty significant reversal, and maybe it means you have some questions about the whole affair. Questions like: How did we get here? How does one sue a royal? How fat are Prince Andrew's fingers really? How much does Prince Andrew sweat? What is a Pizza Express?
Let's get to it.
What did Virginia Roberts Giuffre allege?
Giuffre has long been one of the most outspoken survivors to accuse Epstein and his cohort of sexual abuse. Previously, she said Maxwell recruited her into Epstein's trafficking ring at Mar-a-Lago, where Giuffre worked as a teen. "The first time in London, I was so young. Ghislaine woke me up in the morning and said, 'You're gonna meet a prince today,'" Giuffre told Dateline in 2019. "I didn't know at that point that I was going to be trafficked to that prince." Maxwell's prince (allegedly) turned out to be Andrew: Giuffre said that he gave her alcohol in the VIP section of London's Club Tramp and that he was a "hideous" and very sweaty dancer. According to Giuffre, the duke was "pouring with perspiration" while he attempted to groove with her: "I just remember like, Ugh, I need a shower. This is disgusting." But during the car ride back to Maxwell's house, Maxwell allegedly told her "to do for him what you do for Epstein."
In this most recent lawsuit, Giuffre maintained that Epstein and Maxwell forced her into sex with Andrew when she was 17 years old and the prince was 40. Again, these weren't new claims, but they did amount to "assault and battery," per her filing, which also called out locations. On one occasion in Epstein's (haunted) New York City manor, she said that she and "another victim" had to "sit on Prince Andrew's lap as Prince Andrew touched her" and that the royal later made her "engage in sex acts against her will." Another instance of abuse allegedly occurred on Epstein's jet and another at Maxwell's London home, where Giuffre said the duke raped her. "During each of the aforementioned incidents," the lawsuit states, "Plaintiff was compelled by express or implied threats by Epstein, Maxwell, and/or Prince Andrew to engage in sexual acts with Prince Andrew, and feared death or physical injury to herself or another and other repercussions for disobeying Epstein, Maxwell, and Prince Andrew due to their powerful connections, wealth, and authority."
In response to the suit, which sought damages "for battery and intentional infliction of emotional distress," Andrew's reps said in their filing, "Giuffre has initiated this baseless lawsuit against Prince Andrew to achieve another payday at his expense and at the expense of those closest to him."
Epstein, Maxwell, Prince Andrew — please explain how all of these people know one another.
Via Maxwell is the short explanation: Maxwell and Epstein dated in the 1990s and remained close friends (slash accomplices) after their relationship, whatever it was, ended. A British socialite, Maxwell introduced Epstein to Prince Andrew, and from there, a friendship blossomed. A limited list of documented hangs: There was a jaunt to Epstein's "pedo island" in 1999 (and possibly others too); there was a "Dance of the Decades" at Windsor Castle in 2000, which the queen also attended; that same year, there was a weekend at the royal Sandringham Estate to celebrate Maxwell's birthday and shoot some pheasants; there was the masked ball to celebrate Princess Beatrice's 18th birthday in 2006, after the first allegations of molestation surfaced against Epstein; there was, at some point, Epstein's £15,000 loan to Andrew's ex-wife, Sarah Ferguson, which she subsequently apologized for having accepted. And then there was the alleged breakup of 2010: a four-day trip to New York City Andrew says he made to end things in person more than a year after Epstein pleaded guilty to soliciting prostitution.
According to one contemporary account of this visit, the breakup itinerary included a lavish party at Epstein's mansion (which Woody Allen and Charlie Rose also attended and which Andrew said definitely wasn't a celebration of Epstein's release from prison); strolls in Central Park; and possibly foot massages given by "two well-dressed Russian women," per the literary agent John Brockman, who apparently went to the house while Andrew was there. It all sounds very leisurely and cozy even for a long last good-bye, and Andrew has offered it up as an example of how he is always doing the right and honorable thing.
Isn't there a photo of him hanging out with Giuffre and Maxwell?
Oh, yes! Here is the photo you are thinking of: Andrew with his arm wrapped around a teenage Giuffre's waist, while Maxwell grins in the background. It appears to have been taken at Maxwell's London home around 2001, which is when Giuffre alleges the abuse took place.
Andrew has long attempted to distance himself from this particular image, understanding that it really does not look good. First, he said he had no memory of it being taken. Then a source supposedly close to Andrew insisted to the tabloids that the photo must have been edited because Andrew's real-life fingers are "quite chubby," whereas these photo-fingers are reasonably slender; just look at them. (Very quickly, the Daily Mail put what I can only assume were all its best guys on the case; their investigation did not find "any obvious discrepancies" in digital girth, and neither do I.) In a similar vein, the prince's ex-girlfriend Lady Victoria Hervey recently floated a conspiracy theory of her own on Instagram. In a story posted February 2, Hervey shared the image of Giuffre with the whole background edited out and a pile of what looks like laundry (?) slung over the arm where Andrew should be. In another panel, she raised an alternate explanation: "Do you believe that photo is real?" she wrote. "Or what if I told you a survivor of Epstein's told me it's an Irish body double that was edited in." Not just any body double, an Irish body double — what do you think?
Anyway, even the finger thing was eclipsed by the towering fiasco that was Andrew's November 2019 BBC interview, during which he once again claimed to have "no recollection" of ever meeting Giuffre. He also asserted that he could not be "certain" that was really his hand on her waist even if "nobody can prove that photo has been doctored." And all of that looked floundering enough but ultimately made up only one small corner of the trash-fire-scorched ground we must cover here.
Prince Andrew's BBC interview: a sizzle reel.
The interview itself lasted about an hour, and while the source material is rich, we can just do the highlights. Some of the more astounding things the prince said:
• Of his 2010 breakup trip: Phoning Epstein to say that the whole child-sex-ring thing precluded the possibility of continued friendship would've been the "chicken's way of doing it," whereas staying at his house for a few days was "convenient" as well as the "honorable and right thing to do." Indeed, Andrew supposed that his "judgment was probably colored by" his "tendency to be too honorable" even as regards a person so "unbecoming" as Epstein. No show of politesse goes unpunished, I guess.
• Of the night he supposedly forced sex on Giuffre at Maxwell's house: Actually, he was with his daughters after taking Princess Beatrice to a Pizza Express (a U.K. pizza chain) in Woking, Surrey, for some kid's birthday party on the evening in question. He remembers this "weirdly distinctly," he said, because "going to Pizza Express in Woking is an unusual thing for me to do." And, well, one cannot simultaneously be at a Pizza Express in Woking and also sweating profusely at Tramp; it's either/or. Presumably, children's birthdays don't go on longer than the clubs stay open, and listen, none of us was there.
• Of his glands: He became medically incapable of sweating during the Falklands War and has only begun to regain his sweating ability in the "recent past," so he could not have sweated all over Giuffre on the dance floor as alleged.
What?
I will let him explain this one in his own words: "There's a slight problem with the sweating because I have a peculiar medical condition which — that I don't sweat, or I didn't sweat at the time." Here is a video clip of the statement if it helps to hear it straight from the horse's mouth.
Can a body sort of shock itself into an extended sweatless state as Andrew described? Even just hypothetically, is that plausible?
Um! I think, in the way Andrew explained the situation — the "overdose of adrenaline" he experienced amid gunfire in the Falklands left him incapable of perspiration for whole decades — his temporary sweatlessness is not very plausible. It is true that some people don't sweat, a condition called anhidrosis; sweathelp.org says it can "be caused by one or more of dozens of factors" affecting isolated areas of the body or the whole thing. Eliminating medications, dehydration, heatstroke, clogged ducts, burns, and nerve damage from the equation, the most likely cause appears to be genetics or autoimmune disease. In those cases, anhidrosis probably isn't going to settle in for a few years and fade away eventually.
Did he know, then, that the sweat stuff would come back to bite him?
I'm betting he didn't, but this is the kind of detail that really sticks in the brain. That may be why Giuffre's attorneys seized on the claim, requesting in a December court filing that Andrew produce some proof of "his alleged medical inability to sweat." Unfortunately, the prince's legal team said they were unable to find any documentation of his purported condition nor any witnesses who could attest to his presence at the Pizza Express in Woking, even though he was supposedly there for a party. In a word: hmph.
Can Princess Beatrice corroborate the Pizza Express alibi?
It seems not: According to a 2020 "investigation" by the Daily Mail (a tabloid, please keep in mind), Beatrice has "absolutely no recollection" of the Pizza Express birthday in Woking, while the family who hosted it allegedly doesn't remember whether the prince showed up. A diary the Mail looked at reportedly suggests Andrew dropped off Beatrice, but the security officer who might have been able to shed more light on all of this has died.
Have there been royal consequences for any of the scandals?
Though the palace usually refrains from commenting on news reports surrounding family members, the Andrew strategy has historically been denial: "It is emphatically denied that the Duke of York had any form of sexual contact or relationship with [Giuffre]," read a statement responding to the 2015 defamation suit. "The allegations made are false and without any foundation."
Still, he's received slaps on the wrist along the way: In 2011, for example, Andrew stepped down from his role as royal trade envoy in the aftermath of his Epstein visit. Then, a week after his dreadful BBC accounting, Andrew announced his purportedly voluntary resignation from his official duties. The prince framed the move as his decision, which he made independently before asking his mother for permission; certain palace sources, however, said Mummy sacked him specifically because of the interview. "The bottle of whiskey and the pearl-handled revolver were laid out for him," one told the Daily Beast. "And they were laid out for him by his mother." Adding insult to the injury of being fired by one's own mom, she also downgraded the big birthday bash he had planned to a "small family dinner" at which the party-planning committee (Andrew's ex and continued roommate, Ferguson) reportedly had a hell of a time filling seats.
Most recently, the queen revoked Andrew's military titles — in suspension since 2019 — and royal patronages in line with a written request from 150 veterans who resent their continued association with this man. He will no longer use "His Royal Highness" for official purposes and, per the palace statement, "is defending this case as a private citizen." Or, was.
What is the deal with this settlement?
The first thing to know is that this conclusion represents a big about-face. In January, Boies said in an interview that "a purely financial settlement is not anything" Giuffre would be "interested in" because, above all, she wanted to see the case "resolved in a way that vindicates her and vindicates the other victims."
On January 26, the prince's camp filed their official response in the U.S. District Court for the Southern District of New York: an 11-page, point-by-point denial of Giuffre's allegations — including the idea that he and Maxwell were ever "close friends" despite that multiday surprise party he once threw her at his mom's house — except where he claimed insufficient firsthand knowledge to address the claims. (When Giuffre got specific about the alleged trafficking, for example.)
He also called for a trial by jury, an event that held high potential for extreme embarrassment on behalf of his whole family. Faced with Andrew's hesitance to settle, the royals are said to have been working very hard to ensure the case doesn't eclipse the Queen's Platinum Jubilee, the 70th anniversary of her reign. They reportedly encouraged him with all their royal force to please, for the love of Queen and country, settle things out of court. And now he has: In a joint statement filed February 15, both parties agreed to file for dismissal when Giuffre received an undisclosed (but, it feels safe to assume, hefty) sum. "Prince Andrew intends to make a substantial donation to Ms. Giuffre's charity in support of victims' rights," the statement read. As of March 8, Giuffre's attorney said she had received the money, though everyone still refuses to say how much, and who paid. The only involved party willing to comment on the settlement at this time is Boies, who told the New York Times: "This is an important step, but it should not be the last step in holding Jeffrey Epstein's enablers and participants to account." Not very revealing.
While the deal absolves Andrew of the obligation to sit for a sworn deposition — which was reportedly looming a few weeks down the line — it does not require him to admit any guilt. He still appears unwilling to do that. His statement on the settlement continued:
Prince Andrew has never intended to malign Ms. Giuffre's character, and he accepts that she has suffered both as an established victim of abuse and as a result of unfair public attacks. It is known that Jeffrey Epstein trafficked countless young girls over many years. Prince Andrew regrets his association with Epstein, and commends the bravery of Ms. Giuffre and other survivors in standing up for themselves and others. He pledges to demonstrate his regret for his association with Epstein by supporting the fight against the evils of sex trafficking, and by supporting its victims.
So … that's that, I guess.
This article has been updated.